Why your absentee ballot might not count
Days after Noah Matalon moved into the Little Building to begin his Emerson career, his mom paid him a visit. She buckled into her Acura RDX and made the two-hour drive east on I-84, from West Hartford, Connecticut to Boston. With her, she brought the request form for Matalon's mail-in ballot, the one he will soon use to vote in his first-ever election.
"Everyone has some worries about the postal service," Matalon said. "She wanted to make sure my first time voting goes smoothly, so she brought it to me. We both felt strongly about this."
Matalon expects she may pop by again in the coming weeks with his actual ballot in tow. "Worth it," he said.
Some may say a single ballot in the presidential election, which drew 137.5 million voters in 2016, is not worth the effort. But in 2020, the sanctity and legitimacy of mail-in voting has been called into question by President Donald Trump himself. His comments are rife with attempts to squander the efficiency—and the budget—of the United States Postal Service, a long-loved institution responsible for the country's mail circulation.
Taking a well-intended road trip to secure the fate of just one absentee vote is understandable, Matalon said.
Millions of college students nationwide—and hopefully thousands on Emerson's campus—will partake in the democratic process this month. In 2018, college data showed that almost 45 percent of Emerson students voted. (This year, college officials hope at least 70 percent of the student body will turn out and have been promoting voting through official Instagram accounts and the Campus Vote Project.)
These students may return to nearby hometowns to visit in-person polling stations, or they could opt to vote by mail, like Matalon. That way, their electoral choices would be neatly enclosed in a white envelope, transported from postal worker to postal worker, and quietly counted—at least, in theory.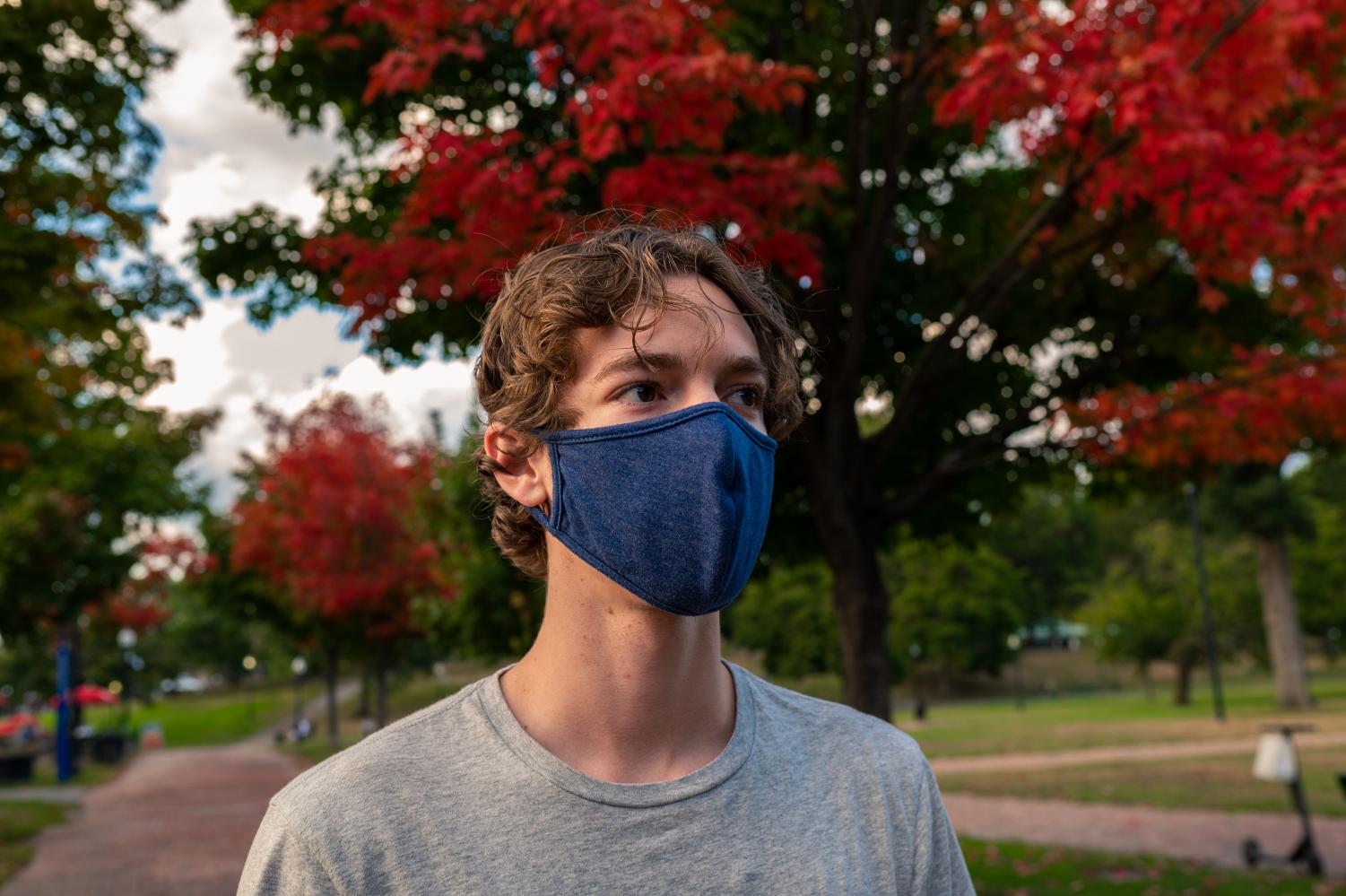 Noah Matalan, a first time voter this election, on Boston Common. (Media: Jakob Menendez)
In fact, a record-breaking number of mail-in ballots are expected to be cast in November's election, according to CNN. The uptick can be largely attributed to the COVID-19 pandemic, which presents dire health concerns for anyone who braves the polls in person. Long lines and close contact with poll workers on-site pose potentially fatal risks for all Americans this year. Fewer citizens may be willing to pack indoor venues to share writing utensils and breathable air, even if that's the only way to secure their democratic rights. The virus, after all, has spread rapidly anywhere and everywhere, from college campuses to weddings to the White House.
On paper, mail-in voting should be ideal, effortless even. Why commute to a station and wait in a queue if you don't have to? But the reality is that even if every step is attentively followed, a slew of concerns could still impede citizens' mail-in votes.
Here's (almost) everything that could stop your ballot from making the final tally—and what you can do to make sure that doesn't happen.
Becoming a Voter? It's harder than you'd think. 
Jonah Bowen's AP Government teacher handed him a voter registration form during his senior year of high school. The teacher instructed students to fill in the blanks and then turned their requests in for them—no questions asked.
"It was amazing. I didn't have to do anything on my own," Bowen, a Warwick, New York native, said. "That made it so much easier."
But Bowen can't imagine the convoluted process he would've had to undergo if his teacher hadn't been so generous. Now 19, he can see himself crouched in front of a computer, surfing websites, searching for the way to track down the New York regulations ahead of what he called the "most critical" election season in decades.
Several students told The Beacon that registering to vote is sometimes a terrifyingly complicated process. Most expect an intuitive path, a go-to procedure they can jump on days after turning 18. But some said they spent upwards of an hour wading through the forms and sites. Sometimes, they had to enlist the help of more experienced voters: parents, friends, and faculty.
"It gets very confusing for students to vote," Spencer Kimball, assistant political communications professor and the director of Emerson Polling, said. "And I don't think that's unintentional."
Each individual state runs separate voter registration processes, conducted through a conglomeration of physical forms or outdated websites that preclude even the most technology-savvy voters. Data from the National Conference of State Legislatures showed that upwards of 40 states allow online voter registration, but select spots like Arkansas and Wyoming have held onto the physical tradition.
Eighteen states have stringent voter ID requirements that further hinder the process, according to a January report from The Guardian. Georgia, for example, requires voters to have a driver's license or state ID priced between $25 and $30 that is only available at Department for Motor Vehicles offices.
"The whole process isn't made to be easy," said first-year creative writing major Matthew Pelton. "You have to do so much research. It's kind of discouraging."
College students also have to grapple with where they should register. Depending on their residency status, Emerson students may have the choice to become a voter in Massachusetts or their home state. Students must have a permanent address in another state to register there.
Junior Anna Bohman said she was confronted with the choice when registering over the summer. She wrangled with the decision. Should she have her presidential ballot branded with her Massachusetts address or her one in Florida, where her family lives?
"I knew I was getting an apartment in Massachusetts, but my dad said you should still register in Florida because it's a swing state," she said.
Kimball explained that the issue of residency is "just another hurdle" to voting.
"Voting requirements for residency are more state of mind than state of place," he explained. "Voting doesn't care about your physical space."
Missed deadlines, forgotten votes
Other times, forgetting to sign a form or sending one in too late can make or break an individual's capacity to vote.
"Perhaps the most dangerous [step] is deadlines," Kimball said. "Because once that deadline is passed, then you're no good. If you want to wake up on Election Day and vote, you can't unless you've already registered, which you have to have done days before."
One NPR analysis found that at least 550,000 absentee and mail-in ballots from this primary season have been rejected so far. That number far outpaces the amount of rejected ballots in the 2016 election, which sat at 318,728. The same story noted how first-time mail-in voters, especially those from marginalized communities, were more likely to have their ballots rejected, either for lateness or a clerical error.
Every state adheres to strict voter registration deadlines that range from more than a month before the election to the day of. (North Dakota, Colorado, and District of Columbia have some of the most lenient timelines.)
Bohman said she began to worry in mid-September when her absentee ballot had not yet arrived. She requested it almost a month earlier, and the website had told her to expect it in one to two weeks. "Every day, I was checking the mail, and I worried I had registered wrong," she said. "I started freaking out a little bit."
But students who hail from states with more efficient mail-in voting systems have expressed fewer fears. First-year Tris Arthur said she is waiting for her official ballot but knows she'll be able to send it back before Oct. 26, the recommended return date.
"Ohio's pretty good with the mail-in voting system," she said. "With everything going on nationally, there is, of course, a bit of fear."
Kimball had quick words of advice there: "Vote early. Get your ballot. Fill it in, and move on."
Postal Failures
The sad truth is that even if a student sends off their ballot signed, sealed, and delivered, uncertainty still awaits. The USPS has suffered financially for years, but the coronavirus pandemic has wrought an existential threat to the agency. Recently, the presidential administration pushed to privatize the service, which has funded itself for years (and collected a considerable amount of debt along the way).
However, few students are sure what that threat means for the 2020 election.
The USPS has circulated millions of ballots seasonally for local, state, and national elections since the Civil War when mail-in voting began. There's little chance that the department will disappear soon, but its competence has slowed in recent months, worrying voters and consumers alike.
"I can't imagine what would happen if they take that away, especially with elections because they are so dependent on the postal service," Arthur said.
Kimball said issues with the system have been apparent for years but have been exacerbated by administrative and financial problems uncovered and re-analyzed this year. "Our mail system has some issues, he said. "I've seen ballots sitting on shelves for months before and not getting sent until after the election. It's not perfect. "
Still, Kimball seemed assured your vote is likely to count, as long as you cast one. "I'm confident that your vote will make it regardless of whether you vote on Election Day or if you mail it in," he said. "For my evidence of this, we're going to look at the primary…it had a record turnout, and to me, that's an indication that our system works here in the state. You had more people voting than ever. If that's the case, we're moving in the right direction, despite living in a pandemic."