Women's soccer heads to playoffs despite senior day loss
The women's soccer team will advance to the NEWMAC playoffs despite losing 1-0 against the Massachusetts Institute of Technology on the Lions' senior day. 
Before the game, the team honored senior forward Veronica Alberts and senior midfielder Mallory Hanson by cheering for the two from the middle of the field. Alberts and Hanson took turns getting their pictures taken with their family and coaching staff. 
"It's definitely been a roller coaster," Alberts said in a post-game interview about her time at Emerson. "I've overcome a lot of battles and, as a team, we've still managed to make it to the playoffs, and that's something we've earned. I think that's really going to stick with me." 
In four years at Emerson, Alberts accumulated 12 goals and 12 assists—including nine assists in her freshman year. Hanson played in 52 total games and scored her lone collegiate goal against Regis College last season.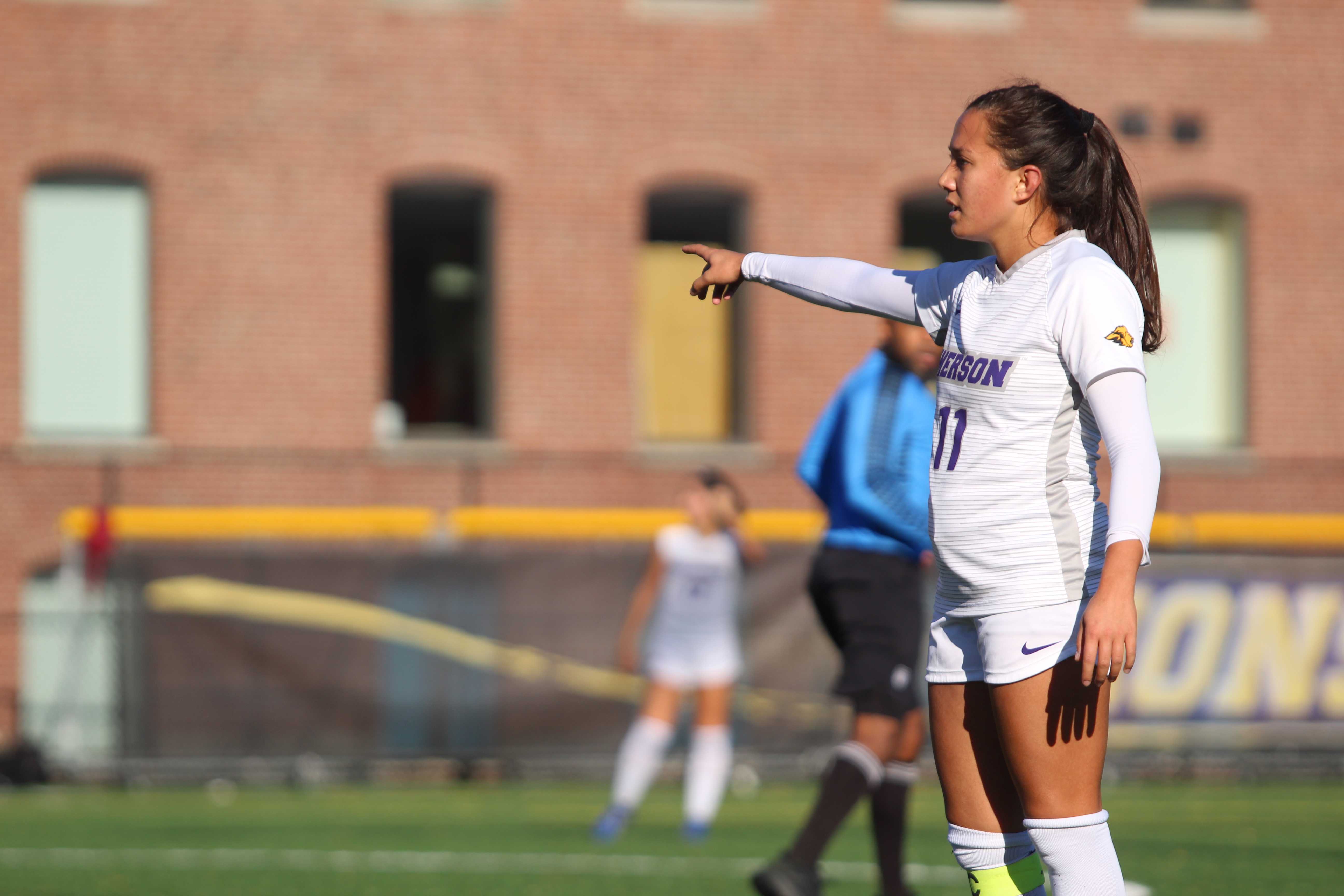 "Mallory has completed all four years, and she's been a star for this team," head coach David Suvak said in an interview. "She's a major contributor for this team, and I'm very happy with everything she's done for this team. [Veronica] is a player that has been a contributor in a major way since her freshman year. She scored many important goals along the way and [did] a nice job giving other people goals with her assists."
MIT came into the game as the sixth-ranked team in Division III with a 9-0 record in the New England Women's and Men's Athletic Conference. In a physical first half, the Engineers scored 21 minutes into the game when senior forward Montana Reilly squeezed the ball past the Emerson defense and into the goal. 
"It was definitely a chippy game on both sides," Alberts said. "I'm actually really proud of how we responded because a lot of times, if a team is more aggressive, we kind of let them hit us, and today I think we hit back, which is a mental block we had to get over." 
In the second half, the Lions nearly equalized in the 57th minute with a header from sophomore forward Grace Cosgrove, but MIT goalkeeper Ava Gillikin stopped the attempt. 
"This team has worked extremely hard all season, and we are capable of competing with anyone," Hanson said in a post-game interview. "[MIT is] ranked in the top 10 in the country for a reason, so we knew it was going to take everything we had. This game was really important in giving us confidence going into playoffs on Tuesday."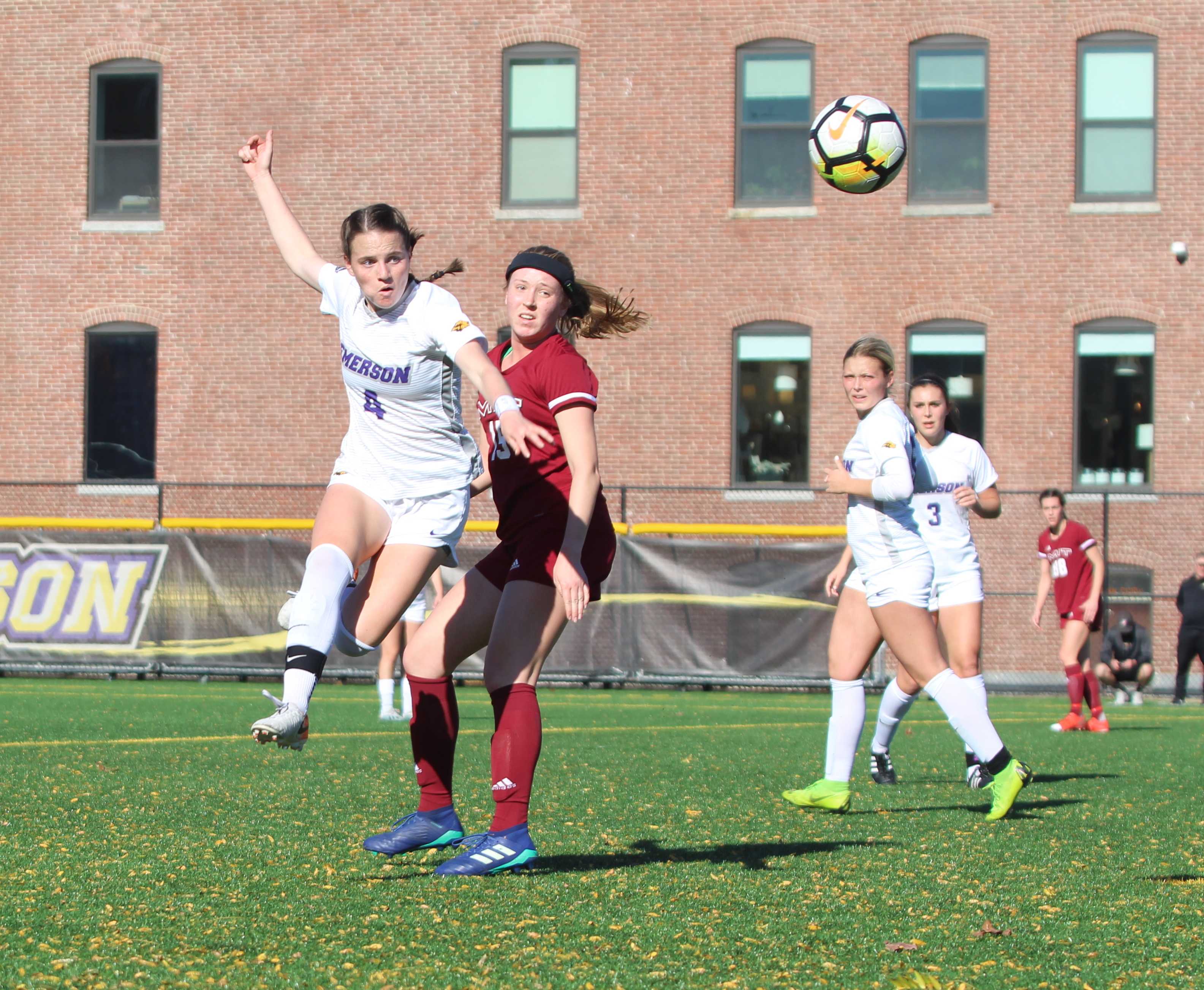 The Lions finished the regular season with an overall record of 10-6-2 and a 5-3-2 in conference play. The Lions will travel to play fourth-seeded Springfield College, who finished their season with an 11-5-2 overall record. 
Suvak said the team will need to create more scoring opportunities and maintain its defensive form for the playoffs. 
"I think we have to solve the problem of finding ways to score," Suvak said. "I think that's going to be an important key for us. We have some injuries in our attackers, so we're trying to figure that out right now. Even though we gave up a goal today, I think we are not known for giving up a lot of goals, so we tend to be a little bit stingy that way."
The Lions traveled to play Springfield College in a conference road game and lost 2-1 on Sept. 28. The Lions took the lead in the first half behind freshman forward Alexa Ingersoll's lone goal, but the Pride rallied back with two second-half goals to beat the Lions. 
Last season, the Lions lost 3-1 to the Pride in the semifinals of the NEWMAC playoffs. Midfielder Jess Frost '19 scored the Lions' only goal of the game. 
Suvak said the physicality from the MIT game will prepare the team for the playoffs.
"I think our players stepped up and met the challenges of being a physical game—that's what playoff soccer looks like in many ways," Suvak said. "I was happy with the way the girls performed today in the physical part of the game, and I hope none of our players are hurt because that could cause us problems in the next round." 
The Lions will play Springfield on Tuesday, Nov. 5. The time of the game is not yet announced.