Women's soccer team appoints new assistant coach
The Emerson women's soccer team expanded its coaching staff in preparation for the 2022 season, hiring former Ithaca College defender Kate Kohler as an assistant coach.  
Kohler, who was on the 2018 All Liberty League All-Academic team and graduated from Ithaca in 2021, was hired as the Lions' assistant coach just ahead of the 2022 preseason. She heard about the opening through her alma mater's assistant coach, Javi Mejia, who is an Emerson men's soccer alumnus. 
"Emerson is an incredibly creative school, which is what drew me initially," Kohler said. "I enjoy how close-knit the team is. It's only preseason, but I can see how their connection is forged already. That's something you can't really train."
Her addition to the team highlights the importance of having a female presence on the coaching staff—a presence some players say they lacked throughout their athletic careers. 
"One thing I truly appreciate that the coaching staff did was that they found a female assistant coach," said sophomore defender Yoshiko Slater in an interview with The Beacon. "Growing up, I didn't have many female coaches— head or assistant, so it's wonderful to have a female coach."
Like Slater, Kohler didn't have a female soccer coach until her collegiate career. She hopes to be an empowering role model and coach the team to competitive success. 
"Not only am I here as a coach, but as a mentor and a peer," she said. "I've been in their shoes and no one really understands [the female perspective]."
Kohler's background as a player gives her an advantage, bringing a veteran's eye to the field and understanding the trials and tribulations of being a collegiate athlete. 
"She's played in college, so she knows what she's talking about and [is] not afraid to give her input and support us at the same time," Slater said. "When she's giving her comments, it doesn't feel like she's critiquing us to make us feel bad, it is constructive and really thoughtful. I appreciate her being there." 
Heading into the 2022 season, the Lions boast a seasoned roster of experienced sophomores, who make up 13 out of 25 players on the squad.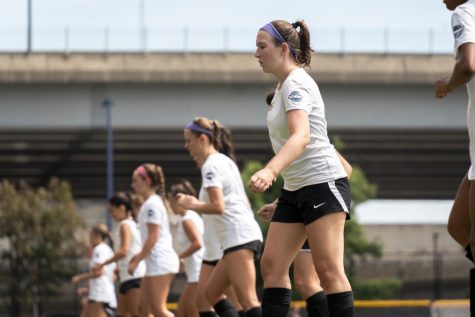 Looking to build on last season's successes which saw the Lions secure a second place slot in the NEWMAC standings following a 1-0 defeat against Wheaton College, Head Coach David Suvak is confident that the team's success from the 2021 season will carry over.
"I'm very optimistic about what the future brings for this group and that includes first-years and transfers that are coming in,"
The new talent was on full display on Aug. 22, when the Lions played the University of Massachusetts Boston at Rotch Field in a preseason scrimmage. The Lions lost 4-2, but Suvak said it was an opportunity to see the new athletes perform, especially forward Caitlin Johnson and junior defender Ryley Tanner.
"Caitlin has shown in the training sessions that she can be a dangerous attacker, [she's] technical, [has] above average speed, she's going to add to our attack power," he said."Ryley will bring some experience into the backline. She's still kind of getting her legs underneath her but she's going to be a strong player."
On top of the smaller recruitment pool, the Lions also have a smaller upperclassmen pool of four seniors and two grad students.
The team, which announced its 2022 schedule via Instagram last week, will begin its season against Regis College at 6 p.m. on Sept. 1 at Rotch Field.