11 ways to celebrate the holiday season COVID-free
Decorating, family time, movies, shopping, and holiday food are just a few hallmarks of the holiday season. But in a normal year, no one has to account for a global pandemic while mapping out their December schedule. Although it may be hard to get into the holiday spirit in 2020, there are still several COVID-safe activities you can do to make the most out of the season. 
Here are some ways you can safely celebrate the holidays in a season that has been anything but jolly. 
Drive-thru Light Display
Sure, you can drive up and down neighborhood streets to see other family's decor. But what's even more spectacular is a whole showcase put on for the holidays. States across the nation put on professional light displays to fill viewers up with the sights and sounds of the Santa season. 
For example, Long Island's state park, Jones Beach, puts on a holiday lights experience every year. COVID-19 couldn't  stop the state park this year—the light show will run from Nov. 22 to Jan. 4. Others, likeCalifornia, Colorado, and Florida, are also taking part. Make sure if you do visit a lightshow to wear a mask and socially distance. There are many light shows that allow participants to remain in their car as well. Check out this link to see what places are putting on a light show near you. 
Visit a town Christmas tree
If you're staying locally in Boston for the winter break, you can always ride an electric scooter through the Common lights and visit the Nova Scotia Christmas tree. Or, if you're a fellow native New Yorker, the Rockefeller Christmas tree will be making its annual appearance to visit despite the pandemic. Even if you're staying safe this year, the website allows you to view a livestream of the tree until January first.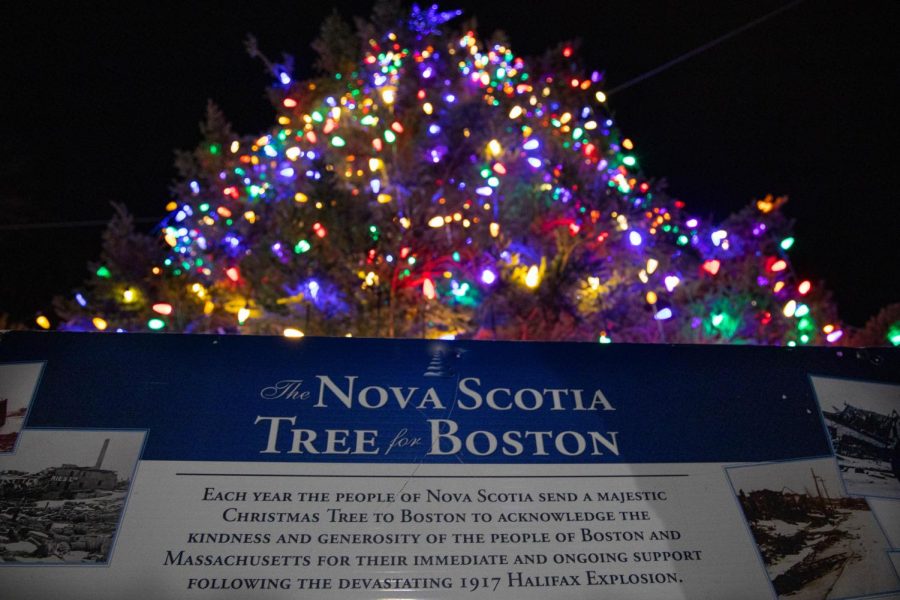 Make Festive Foods
From gingerbread cookies and potato latkes, to harvested fruits and vegetables, there's always delicious food to try during the holidays. Quarantine has enhanced many people's appetites and (hopefully) their cooking skills. There are many recipes to go around with a lot of time on people's hands. Here's a link for a variety of holiday recipes. Even if extended family can't be physically present this year, that only means more great food for you to enjoy. 
Go Shopping — online 
One of the most exciting things about being stuck at home is receiving a package. Black Friday may be over, but holiday shopping still goes on all the way through Christmas Eve. Online sales and easy returns are even more enticing now that everything is done virtually. It can be the perfect surprise for someone or a treat for yourself, for doing so great this semester at school. Also be willing to throw some extra cash towards small businesses like the many personal shops on Etsy. Since the pandemic has had a lasting effect on these small businesses, shopping small may be the way to go this year. Plus, at least spending money on clothes will be excusable for the next month. 
Binge Holiday Movies
Whether it's Freeform's 25 Days of Christmas movies or it's the comically-bad Netflix holiday movies, watching holiday movies is another classic way to celebrate. Enjoy a movie while laying in your comfortable bed or grab some more food and sit on the couch with your immediate family. Surely, you probably got enough time on your hands to binge every Christmas, Hanukkah, and Kwanzaa movie there is. You can catch movies like "Happiest Season" on Hulu, "How the Grinch Stole Christmas" on Netflix, or "Home Alone" on DIsney Plus. The house may seem emptier on Christmas Day, but at least the 24 hour repeat of "A Christmas Story" will never fail to let you down. 
Decorate
If you're going to be stuck at home, you might as well make your home look as festive as possible. Decor can go a long way for boosting spirits, so make the most out of it! Put up that giant fake tree to parallel the mini one in the bedroom. Get a dazzling menorah for the kitchen centerpiece. Make the walls you've been confined to for months look more special than they ever have before. It'll make spending more time indoors during the colder months a bit more bearable, even if you're just cutting out some paper snowflakes. 
Host a Virtual Party
A lot of college students hate having to say goodbye to their friends for the winter break. It's bittersweet leaving them while also being welcomed back home by your immediate family. However, now that Zoom and group Facetime has become common practice, a virtual party can certainly be added to the to-do list. Add some games, host a Netflix watch party, make sure everyone has some food, and you're all set. The virtual party isn't just for friends, but family you won't be able to see too. Although, you might need to help older relatives set up the video conference.
Make a Playlist
Music apps like Spotify allow you to make endless playlists, accompanied with special collaborative and group session features. Friends and family can tune in together to enjoy classic holiday hits. Groups of two to five people can use the group session feature by sharing a "join" link on a messaging app. Dance with a sibling or alone in your bedroom. 
Wrap Presents
No, seriously this is so fun. From picking out wrapping paper to nametags to adding the final touch of a bow. It's time consuming, but definitely worth it. It'll keep you busy and give you an opportunity to make someone else happy with the effort and thought you put in. Considering some people pay others to wrap gifts for them, you may even be able to make some money too— if you do it well, of course. If you need help, here's a simple five minute tutorial on how to wrap. 
Binge a Show – Holiday Edition
Now, you can do this anytime of year. But since college students are returning home after a few months, this could be a great way to bond with siblings or parents. The weather is getting colder, so who needs to be outside anyway? Plus a lot of shows have holiday specials. Just look at the classic Thanksgiving episodes of Gossip Girl. The Jason Derulo "Whatcha Say" scene is an annual must-watch. Who could go wrong with a laugh from The Office episodes? There's endless amounts of holiday specials that can boost the mood. 
Take a Winter Course
Okay, this one may not be as fun as the others. But, on the bright side, taking a winter course, or two if you're brave enough,can save a whole lot of time and money down the line. The ability to have classes so easily accessible at home online has its benefits. If you sacrifice time during your winter break this year, it may lead to graduating a semester or a year early. It'll keep you productive and more prepared to learn again in the spring. Emerson is offering their own winter term this year and information on how to register and important dates can be found here. Although Emerson's last day to sign up for a winter course was December 9, you can still register through your local community college.