Junior releases feature film debut 'Tom and Charlie's Road Trip' on Amazon Prime
After nearly two years in the making, junior Alex Hrisanthopoulos released Tom and Charlie's Road Trip, his first feature film, on Amazon Prime Video early this month.
The comedy film, which Hrisanthopoulos wrote, directed, and acted in, follows best friends Tom and Charlie as they set off on a road trip up the California coast of California ahead of their first year of college. All's well and good until the pair comes into possession of a bag of cocaine. 
Hrisanthopoulos likened his work to the 2007 film Superbad, the tale of two awkward teenagers who go to great lengths to lose their virginity in their final high school summer.  
"[Tom and Charlie] have been friends for so long, and it's them butting heads about what to do with the coke," Hrisanthopoulos said in a phone interview. "It's sort of like Superbad—kind of vibes is what we're going for."
The movie became available to rent and buy on Amazon Prime Video on Dec. 14 and will be free to Prime subscribers on Dec. 25.
A visual and media arts student, Hrisanthopoulos started writing Tom and Charlie's Road Trip in January 2019 with his high school friend, Josh Bryant. Having filmed in their hometown of Carlsbad, California, Hrisanthopoulos and Bryant make an appearance in the film as the mobsters Tom and Charlie encounter. 
Hrisanthopoulos also helped produce the film, alongside junior VMA major Max Internoscia.
"I didn't really come from a directing background, a lot of it was me kind of figuring out my tone as a director," Hrisanthopoulos said. "Which is probably easier because I wrote the script as well."
The filming of Tom and Charlie's Road Trip started in the summer of 2019 after the project raised $1,500 through a Kickstarter campaign. The budget financed the equipment needed, as the actors and crew were unpaid. 
With such a small crew, people had to take on multiple roles, including Hrisanthopoulos's younger brother who helped with audio and behind-the-scenes photography. 
"On set it was pretty hectic, because it was a very, very small crew," Hrisanthopoulos said. "It was me, the two actors, [Internoscia], who's the producer. My little brother was even running audio. So it was a really, beaten down crew, and we were able to shoot guerilla style."
Internoscia flew from his home in Fort Lauderdale, Florida to California for twelve days to help with the last days of filming. He, like Hrisanthopolous, had to wear multiple hats behind the scenes.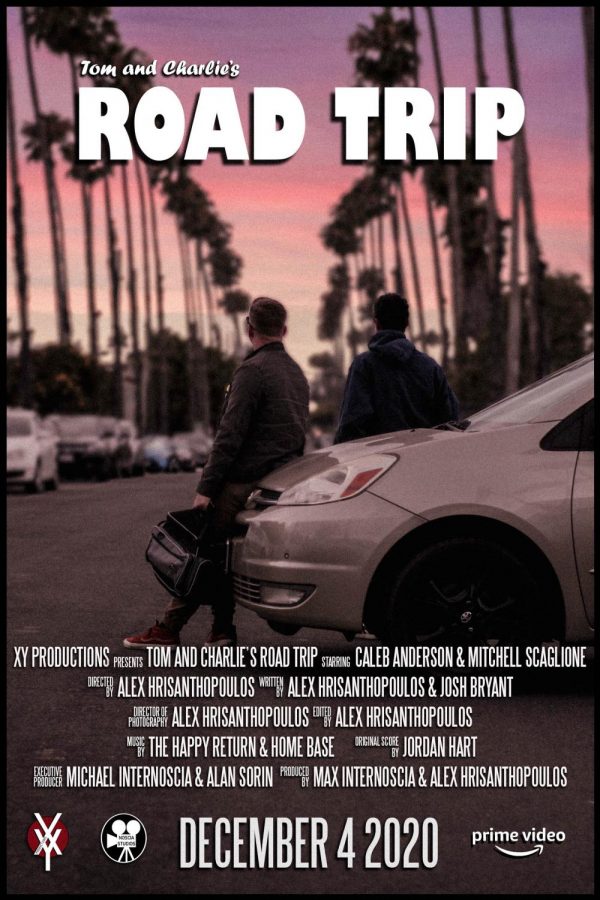 Internoscia met Hrisanthopoulos during their first year, when they both lived on the same floor of the Paramount dorm building. 
"[Hrisanthopoulos] had to direct as well while being an actor and a [director of photography]," Internoscia said. "He's also the colorist and the editor. I had to be a camera operator. I had to be a producer, obviously, and I had to do some audio work."
The original plan was to initially submit the film to festivals before finding other distribution formats. But because of complications caused by the pandemic, the pair decided to try and distribute the movie on Amazon Prime first.
"So we're wondering if we can get this on Amazon Prime," Internoscia said. "And I researched a little bit more and you have to be an Amazon direct affiliate. I became that, I just had to create an account and agree to a few terms. I, being the producer, had to submit some paperwork, which was just online paperwork, some tax info."
Hrisanthopoulos said that the film pays homage to his hometown. The film features shots near local landmarks and the music used is by local bands Happy Return and Home Base, who let Hrisanthopoulos use their music royalty-free.
Tom and Charlie's Road Trip also includes the work from Jordan Hart, a composer who attends Berklee College of Music, as well as another Emerson student, Benjamin Peterson, who did visual effects. 
"I worked pretty independently," Peterson said. "[Hrisanthopoulos] pretty much just sent me the clips, and we had some communication about what the exterior driving shots should look like. But he did a great job on set and setting up the green screen and making everything good before I actually had to go in and post and change things."
Peterson, a sophomore VMA major, got involved through Hrisanthopouloss's connection in the Delta Kappa Alpha film fraternity. 
"I did a lot of work with visual effects my first year here, and I'm still doing work," Peterson said. "It just made its way to the grapevine. A lot of people in [Delta Kappa Alpha] know what other people specialize in, and [Hrisanthopoulos] just asked me."
Hrisanthopoulos's experience working on the film inspired him to start his own production company.
"A lot of it was a learning experience," Hrisanthopoulos said. "And from there, I think that actually helped me think of the idea for a new production company called PRiSM Media. Basically, the whole idea behind it is that I want it to be a collaboration between multiple filmmakers."
Now that Tom and Charlie's Road Trip is complete, Hrisanthopoulos plans to focus on a new project, titled Unstable. Unstable is a psychological horror anthology series that will feature a variety of different directors and screenwriters. The project will also be available on Amazon Prime once it's complete, estimated for late 2021 or early 2022. Internoscia said that he will also be writing and directing an episode of the series.
"For people who want to shoot [their own feature], I'd say definitely just go for it," Hrisanthopoulos said. "It sounds like it's a lot, and it is a lot. But if you just put your mind to it and just put in the work and the hours, it's definitely possible, and it's not as far out as people think."