'Never Again March' calls on Amazon to cut corporate ties with ICE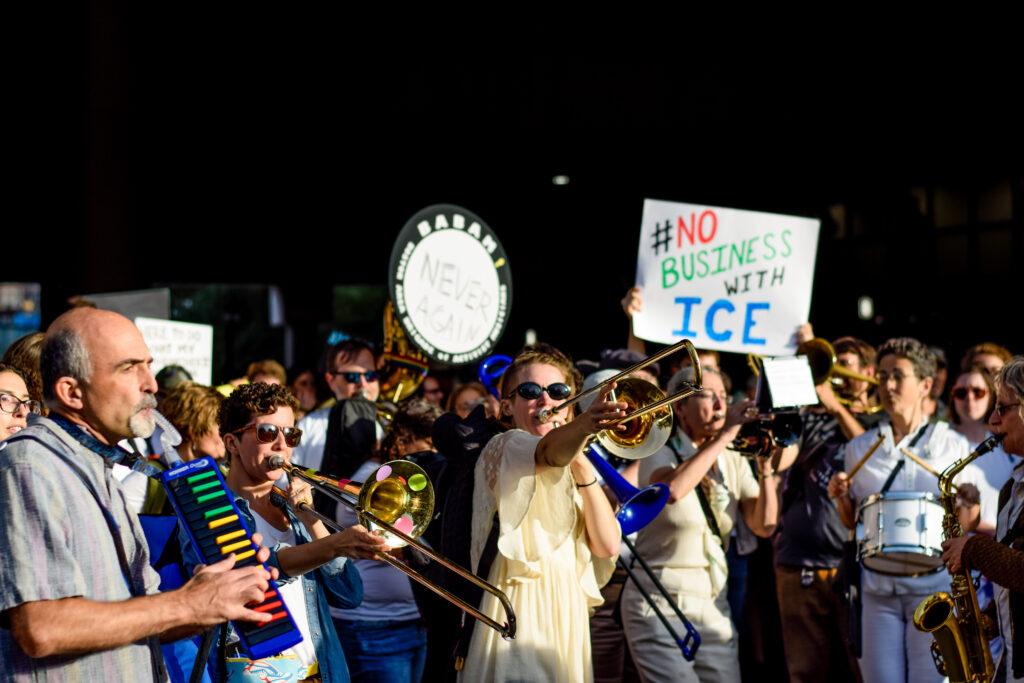 By Tomas Gonzalez, Visual Managing Editor
September 6, 2019
Hundreds of activists marched through the streets of Boston Thursday, demanding an end to Amazon's corporate ties to US Immigration and Customs Enforcement.
Chanting "Never Again Means Now" and "No Business With ICE," the protesters marched across the Longfellow Bridge and ended in the Amazon headquarters in Cambridge. Police arrested 12 people on trespassing charges, Cambridge Police Department spokesperson, Jeremy Warnick, said in an email to the Beacon. 
Ayelet Lipton and Evelyn Jugoda, the protest organizers from Never Again Action, spoke at the rally and demanded that Amazon halt their affiliation with the government agency.
"We are united by the urgency of the crisis at the United States border and in our communities, we are here to say in one voice Never Again," Lipton said. 
Marchers flooded into the Amazon headquarters, pulling out banners that read "IBM sold tech to Nazis. Amazon sells tech to ICE" and taking positions in front of the elevators located in the lobby. 
We stand for community, fact-based journalism. What do you stand for?
Some things in life are essential; they touch us every single day. Good journalism is one of those things. It keeps us in the know as we hurry through our busy lives.
Community members shared speeches about their own personal plights. Mateo Cox, a Latino-Jewish disabled immigrant, spoke out against the procedures ICE officers apply against immigrants entering the US.
"Being targeted by ICE is like carrying an invisible backpack of stones, each racist system or piece of legislation or aggression we experience is another stone weighing on us every day; our backs are giving out," Cox said.
Emerson alumni Guy Ben-Aharon '12 said he volunteered to participate in the march as a photographer for the event, and that it is time for people to get involved in issues that deal with immigration. 
"I've been to a few of their events, and it's a time to get involved. It's not a time to sit behind and tweet all day long," Ben-Aharon said. "It's a time to actually get out on the street and show folks that we have the power as citizens and consumers over where our dollars go. So it's time to say no business with ICE and stand up with our immigrant brothers and sisters."
Tomas Gonzalez, Visual Managing Editor
Tomas Gonzalez is originally from Maracaibo, Venezuela, but was raised in San Jose, Costa Rica. Currently he serves as the Visual Managing Editor, directing The Beacon's visual/media content. He previously...