Pelton supported Boston's effort to attract Amazon's second headquarters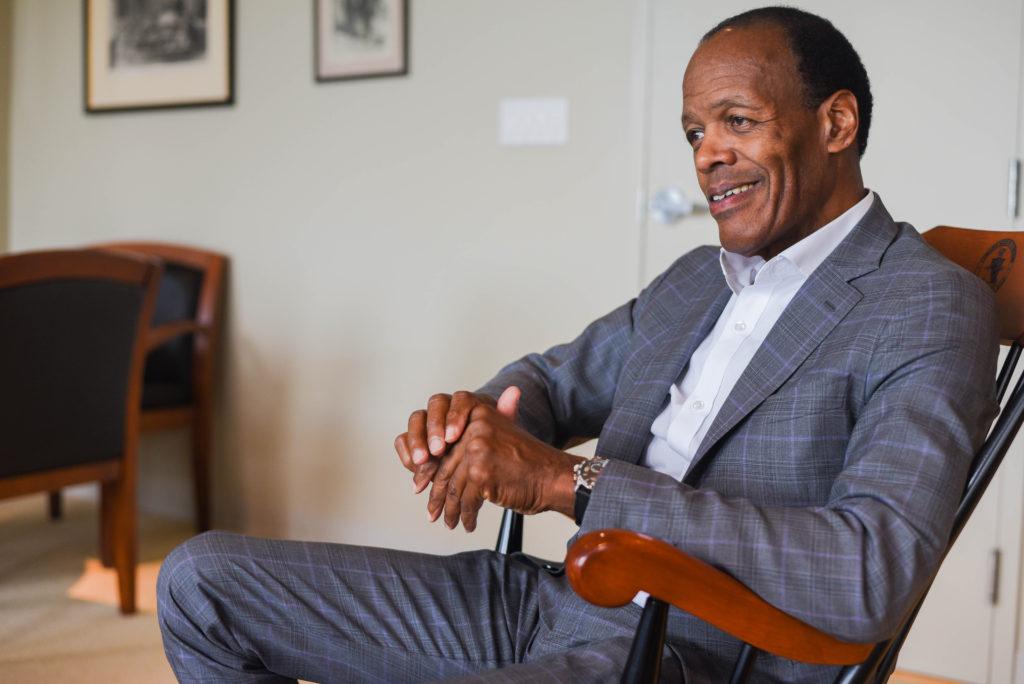 By Chris Van Buskirk
January 22, 2019
President M. Lee Pelton offered support for the City of Boston's bid to become the second location for Amazon's headquarters, according to public records released to the Beacon on Jan. 8.
The Emerson College president authored a letter in October 2017 detailing the college's support for Boston's bid to bring Amazon's second headquarters to the city. Pelton was also invited by the City of Boston to attend a dinner in early March 2018 for local public officials and leaders in business and education to mingle with Amazon representatives.
Pelton's letter is one of 15 written by presidents and vice presidents of notable institutions such as Harvard University, Boston University, and Boston College. The notes were addressed to Amazon's Chief Executive Officer Jeff Bezos and demonstrate the extent to which colleges and universities across the Boston area went to persuade Amazon to bring the second headquarters to the city.
"I write to support the City of Boston's application to become the next location for Amazon's headquarters," Pelton wrote in the letter. "Welcoming Amazon to Boston will create tremendous opportunities for collaboration and engagement with the city and its 35 institutions of higher education."
Boston-based business leaders, including Boston Ballet Executive Director Meredith Hodges, and elected officials, such as Gov. Charlie Baker, also authored letters to Bezos. Pelton said the Office of the Mayor collected these testimonials to help recruit Amazon to the city, and Emerson joined the effort after the Mayor's office extended an invitation to the college.
We choose information accessibility
News and the truth are under constant attack in our current moment, just when they are needed the most. The Beacon's quality, fact-based accounting of historic events has never mattered more, and our editorial independence is of paramount importance. We believe journalism is a public good that should be available to all regardless of one's ability to pay for it. But we can not continue to do this without you. Every little bit, whether big or small, helps fund our vital work — now and in the future.
Pelton said the college's downtown location and relationship with the Mayor's office factored into the Boston officials' decision to reach out to the college to help recruit Amazon to the city.
The college's Amazon Alexa Innovation Fellowship, a program to help advance voice-enabled technologies through student collaboration at Emerson, did not factor into the Office of the Mayor's request for the college's support, according to Pelton.
"It's our partnership with the city and the recognition that Emerson is an important feature of the higher education landscape in Boston," Pelton said in an interview with the Beacon. "Quite frankly, I would have been surprised if they had not asked us to participate."
While Pelton said he could not measure the influence the letter had on Amazon representatives, he noted that Emerson is featured in Boston's media outlets more often than other colleges or universities in the area.
Included in the public records are draft schedules and emails between Boston officials and Amazon representatives detailing a visit to Boston by the Amazon representatives in early March 2018 to preview potential sites for Amazon's HQ2. The visit was first reported by the Boston Business Journal.
The drafted schedules included an invitation list for a March 5, 2018 dinner hosted by the Greater Boston Chamber of Commerce for the visiting Amazon team. The guest list included notable Boston leaders such as General Electric Vice President of Global Litigation and Legal Policy and former Massachusetts Senator Mo Cowan and Carbonite President and Chief Executive Officer Mohamad Ali.
The schedules also listed Pelton as an invitee for the dinner, but he said he did not attend the dinner due to travel conflicts. Pelton said he had no contact with Amazon representatives other than his letter of support, but he said he was in regular contact with City of Boston Chief of Economic Development John Barros.
"We've worked together on other projects," Pelton said. "We stay in close contact."
Chris Van Buskirk,
Chris Van Buskirk is originally from Buenos Aires, Argentina, but was raised in Dallas, Texas. He served as Editor-in-Chief of The Beacon from July 2019 to July 2020.

Email: [email protected]
Tweets...