4th Wall Restaurant & Bar closes indefinitely
After two-and-a-half years lighting up Tremont Street with its iconic neon red sign, the 4th Wall Restaurant & Bar will go dark for an indefinite hibernation period Saturday.
"It's weird," general manager Diky Melville, who has worked at the 4th Wall since it opened in August of 2018, said while standing behind the bar Saturday afternoon. "It's like the last day of school."
Hibernation—a strategy employed by dozens of Boston businesses since the onset of the pandemic—is a winter hiatus for a restaurant. Hibernation is designed to save on operating costs that may shore up a restaurant's long-term ability to keep their doors open. 
Melville said he hopes the restaurant will stay shuttered only through the end of February.
Due to steadily climbing COVID-19 cases, the city of Boston extended its rolled back reopening, a modified version of Phase Two, Step Two, on Jan. 5. For indoor dining restaurants, this means operating at 25 percent capacity, which is only 15 customers for the 4th Wall. Restaurants also had to adopt a 90-minute seating cap and prohibit bar seating without city approval, which the 4th Wall received. 
"All we were looking to do during this extra tight time was just to be able to pay the mortgage and the vendors just to stay open," Melville said.  
The restaurant announced on its Instagram page on Jan. 3 it was cutting back its hours, opening from 4 p.m. to 9:30 p.m. daily. The early closing time came as a result of a curfew Governor Charlie Baker set for all table service in Massachusetts on Nov. 6. The curfew marked a dramatic shift from the 4th Wall's previous opening time of 11:30 a.m. and its closing time ranging from midnight to 2 a.m. 
"At the pace that we were going, the only place we could really cut anything to try to survive longer was to cut [the] day shift," Melville said. "It was in direct response to the curfew just wearing on us a little bit, but we didn't want to shut the doors." 
Much of the 4th Wall's business comes from late dinners, Melville said. Closing early—as well as the curtailing of their usual theatregoer, post-club, and tourist customers—plummeted the eatery to 20 percent of their usual revenue.   
"[The curfew] was the crushing blow," Melville said. "At this point, we hibernate for a little bit now until they loosen up, and hopefully we come out on the other side."
The red-bricked 228 Tremont Street watering hole offers board games, televisions, a jukebox, and a menu that boasts classic pub fare alongside signature cocktails. Among the loyal patrons of the 4th Wall, Melville said, are individuals who work at nearby Tufts Medical Center and Massachusetts Department of Transportation. 
"People are bummed," he said. "Last night, a lot of people that we hadn't seen in a while came and showed face, spent a couple bucks, it was nice. It's kind of a bummer that it takes till the end before you get some of that extra patronage that could have kept us alive, perhaps."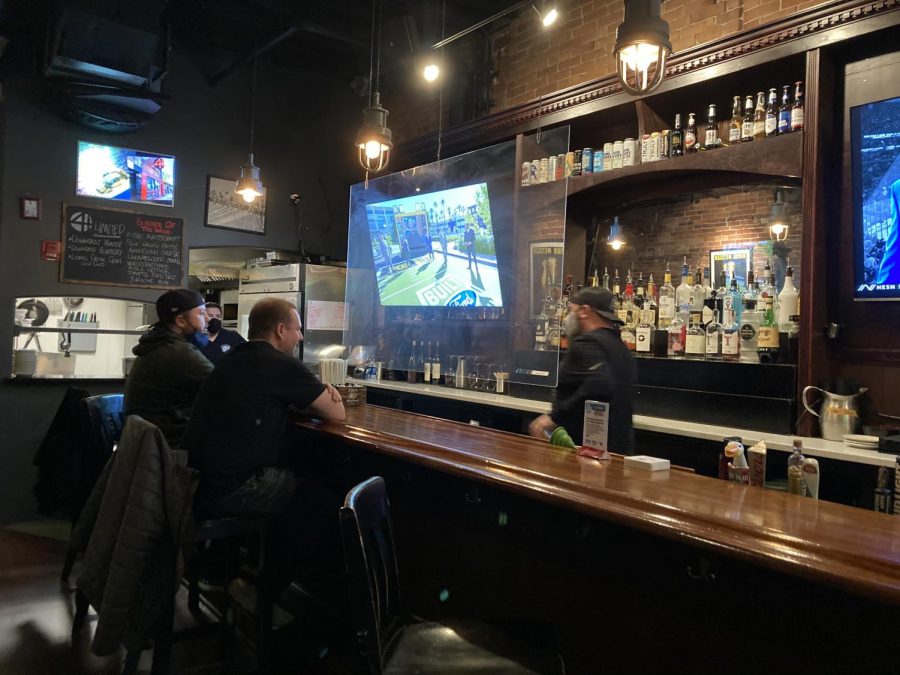 The 4th Wall also closed from March to June during the first wave of the virus, and invested in sanitizer and plexiglass when they reopened. Though they applied for it, they were not approved for outdoor seating. 
"At first, it made us resilient," Melville said. "Even with the limited capacity, we were doing okay enough, sustainable." 
Since the first statewide shutdown in March of last year, nearly one in four Massachusetts restaurants have gone under, according to a statement Massachusetts Restaurant Association President Bob Luz gave to Boston Magazine.
Gesturing to the restaurant's empty bar, Melville said, "It's like this more than not."  
Melville doesn't think the 4th Wall's closure will become permanent because the owners bought the building and now pay a mortgage rather than rent. For now, the small staff—three kitchen workers, five employees at the bar, and Melville—will have to collect unemployment. When they reopen, Melville said he thinks they may offer food and drink combos to drive up business again.
"I don't know what the time is going to look like as far as like, can we throw a party?" he said. "It's just a matter of what we can do within a realm of the law or the mandates and also keeping people safe and comfortable."