After Biden's presidential win, joy floods the streets
America awoke in quiet, palpable tension Saturday morning, awaiting the conclusion of a presidential contest that has gripped the nation for months. The day was peaceful and abnormally warm for November. Shortly after 11:30 a.m., the tension gave way to celebration—euphoria.
After four days of anxious waiting, the Democratic presidential ticket, Joe Biden and Kamala Harris, shut down President Donald Trump's bid for a second term in the White House with a historic win in the popular vote, and a decisive electoral college victory. A cacophony of joy followed, and Boston erupted.  
"I cried. I was so happy I kissed the ground," Boston native Sandra Pelkie said, wearing an American flag hat and holding a Black Lives Matter flag. "I'm still crying. I'm feeling relieved. It's been four years of total hell, and I've traveled this country. I protested. I fought. And I'm happy. We're going to get things back to normal." 
Bostonians lined downtown streets to jump, scream, and dance. They waved to honking drivers in cars parading around Boston Common. They popped bottles of champagne and sprayed the crowds of thousands surrounding the intersections by the public garden. They sat on each other's shoulders, singing "Party in the USA" and "We Are the Champions." A Trump doll was volleyed among the crowd. Some wept tears of joy. Others had their smiles covered by multicolored masks.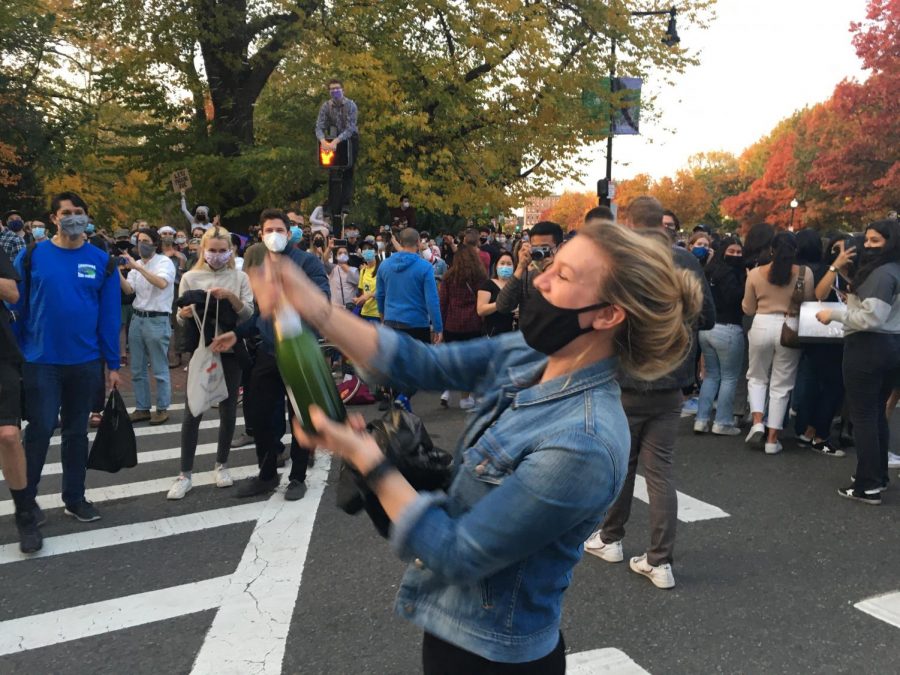 "It was a long wait, but it was worth it," Kent Hamilton, who drove from Milton to celebrate near the public garden, said. "It's fantastic that we've got some real leadership back into the White House."
The scene was one four years in the making. When Trump was elected to the presidency in late 2016, crowds took to the streets of downtown in outrage—Boston mourned. Now, a city that voted overwhelmingly against a second term of Trump, had its day of reckoning. 
At the intersection of Boylston Street and Charles Street, a crowd that at one point grew to at least one thousand, shut down traffic for hours. Some stood on a group of Blue Bikes displaying LGBTQ pride flags, while others more daring clambered up stop lights and lamp posts, triumphantly waving Biden flags and shouting down at the crowds below. 
Party in the USA is playing now. I feel like that explains the mood here pretty well pic.twitter.com/C3qgUoltjz

— Andrew Brinker (@andrewnbrinker) November 7, 2020
Amanda Miller, a student at Lasell University in Newton, Mass., stood on the basket of a Blue Bike, cheering, for at least a half an hour.
"I feel like this is a chance for the country to kind of reset and a lot of people can regain their rights again," Miller said.
Signs featuring messages, like "The nightmare is over," "Trump was the imposter," and "ur fired" waved in the crowd. Drivers headed down Charles Street waded through the crowd, drivers blasting their horns in support, with passengers hanging out of windows or sunroofs. Early in the day, a unicycler rode the length of the motorcade.
Anna Moumoutjis, 15, came to the public garden with her mom and their french bulldog, Ozzy. Their sign read "Bye-Don, We Heart Kamala."
"I actually woke up to my mom screaming upstairs, so excited," Anna said. "I was just so relieved and happy, and just the breath of fresh air, finally."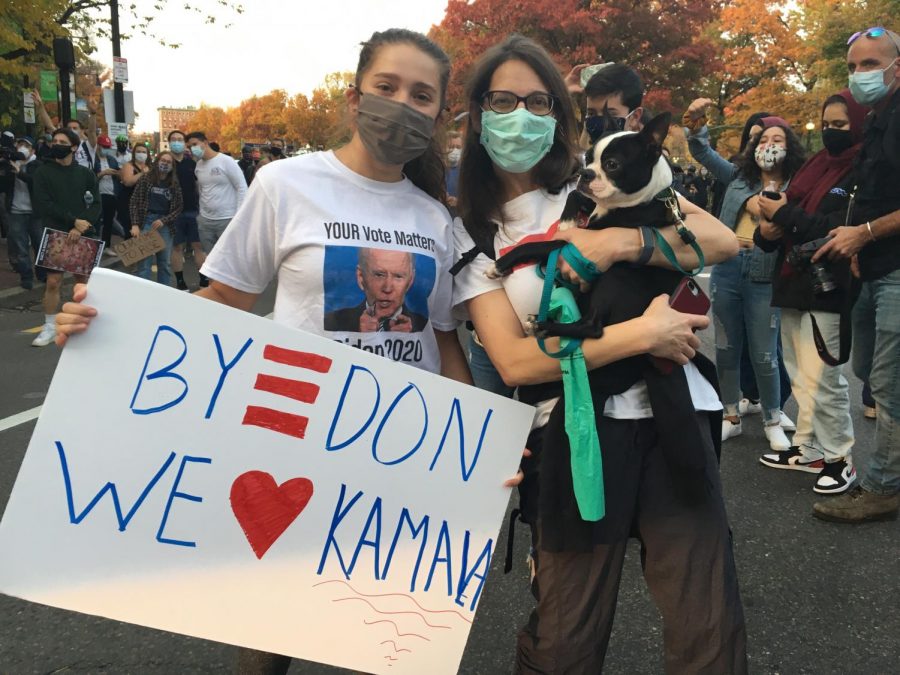 Anna's mom, Sandra Moumoutjis, said she was looking forward to escaping Trump's hateful rhetoric. She said seeing Kamala Harris, the first woman and first woman of color to be elected on a presidential ticket, step into the role of vice president, would be heartening. 
"We're just so excited for so many reasons to get Trump out of the White House, to have somebody who will bring us back together and unite the country and be reasonable," Moumoutjis said. "The first woman elected is a long time coming." 
Debra Bingham, Hamilton's husband who drove in with him from Milton, said having Harris in the White House would be something she'd never forget.
"From policy to human decency, it runs the gamut of why we're so glad to have Biden and Harris," she said. "Also, it's super cool—Madame Vice President!" 
Hannah Flayhan, an Emerson student, said the joy of the day lifted her spirits.
"I voted for Joe Biden because he supports a lot of things I believe in," Flayhan said. "And he stands for what's right. It was just a great day to celebrate and come out here and rejoice in the fact that we finally can live in an actually free country where people can live and be themselves."
As the sun set in streaks of blue and pink, chants ranged from "All my homies hate Trump" to "The people united will never be defeated." After a round of "This is what democracy looks like" chants, one man approached the merrymakers with a hot pie and said, "This is what free pizza looks like."
Emma Isaacs, a Northeastern University sophomore, climbed a traffic light fixture amid the festivities. 
"Obviously there's more to be done with Joe Biden and liberalism and leftism and pushing everything toward more equality in this country," she said. "But right now, I just want to celebrate the fact that we have achieved basic human decency and freedom."
Emma Krewg, an Emerson sophomore, said she breathed a sigh of relief when the results came in.
"I did not expect this energy to happen today, but it's really powerful being together with everyone right now, and actually having won this election," she said while standing with three of her friends. "It feels good to be able to stand in solidarity when you don't have to be protesting or mourning a loss." 
Aryama Watkins, a 23-year-old who said she has been homeless for three and a half years, stood clad in an American flag cape across from Little Building. 
"This day means that Donald Trump is now out of office, which I'm very happy for—fuck Donald Trump," she said. "I'm honestly happy and ready for Biden, to see what he has to bring to the table."