As Lorelei Bandrovschi's 27th birthday neared, she asked 27 of her friends to each give her a personal challenge. She initially disliked one challenge to quit drinking for a month, but it ultimately went to inspire her to open her own alcohol-free bar five years later.
"When I opened myself up to it, [not drinking] was something I enjoyed in really unexpected ways," Bandrovschi '09 said. "It showed me a lot about myself. It showed me how fun I can be, and also how fun [being sober] can be. It was an eye-opening moment."
Bandrovschi began planning for Listen Bar in October 2017. A year later, she opened the bar as a four-day pop-up in Williamsburg, New York and received over 600 RSVPs.
Listen Bar hosts Dry January events at VON Bar in Manhattan every Monday of the month, but Bandrovschi said she has plans to establish a permanent home for the "all bar, no booze" space in Brooklyn, New York. She is using iFundWomen to crowdfund for a permanent location.
Bandrovschi came to Emerson as an international student from Romania and graduated with a double major in advertising and media studies. She said Emerson gave her the ability to think through a more creative lens.
"I'm a big fan of Emerson. There's a lot of openness to individuality and that kind of exploration," Bandrovschi said. "Coming from a background of really rigid education, it was really nice to push myself in different ways."
She said she sees parallels between her memories of moving to the United States and deciding to open up a booze-free bar over a decade later.
"There was this moment of, 'Holy s—, I'm in a different country.' [It was] a very new chapter of life beginning," Bandrovschi said. "It's funny thinking about that in a way that's similar to what I'm doing now, kind of jumping in feet first and just going for it—doing something I didn't really have context for, but in many ways I felt very ready for."
The original no-alcohol challenge came from a close friend. Danny Madden '09 is a co-founder of Ornana films and has been sober his whole life. According to Madden, Bandrovschi would tease him for not drinking, so he decided to challenge her to try it herself.
"Lorelei is the kind of person who infuses adventure into everything she does. This bar, this whole alcohol-free drinking space, is kind of a perfect manifestation of her attitude," Madden said. "She knows what it means to go out and have a fun night, so she's putting all her interests into this one thing that I think will make people think differently. What's better than that?"
After her first month sober, Bandrovschi began making "one month dry" a yearly tradition, though she says she could never completely give up alcohol. She admits she did not predict opening a bar based around this experience, but she used her skills in advertising, innovation consulting, and experience design—where she would design the experience a consumer may have with a brand or product—to imagine a bar without the alcohol and what it would need to succeed.
Bandrovschi left her full-time job less than two years ago to seriously plan opening Listen Bar. She said she had no answer to the question, "What do you do?" so she spent several months traveling to figure it out. Bandrovschi's travels started with a one-way ticket to Guatemala, then headed to Mexico, Greece, Berlin, London, Romania, and Iceland. After traveling, she said the idea to open an alcohol-free bar had sunk its claws into her and she never looked back.
The first step was to work on the brand—one with a trendy and relatable tone but also with a bit of authority—and decide what she needed to do to maintain the bar aspect, but without the alcohol. She said the drinks were the most important step to tackle.
"I had this vision of really bringing different people into it and having this idea that the menu showcases what's the best of the best out there," Bandrovschi said. "The best ingredients, the best everything."
Eamon Rockey, the director of beverage studies at the Institute for Culinary Education in New York and creator of his own beverage company, designed Listen Bar's menu. Bandrovschi wanted an eclectic mix of people to design the drinks. She hired an herbalist and nutritionist to work on the menu alongside other mixologists.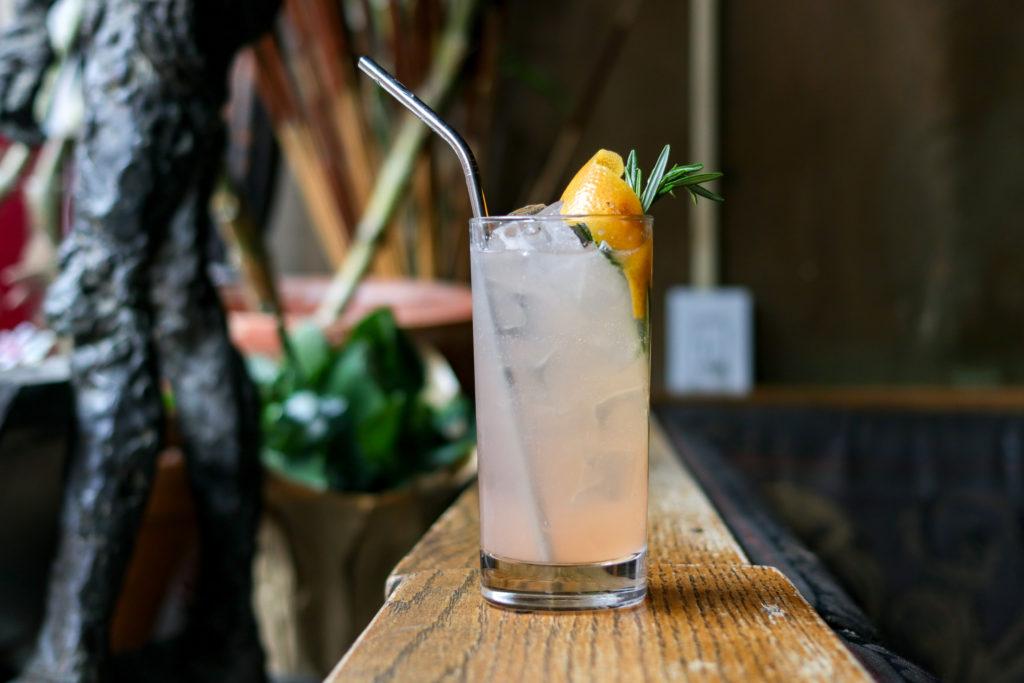 Listen Bar drinks vary from $8-$13, from hot or cold to bottle or draft, and include custom cocktails. Cocktails have names such as "Me, A Houseplant," with lemon, cucumber, elderflower, and seedlip garden, and "Ghost Me Maybe," with grapefruit, rosemary, and Thomas Henry slim tonic.
Esme Benjamin, a wellness editor at Culture Trip, first heard of Listen Bar through an Instagram post. Benjamin attended both the original four-day pop-up and a Dry January event.
"I was just amazed at how much it felt like a real bar," Benjamin said. "There was a really good ensemble of people there, there was music, everyone was talking, [and] it was crowded. They obviously put a lot of thought about how they chose the drinks menu."
Listen Bar also partnered with Plant People, a company that produces various cannabidiol products, to offer CBD products for an event called "Self Care is the New Rock 'n' Roll." According to Plant People's website, CBD is extracted from cannabis and provides medicinal properties that relieve anxiety.
Listen Bar has hosted karaoke events and events with a tattoo artist on site. The bartenders are also musicians and play their own music for attendees, which Bandrovschi said creates conversation between the mixologist and the drinker.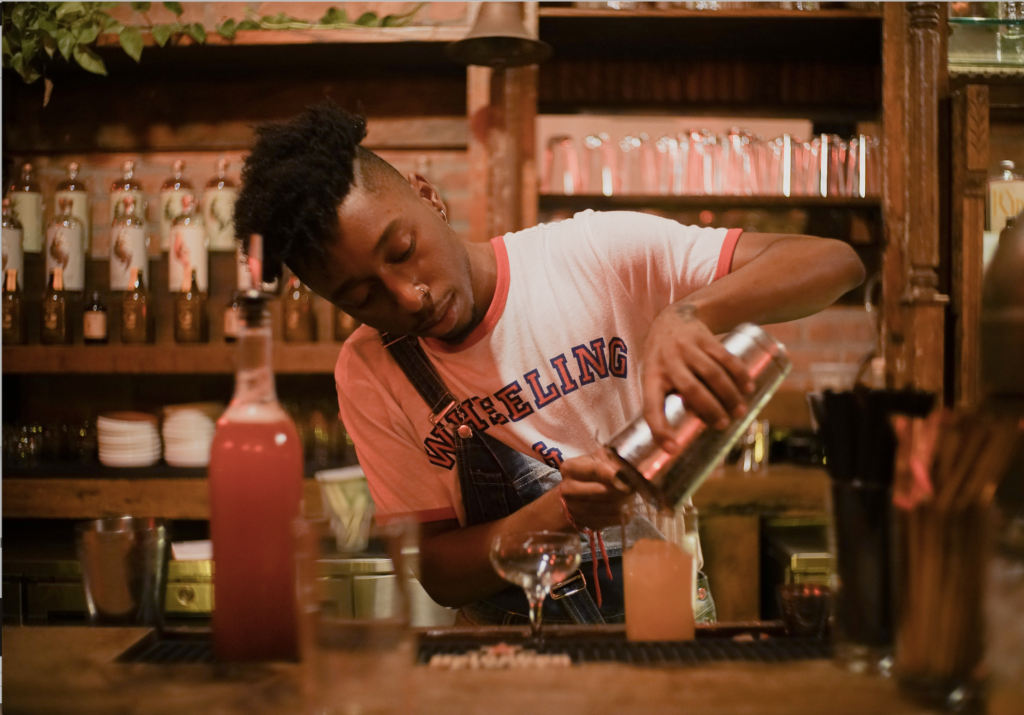 "Music is a really big component of Listen Bar," Bandrovschi said. "[The bartenders] are the ones curating the playlists, so we're kind of a music-discovery space as well."  
Listen Bar and their Dry January pop-up have started a conversation for the "sober-curious," according to Bandrovschi and Benjamin. By using nutritionists and herbalists, Listen Bar hopes to appeal to those interested in wellness and those wanting to ditch the calories of traditional alcohol.
"Binge drinking almost feels really retro now—no one really does that," Benjamin said. "I definitely think there's been people who are questioning more their reliance on alcohol for everything—for confidence, for social situations—and wondering whether it really serves them to continue drinking."
Bandrovschi hopes to crowdfund $100,000 for her permanent booze-free bar. She raised over $9,500 as of Jan. 20. The iFundWomen campaign runs until the end of January. With an official space, Bandrovschi hopes to expand what Listen Bar can do.
"The nice thing of having a permanent space is it becomes a place people can really rally around and a community can grow around," Bandrovschi said. "That to me is very exciting."
Bandrovschi said she created Listen Bar to start conversation and to create a space for everyone—drinkers and non-drinkers. Listen Bar's mantra is "a good ass time," according to Bandrovschi
"Ultimately what it is, is just challenging the default. I feel like that's something that Lorelei [Bandrovschi] is all about and has really become a mantra of hers and in her life," Madden said. "As an adult she can choose what she does, and why choose the normal stuff? That's part of the whole spirit behind Listen Bar, and I really like that."