Alum debuts as playwright for Off-Broadway's 'Jasper'
An Emerson alum and playwright premiered his first production, "Jasper," a play about the challenges of having a physically disabled family member, on Sept. 14th at the Alice Griffin Jewel Box Theater in New York. 
Grant MacDermott '09 was pursuing his Bachelor of Fine Arts in acting when he discovered his passion for writing plays. 
"I always loved the written word, and I liked performing, but I wasn't a poet," MacDermott said. "[Playwriting is] a perfect convergence of those two things."
MacDermott took it into his own hands to create inspiring stories after experiencing difficulty with the works assigned to him in school. 
"I started to write from a desire to really give actors something exciting to do on the page," MacDermott said. "I understand what [actors] need to achieve and how they're probably going to go about doing it, so I always try to make sure that my plays are really accessible to actors." 
Ten years ago, MacDermott was inspired by a friend who is the parent of a severely ill child to explore themes of forgiveness, fidelity, and faithfulness in relationships. Thus, "Jasper" was born. 
Grant's mentor, Gary Garrison, connected MacDermott with Katie McHugh, the Artistic Director of Yonder Window Theater Company, in 2017 to bring "Jasper" to life. 
"I have a playwright who I know that is looking for a director. I think you'd be a good fit," Garrison told McHugh one day, according to the director. "He's written a play that I think needs your touch on it."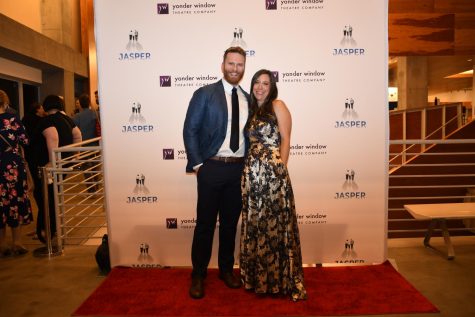 In 2018, MacDermott entered Theater Resources Unlimited's New Voices contest with "Jasper" and won. According to TRU's website, TRU Voices gives playwrights an opportunity to connect with producers. Instead of a cash prize, TRU finances a reading of the play, which includes paying for the space, the actors, and the director.
According to MacDermott, this reading put "Jasper" in front of a panel of producers who would assess if the play is "commercially viable." 
"That was the backers reading before [Yonder Window] auctioned the play," McHugh said. "Auctioning a play means we get a contract that gives us the rights to produce the play." 
As of 2021, MacDermott became Yonder Window's writer-in-residence. 
"I'm contractually obligated to write two plays a year," he said. "I'm pretty embedded with [the company]." 
After an 18-month development period, "Jasper"'s production team discovered the Alice Griffin Jewel Box Theater, an Off-Broadway theater at the Pershing Square Signature Center in New York. Once they secured a space, the team expedited the journey to opening night.
"We only got the theater because another show dropped out," MacDermott said. "We did rehearsals, pre-production, casting, and all that in three months, which is basically unheard of." 
While the production of the show was both chaotic and challenging, it marked a rare turning point for not only "Jasper" but also MacDermott's career. 
"To start off with an Off-Broadway production…that doesn't happen to anybody," McHugh said. "There's hundreds of places where a playwright can have their first play. Normally, a playwright does not have a first play Off-Broadway."
In the week prior to opening, "Jasper" had five preview performances. During previews, the show can undergo any amount of changes between the script, light design, set design, or blocking. The playwright, director, and actors have a close relationship during previews to work out the kinks of the production. With opening night approaching, it was necessary for MacDermott to step away from the script. 
"Every subsequent day, you lose a little more power," MacDermott said. "[As a playwright] it's a process of letting go, as opposed to when you're an actor it's a process of acquiring." 
As the actors explore the characters and familiarize themselves with the script, MacDermott relies on them to tell him what works and what doesn't. He ended up cutting five pages before opening night.
"The other languages of the stage start doing work for you," MacDermott said.  "I didn't think it would change at all, and then I was wrong. That happens a lot when you're an artist—you're often wrong."
Throughout the five previews and six shows in front of an audience, viewers laughed and cried at the dramatic story of "Jasper."
The play follows the life of Drew and his wife Andrea as they navigate their marriage amidst the plummeting health of their son, Jasper. After Drew crosses paths with Shayla and her healthy son Tyler, he indulges in the father/son relationship he could not achieve on his own. 
"We've had mixed reviews, but I think opening night went really well," McHugh said.  "[It] was surreal, and incredible, and exciting. But also nerve-wracking. As the director and producer of the show, I was very nervous."
In addition to MacDermott's writing, which proposed thoughtful questions, other elements of the show inspired mixed opinions. Despite all of the difficulties and changes along the way, one thing remains: "Jasper" is a fantasy fulfilled.
"You dream about this sort of stuff for so long, and then when it actually happens, it just feels crazy," MacDermott said. "My name is now down in a Playbill. I always thought of those as these kinds of historical documents that were very real, and now I see my name in it."
From Emerson classrooms to an Off-Broadway stage, MacDermott's experiences taught him a lesson that transcended the theater. 
"Everyone's process, although it seems different, is actually really similar," MacDermott said. "We're all working towards the same goal. You never know where your art might take you because you're always going to be an artist—the question is in what capacity."