'Laughter is medicine': alum published comedic short story anthology
Labeled as "humor for the culturally refined" and promising to subvert expectations—Eggplant Emoji Volume 1, a new collection of comedic short stories from an Emerson alum, was released last month. 
The anthology, written by self-proclaimed "jack of all trades," James P.W. Martin '13,  features 12 stories from 10 different authors. The stories written by Martin are titled "The Cockroach" and "George Washington's Tig 'ol Bitties." Martin's previous work can be found in other volumes of short stories like The Secrets We Keep and Creaky Stairs: A Book of Dark Truths – Volume 1. During most of his life, Martin has been creating art in some type of way, whether it be through films, acting, singing, editing, or writing. 
"I'm at the point where I just want to focus on projects that I love and believe in and bring them to life," he said. 
Martin's interest in reading and writing fiction started in sixth grade after he read Stephen King's Pet Sematary. He later attended Emerson for a film degree, which helped land him in several nationwide film festivals (some can be found on his YouTube), and an editing job for a documentary about individuals with communicative disabilities. Currently, Martin resides in Bucks County, Pennsylvania, and takes part in the Bucks County Writers Group, which is where the idea for Eggplant Emoji was born.
"These are some of the funniest authors I know and it's just been a pure joy," Martin said. "My biggest recommendation to any writer is to join a writers group to have people read your work and you review their work. I surrounded myself with authors who are publishing books and it gave me the confidence I needed to start my own publication."
One of Martin's fellow writers and author of the anthology's short story "Hard Times; or, Impotence in the Time of COVID," Jack McBiggs, added that every author is a contributor to the group. His story is about dealing with the inability for a man to get hard during the pandemic, and how that is dealt with in comparison to a deadly respiratory infection. 
"The fact that you can't get hard is not high on the list in the medical community, but to local losers, it's catastrophic," McBiggs said. "It's the combination of something shameful and isolating, and that is impotence. All at once, we got hit with a medical issue that affected everybody and separated us all, causing us to withdraw in ourselves. It's about reaching out during that time, no matter what you're embarrassed about."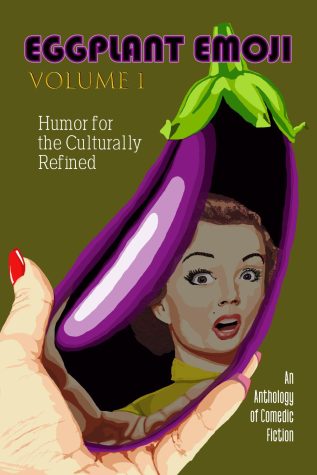 After doing work in women's fiction and horror, Martin decided that this time around he wanted to emulate R-rated comedies. He figured the genre could bring different and new ideas to the world of literature, which he describes as "wide open and untapped." Martin said that at a time of so much stress during the pandemic, comedy can help remind people to laugh.
"The idea behind the anthology was R-rated comedies made for popular TV shows and movies, so why not bring R-rated comedies to literature?" he said. "Not that they're all R-rated, but many of them are. The whole point is just to make people laugh. I believe laughter is medicine and brings people together, and I think that's more important than anything right now."
Martin's passion for short creative works is translated from onscreen to pages in a book. However, he plans to do the opposite and build upon his brand by basing a show on Eggplant Emoji. 
"My long term goals include creating a TV series of 'Eggplant Emoji,' where different filmmakers could present their own short comedic films or sketches, and every episode can introduce you to new, hilarious people," Martin said. "I'm building a brand here and I'm excited for all the funny content we're going to put out."
McBiggs values the genuineness that comes from comedic fiction, because of the inability of readers to fake laughter. To him, "laughter is the gold standard." 
"Laughter is involuntary, and the only real currency that means anything for a work of art," he said. "I encourage everybody to comedic pitch because the minute you make somebody laugh with something you wrote, it's game over, and you're gonna want to do that again. It's the ultimate goal." 
Martin said his favorite piece from the anthology is  "Tinderella," a modern take on "Cinderella," but with the dating app Tinder. Heather Twerking, an alias for the writer of "Tinderella," detailed how the idea came to be from a writer's retreat in the Poconos. The writers group took part in a word war, which is an hour long competition to see who can write the most. 
"I made the mistake of telling somebody about that idea and ​​they just latched onto that," she said. "I was like, I'm gonna write it, no matter how dumb it comes out. It's really cool to find out that you can do comedy writing. That wasn't something I tried before."
Twerking said getting into comedy writing was an accident, born of hanging out with the wrong people at the right time. Coming from a 12 year career as an editor, she is trying to "bridge that gap" between editing and writing by diving into a focus on fun writing, which she has been doing for six years now. 
Twerking praised Martin for his myriad talents—ranging from jokes to karaoke, the only way she could sum him up was "incredible."
"He did the art, the marketing, everything for this book," Twerking said. "He's extremely professional. We all love him."
While working on the process of publishing his own work, Martin recognized the effort and character each author adds to the collection. In a publication world that has minimal focus on "humorous, character driven pose," he said he wanted to give each of these individual voices a place where they could collaborate and express originality. 
"I know so many hilarious authors who otherwise wouldn't have their stories published, not for lack of engagement or quality, but simply because there aren't outlets that are publishing the best comedic fiction out there," Martin said. "I wanted to create a platform that presents the best comedy out there where emerging or otherwise unknown authors can find a home."