ComEx: A Comedy Extravaganza Shines a Spotlight on the Comedic Arts Department
By Sasha Zirin, Assistant Living Arts Editor
April 20, 2023
Bouts of laughter filled the Semel Theater last weekend thanks to the hard work of Emerson's Comedic Arts Department, who hosted the college's third annual Comedy Extravaganza festival, also known as ComEx.
The event consisted of four parts, starting with a sketch and improv showcase hosted by the 300-level comedic arts class "Topics in Comedy: ComEx!," followed by a stand-up showcase featuring a variety of Emerson student comedians. Next were the 20th annual Jess Clavelli awards, and the event finished with ComEx Tonight! featuring VIP guests Ziwe Fumudoh and Zora Bikangaga.
ComEx featured many students majoring and minoring in comedic arts, as well as students from other academic departments.
The festivities kicked off on Friday at 7 p.m. with numerous events showcasing the students' sketch acts and improv performances, and it continued the next night with the award competition and ComEx Tonight!
"It was really fun, being able to be part of a class where you were able to build [this show] from the ground up, and write sketches and work with classmates every week to collaborate and make the show," senior visual and media arts major Emma Engelsen said. "It's a unique, amazing process, from the first time we met in class to what the show became."
Engelsen performed three sketches at the festival: "Roku City," "Witchin' Hour," and "Word on the Street."
"I was very grateful to have three of my sketches be picked for the showcase, which was a really, really high honor [and not what] I was expecting," Engelsen said. "Even if I didn't have a ton of stage time, or a lot of lines, I still felt really happy with how it came out—my voice was still present."
After the sketch showcase, several student comedians performed their fine-tuned stand-up. Hosted by junior visual and media arts major Riley Dewey, the aspiring comics touched on everything from personal family history to being "dropped" by your therapist.
"[I'm happy I could] do my material I've been working on for a while, and coming out of it I know where I can improve," junior comedic arts major Jonah Bowen, who performed a set in the stand-up showcase, said.
The festivities continued on Saturday night with students competing for the Jess Ilias Clavelli Award. The award, named in honor of the late daughter of Emerson alumnus Chris Clavelli '83, recognizes the school's top-notch comedic arts talent.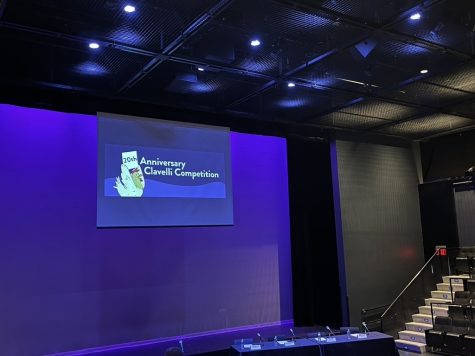 Clavelli, an associate artistic director at the Florida Repertory Theatre, was on the judge panel for the event. He was joined by comedy and television writer Zora Bikangaga and distinguished faculty members Val Kappa and Erin Schwall.
The event began with a video of several previous Jess Award winners explaining how receiving the award shaped the future of their careers in the comedy industry. Many of the alums said the award granted them a confidence boost that helped them into a career they now love.
The competition was hosted by Cole Alberti, a senior comedic arts major who won the award last year. 11 contestants performed a range of comedic acts, from sketch to improv to stand-up to musical comedy.
Robert Doty, a senior comedic arts major and sketch showcase member, attended the competition and watched his friend Max Charbonneau perform as a tap-dancing jazz singer.
"He's so awesome and weird, he just throws shit together," Doty said. "It's so much fun to watch."
The Jess Clavelli award was given to sophomore comedic arts major Saskia Penning. They did stand-up offering astute observations about sex, such as how lesbian sex can be abstract and how straight men are often bad at it. Charbonneau came in second, and senior comedic arts major Scott Herrera came in third for his improv performance of a first date.
"[Penning's] stand-up set was incredible," Doty said. "They worked so hard on it, and it was so fun. They're a natural."
Scott Herrera, who had also been a Clavelli competitor and part of the sketch showcase, hosted "ComEx Tonight!" which was an event where Herrera acted as a late-night show host and interviewed two of the festival's guests, Bikangaga and writer and comedian Ziwe Fumudoh.
Senior comedic arts major and festival student director Breanna Nesbeth discussed the issue of how comedy troupes at Emerson are often predominantly white. Following the video, she stepped on stage to talk with Herrera about how comedic arts groups on campus can reinforce diversity, equity, and inclusion by uplifting the voices of students of color and actively working to diversify comedy troupes.
Fumudoh, speaking to the audience via Zoom, emphasized the importance of being true to one's own comedic voice. The writer said that trying to emulate your comedic heroes won't be as effective as being true to yourself. She also emphasized the amount of hard work and dedication it takes to be a comedian.
Bikengaga discussed his creative process and how he grew to love comedy. He shared his experience working in television, such as his time on "Zoe's Extraordinary Playlist," a musical comedy/drama television show.
ComEx is considered important to comedians at Emerson. Students worked hard on the events and got to produce something central to their passion for comedy, as well as gain experience.
"[ComEx] gives people the opportunity to shine and gives people a confidence boost," Bowen said. "It gives you the opportunity to have your dreams happen now, like getting to perform stand-up to a large crowd."