"Comics of Color" will give platform to POC performers
A live comedy-variety show invites people of color to share their comedic talents through sketch, improv, and stand-up. The event, hosted by Stand Up in the Park, will take place on Thursday, Nov. 3 at 8 p.m. in the Lion's Den, and all are invited to attend and take part in the fun. 
"The event will introduce a few different skits, some performers doing stand up and improv," Sophie Canon, a freshman comedic arts major and Comics of Color host, said. "You can expect themes of race to be described in the comedy and also just silliness, wackiness, and a fun time put on by people of color."
The inspiration behind the show came from a past effort to make the Emerson comedy scene more inclusive, as is described by senior comedic arts major and Comics of Color producer Breanna Nesbeth. 
"I was on board for Stand Up in the Park and last year, we had a woman and nonbinary comic show, and it went really well," Nesbeth said. "When we made plans for what shows we wanted to do this semester, I proposed that we do a Comics of Color show."
Nesbeth describes the necessity of shows such as this one to give minority communities a platform to express themselves in a space where this opportunity comes few and far between.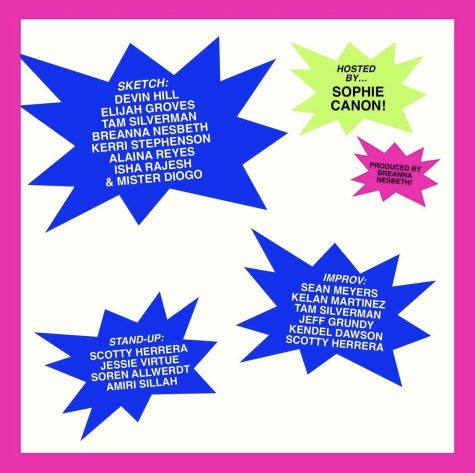 "The need is that Emerson is predominantly white, and the Comedic Arts department is even more overwhelmingly white," Nesbeth said. "We just have so many talented comedians of color who unfortunately get very absorbed into the masses of who make up the majority of comedians here. I thought the show was really important to highlight their performance and only their performances." 
This is a sentiment echoed by Canon, who described her own experience as a person of color in a program where there are few. 
"Most of my classes are dominated by white men," Canon said. "Stand Up in the Park and the majority of [their] performers are white men; there's not a lot of comics of color and they're often not given the platform. The industry today and the world today [have] never been for people of color, so it's nice to have moments [with] more of a space to talk about political, social, and moral issues openly."
Similarly, Canon speaks from personal experience, explaining that the show allows people of color the opportunity to perform without fear of judgment. 
"It alleviates the stress of being the only performer in the set that talks about something controversial or serious," Canon said. "I find myself often in that position and it can sometimes be jarring because it's like oh, someone's talking about constipation after me. It's fun to tackle social issues through comedy, so it's nice to be given more of an outlet to do that where people are expecting it." 
The hope for the show is not only to have a great time, but also to ensure performers of color leave fulfilled and empowered. 
"I'm looking for a success that's as great as or even greater than the woman and nonbinary comic show," Nesbeth said. "[We want to] highlight these marginalized comics and really just make sure that the performers feel like they did a great job and they feel really comfortable. That's my number one priority." 
Students are encouraged to attend the show and enjoy comedy in a way it is not shared enough. According to Nesbeth, the show will be groundbreaking for even the most experienced comedians. 
"It's a great opportunity to see what Emerson comics have to offer outside of what you'd normally see," Nesbeth said. "You just don't know what to expect from comedy that comes from outside of the bounds that you're used to." 
All who attend are promised a night of fun, laughter, and silliness that will lift spirits and spread joy. 
"There's so many lovely sketches in line that are gonna make people laugh," Canon said. "There's gonna be juggling, there's gonna be tricks and just the energy is gonna be high and people are having fun. Why wouldn't you want to get in on that?"