Alum writes uplifting fairytale, commenting on sexism and corruption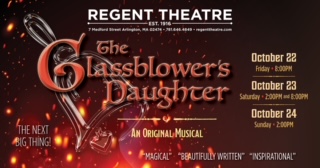 Fairytale "The Glassblower's Daughter," penned by an Emerson alum, is set in an early North American colony and follows Sandy, a teenage girl who lives in a colony that's being run by a corrupt governor. The show ran at the Regent Theater from Oct. 22-24. 
Zareh Artinian '91 wrote the completed script in 2015, but originally penned the story as a short story in 2008. He produced "The Glassblower's Daughter" through the Lightning House Players, a theatrical production company he founded in 2019. 
"I founded Lightning House Players with the idea of creating works that inspire people to do the kinds of things that help make the world a better place," Artinian said. 
The play alludes to various historical, political issues through the main character's journey, like European settlers stealing Native American land, racism, sexism, and capitalism. 
Actress Sonnet Lamb stars as Sandy, the daughter of a glassblower who loved to make bells. When her mother died, her father swore to never make another bell and emotionally shut off. 
Sandy's father, the glassblower, is captured by the Governor and it is up to her to save him. It is through this journey where she discovers her power and purpose. 
"Through the story, [Sandy] finds the power to speak up against the corruption that she sees around her and pull the community together so that she's able to help everybody," Artinian said in an interview with The Beacon. "I wanted to offer a sense of hope and inspiration and encouragement that we can have the power to make things better."
Artinian graduated with an MFA in creative writing. "The Glassblower's Daughter" was published in Odyssey Magazine as a short story over a decade ago. When he completed the story in 2015, Artinian turned it into a musical with the help of music composer and lyricist Kelvyn Koning. 
"I actually first wrote this story in 2008 and there was a very different political climate at the time," Artinian said. "Some things that were going on back then unfortunately were still going on in the last four years, [and] a lot of those political controversial issues are still going on today."
"The Glassblower's Daughter" was initially set to play live in fall 2020; however, due to the pandemic, the cast and crew held a screened reading instead. The run at the Regent was the first official live production of the play. 
All of the play's music was composed by Koning, a graduate from the Boston Conservatory at Berklee, who also wrote most of the play's songs. The songs were written with purpose—they were simple, yet effective. The music encompassed the viewers as the orchestra played right next to the audience rather than in an orchestra pit. 
"I just love the singing," said an audience member, who declined to provide their name. "The music says so much and they're so wonderful with what they do. You can really feel it." 
Humor was embedded into the performance through the actors' mannerisms, cadence and facial expressions, as well as the music. Without the shining actors, there would be no show.  
"There are songs that are funny, there are some that are very heartwarming," Artinian said. "We really span the range of emotions. [The actors] have been doing a great job bringing these characters to life, audiences will be moved by their performances." 
Along with the intricate costuming, clever stage design, and expressive lighting, the show comments on various social situations that audience members can relate to. Capitalism and colonialism are addressed as the play references real life issues, like when the Governor wants to build a wall to block Indians and a song, "Manifest of Destiny" alludes to the colonists'  belief that expansion into land that wasn't theirs was justified. 
The play also explores sexism in the 1600s—exposing shocking parallels to modern day oppression. 
"The play blatantly shows ways that men put women down or try to limit them, and then shows a woman who has conversations with people and is empowered to, of her own volition, to pursue a path she wants to," Koning said. "There's still a lot of people who aren't willing to trust a woman as a leader, or think that women should not be leaders in any capacity. There are still stereotypes about what genders are supposed to be or do." 
The song "Utopia" especially questions inequality with its lyrics, "Why does it need to be a man? Girls are smart, girls can plan. Why does it need to be the way it's been? If we're gonna make a change, I don't think it'd be that strange to notice other people besides men." 
Sandy is forced to not only overcome her father's grief of losing his wife, but also to get to a place where she can stand on her two feet despite the obstacles suffocating her. She works hard to challenge the corruption and patriarchy around her, something women in mainstream fairytales do not do. 
"I wanted to create a story that wasn't the same retelling of the story that everybody already knows. I wanted to create something original," Artinian said. "I also wanted to do something that was socially relevant  and that people could relate to."
Artinian credited Jack Gantos, a former professor, as a huge influence on his story writing. Gantos taught Artinian that the young protagonist should be portrayed as one who can overcome obstacles and solve problems on their own, not with the help of an adult.
"I'm hoping that this show will inspire people, that they will leave the theater feeling like if they see injustice in the world, if they see something they know is wrong, that they feel empowered to do something about it, to rise up and take steps to correct any wrongs that they see around them," Artinian said. "I want people to feel empowered and uplifted."