Alums part of Boston Globe's Pulitzer Prize winning team credit Emerson for success
When Brendan McCarthy and Evan Allen graduated from Emerson, almost a decade apart, there was no way they could've known they would find themselves part of a Pulitzer Prize-winning investigative team at The Boston Globe. 
On June 11, McCarthy and Allen were among a team of Boston Globe journalists to win a Pulitzer Prize for Investigative Reporting for their "Blind Spot" investigation. 
McCarthy '04, a former Beacon news editor, has served as the Globe's deputy projects editor since 2018, overseeing the paper's "quick strike" investigative team. McCarthy served as the lead editor for the Pulitzer-winning series. 
Allen '11, a writing, literature and publishing major, joined the Globe as a freelance reporter in the same year she graduated. Before becoming a staff member in 2013, Allen covered community-based stories in the suburbs then started covering breaking events. Currently, she is a part of the newsroom's narrative team and focuses on crime reporting.
"Here at the Globe, we're really blessed to have resources and the ability to go big on investigations, and we're really lucky to have two full investigative teams, including of course the spotlight team," McCarthy said in an interview. 
The "Blind Spot" investigation, published in August 2020, started when a roadway crash in New Hampshire killed seven motorcyclists in June 2019. Globe reporters discovered the driver at-fault should have already had his license revoked due to previous driving misconducts, however he hadn't because of miscommunication between states, leading the journalists to investigate the frequency of such situations. 
McCarthy worked as a co-op for the Globe during his years at Emerson, and said returning was a "dream come true."
"I felt really privileged to have a chance to be in a newsroom of the caliber of the Globe and work alongside great, talented reporters, but also nice people who were patient and thoughtful and helped and showed me what good honest journalism is about," said McCarthy. "At the time, I was like a kid in Disneyland."
"I was always kind of bopping around the Globe working on small bore stories, sometimes crime briefs, sometimes working on obits, sometimes helping fix paper jams in the copy room," he continued. 
Allen joined the Globe as a weekend reporter after graduating. She was already working full time as a waitress—a job she kept throughout college as well. While getting her WLP degree, Allen also worked on Emerson's Gauge magazine as a writer and eventually became the editor-in-chief. 
"[School] was very busy, I just didn't sleep very much. [On] Fridays I would start work at 3pm and work until 2am and then I would work doubles on Saturdays and Sundays," said Allen. "I was also writing for Gauge and editing Gauge, and I was commuting too. It was busy, but it was so energizing."
Allen developed strong relationships with several professors at the college, some of whom are still in her life all these years later. 
"I just had really wonderful professors. Jeff Seglin was the advisor on Gauge magazine and he actually officiated my wedding. Jerry Lanson is another Professor, he and Jeff used to teach together all the time, and he was a guest at my wedding."
McCarthy said Emerson Professor Ric Kahn, a former Beacon advisor, helped shape his journalism career. 
"At a time when I was young and trying to sort it all out, he really showed me what it took and what it meant to be a street reporter, and tell stories of people not just in power, but those who are mostly adversely affected by the decisions that are made in the USA," he said. 
McCarthy and Allen said their time at Emerson was some of the best years of their life. Despite both being transfer students, they thoroughly enjoyed their undergrad experiences.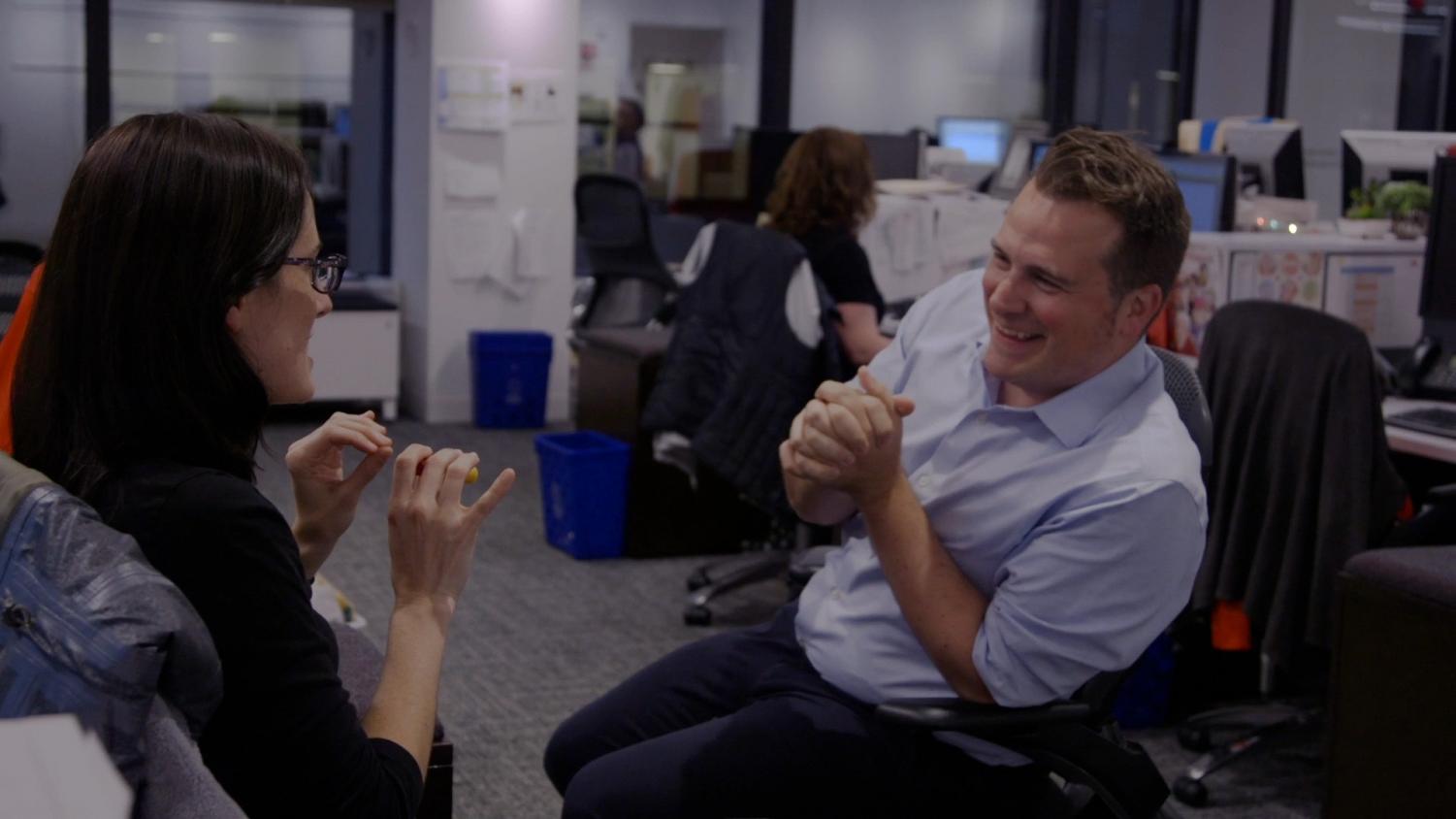 "It's just an extraordinary hands-on learning laboratory type school where you can really apply your trade, where it's not just theoretical but you actually get to get your hands dirty," McCarthy said.
"I didn't love school, but when I got to Emerson I just loved it," Allen said.
Allen said her background in fiction and poetry has helped her writing skills as her career has progressed. 
"It's just very helpful as a writer to have a really good anchor in literature," she said. "Poetry is great because it's very economical, it's sort of very muscular, it's short, and I think there's more crossover than people might instinctively imagine between poetry and newspaper writing."
Students looking to break into the industry should remain confident in their talents, she said. 
"When I started at the Globe, I was very intimidated by the people that worked there. I felt like I would never be that good, and young women can struggle with that feeling of like 'am I good enough, do I belong here,'" Allen said. "I found a lot of great mentors at the Globe, and it just helped me understand that most people don't feel like they totally belong… It was so enormously helpful to me to just have people that I could turn to in the newsroom."
McCarthy said Emerson students aiming to work in journalism full time need to hone their craft across multiple platforms. 
"If you can be a great storyteller on several platforms, that's the way to be a journalist for the future," McCarthy said. "I bounced around on different platforms and have been able to work on podcasts and documentaries, and the ability to report and uncover truths and package them in a way that's compelling for folks will always kind of win out, no matter what happens in the future."
Allen said students may not be able to control how good their writing is, or how smart they are, but they can dictate how hard they are willing to work, and that will get them far in the industry. 
"One of the things I've learned about journalism and investigative reporting is that so much of it is just being willing to stand outside in the rain for six hours," she said. "Some of my best successes in journalism have come because I asked every person in Copley Square if they knew a homeless woman named Shannon and, when I eventually figured out which lunch counter she usually ate at, I stood outside in the pouring rain for literally six hours next to a puddle of vomit until she came out."