Annual Doggone Halloween Costume Parade brings spooky festivities Downtown
Tricks and dog treats took over Downtown Crossing this Halloween as the annual Doggone Halloween Costume Parade made its triumphant return to Summer Street between Washington and Hawley Streets on Sunday. 
The Downtown Boston Business Improvement District event––in its seventh year––was held outside of Macy's from 1 to 3 p.m., garnering attention from hundreds of spectators passing through and participating in the contest.
The parade setup was decked out with Halloween-themed decorations, including orange and black balloons and a photo-op area with pumpkins and hay bales. Through the pedestrian walkway, booths presented and sold dog treats with products for their owners to look at while the dogs jumped with happiness. 
Free dog treats were given to any dog in attendance, as well as prizes for the dogs who won in various categories and their owners. Categories varied from best dog and human duo to cutest, scariest, and best costume. Prizes included a one-night stay at pet-friendly hotels Hyatt Regency Boston and Hyatt Centric Faneuil Hall, a special dinner, and shopping sprees.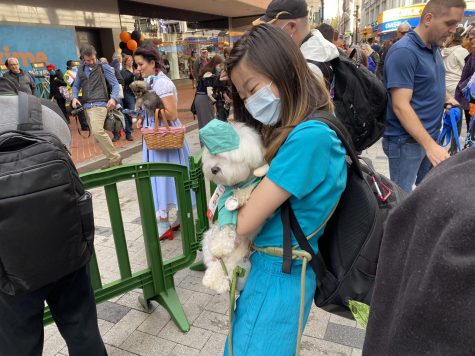 The sea of dogs filling Summer Street had a wide variety of costumes, ranging from astronauts to spiders. Jen Santry and her pug Charlie, who she dressed as Batman, attended the parade for the first time, but they are not new to events like these.
"I've done previous dog events on the Esplanade, they have a doggy parade," Santry said. "But they didn't have it this year. So I tried to find another one and found this one." 
This Halloween parade proved to be a great way to celebrate the holiday for Dale, who declined to provide his last name to The Beacon, and two time past champion Max, his five year old black boxer who dressed as a bumblebee.
"I'm not a big Halloween fan, but my dog is," Dale, who was not dressed up, said. "We won the first year as a pumpkin, and we won the second year as an inmate. This is our third year." 
Santry said the event was a festive and spirited experience she could attend with her dog as the intensity of the pandemic wanes.
"COVID is getting better and I just thought it was a fun outdoor activity and I like socializing with fellow dog owners," Santry said.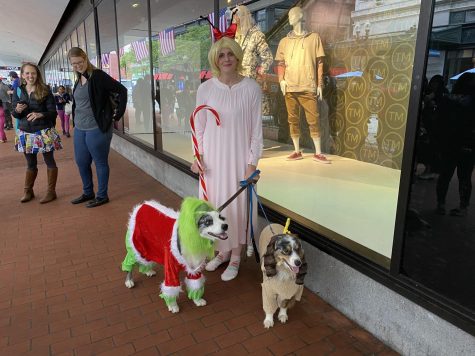 While the contest gained many new participants, past contestants like Amy Newfield and her dogs Havoc and Blitz made their return to the event in a group costume—Newfield as Cindy Lou Who, and her dogs as Max and the Grinch.
Newfield usually celebrates the holiday and dresses up with her dogs, and being in the parade this Halloween brought back a sense of normalcy. 
"It's amazing," Newfield said. "I was sad to miss it last year, so it's great to be back."
Newcomer Kim Neal and her dogs Bruin, a mastiff shepherd, and Maxx, a shar pei shepherd, dressed as a bride and groom, also expressed their joy about the return of the parade. 
"It feels great to see everybody out here and enjoying life again," Neal said.