ArtsEmerson Donor Reflects on Time as Marlboro Trustee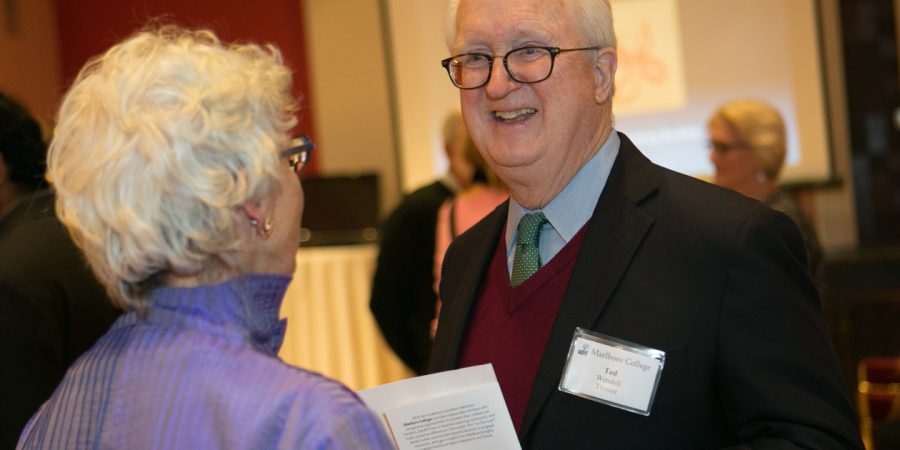 By Dana Gerber, Deputy News Editor
December 4, 2019
Lifetime Marlboro College trustee Ted Wendell, 79, first found out about the Vermont college's merger with Emerson a week before the official announcement over dinner with Marlboro President Kevin Quigley.
"A little bit before the announcement, [Quigley] said that there were discussions beginning with Emerson," Wendell said in a phone interview with The Beacon. "He didn't actually say Emerson, but he implied it."
Wendell is one of two Marlboro College Board of Trustees members with a prior connection to Emerson. The other, Donna Heiland, was previously the assistant to President M. Lee Pelton at Emerson. 
Heiland declined to comment; however, she said she would discuss her thoughts on the merger at a later date. 
Wendell is no stranger to Emerson. His son graduated from the college in 2006, and Wendell was one of the first donors to the ArtsEmerson program, supporting his close friend and ArtsEmerson founder Robert Orchard. 
We choose information accessibility
News and the truth are under constant attack in our current moment, just when they are needed the most. The Beacon's quality, fact-based accounting of historic events has never mattered more, and our editorial independence is of paramount importance. We believe journalism is a public good that should be available to all regardless of one's ability to pay for it. But we can not continue to do this without you. Every little bit, whether big or small, helps fund our vital work — now and in the future.
ArtsEmerson screens films, stages theatrical productions, and puts on other events for the Boston community at large. Wendell and his wife Mary still donate to ArtsEmerson, now in its tenth season, and are on the honorary founder's council. 
"I just came along because it looked interesting to me," he said. "I've been thrilled at the impact that ArtsEmerson is having on the city of Boston, and how the original vision has now matured."
While Wendell said the prospect of losing the Marlboro campus disappointed him, he said the merger was ultimately a victory for both communities since he believes Emerson's and Marlboro's liberal arts programs complement each other. He also said Marlboro student's involvement in college-wide decisions—such as their weekly Town Meeting forums—will positively influence Emerson. 
On Nov. 24, Emerson welcomed approximately 40 Marlboro students to the Boston campus to see ArtsEmerson's production of "The Iliad."
"This is a way of introducing to Marlboro some of the richness that Emerson has to offer and getting them on the actual campus," Wendell said. "I think getting the two parties to get to know each other and start to understand the strengths and values of each of the others is the best way to have it be smooth and fruitful for both sides—to have this new relationship prosper."
Wendell graduated from Harvard and came to Marlboro College in 1962 to become a math teacher. Outside of a one-year break to earn his graduate degree from the University of Washington, he stayed to teach math at Marlboro until 1966. He then became the college's first full-time dean of students, and students dubbed him the "teen dean" because of his young age. 
Wendell then left to work in finance and banking at Northern Cross, LLC, but returned to Marlboro College in 1979 to serve on their Board of Trustees. He retired from Marlboro in 2018 after a 56-year career at the college. He earned an honorary degree from Marlboro in 2015 as a Doctor of Humane Letters. 
At Marlboro's 2018 commencement, Quigley and Richard Saudek, chair of the Board of Trustees, named Wendell a "trustee for life, without parole." The title is solely ceremonial; he no longer exercises any power on the board, attends meetings, or casts votes. Because of this, Wendell did not participate in the Emerson merger decision. 
Wendell and his wife also helped start the Bridges program at Marlboro, which offers fully funded activities such as backpacking, dance, and writing as an orientation program to welcome new students.
Due to the threat of low admissions, Wendell knew Marlboro might enter into a merger.
"I was peripherally kept up on the discussions Marlboro was having with other [colleges], but I didn't have any influence," he said. "I think they didn't want to spring a big change on us without having some sort of forewarning that something was happening." 
Wendell said his inside knowledge of both communities gave him the peace of mind that the merger was a good fit. 
"It was a wonderful surprise that this confluence of two rivers of my life were happening," he said. "I could see that this was a way that the integrity of the liberal arts program could really be infused into a situation where it could help and have a continuing life."
Dana Gerber, Deputy News Editor
Dana Gerber hails from Rockville, Maryland, and is a Deputy News Editor at The Beacon Editor. She writes and oversees long-form, deep-dive articles spanning all areas of interest on the Emerson Campus,...