Berklee honors important Black artists Thursday at their Legacy Award Concert
Berklee College of Music continues to commemorate African American artistic legacies this month by hosting the Berklee Legacy Award Concert Thursday Feb. 25 at 8 p.m., with special performances, featuring Grammy-nominated jazz artists Jazzmeia Horn and Tia Fuller. 
Hosted at the Berklee Performance Center, the tribute concert will present the Legacy Award to commemorate the inaugural awardees: jazz musicians Duke Ellington and Sarah Vaughan, concert violinist Joseph Douglass, and dancer-choreographer Carmen de Lavallade. The award aims to acknowledge and celebrate Black performing artists and figures who have completed a Berklee doctorate or devoted their time to the Berklee community. 
In 2021, the college renamed four spaces on campus by honoring trailblazers in music and dance—the dining hall named after Ellington, a practice classroom after Vaughan, the entryway of Boston Conservatory named for Douglass, and the Conservatory's dance rehearsal room crediting de Lavallade. 
Vocalist Horn will collaborate with saxophonist and composer Fuller—who is also part of Berklee's faculty—on a live performance in honor of Vaughan and Ellington. With Fuller directing a big band to complement Horn's lyrics, Horn is eager to finally see the finished group product. 
"The collective artistry between Tia Fuller and I, her putting together the arrangements for the big band, and then some of the arrangements I put together myself; I'm really looking forward to seeing how that plays out," Horn said. "It's gonna be great."
Tia Fuller is the Artistic Director of Berklee's Ensemble Department, where she directs three ensembles and leads an outreach city music high school program, preparing middle and high schoolers for life as a Berklee student.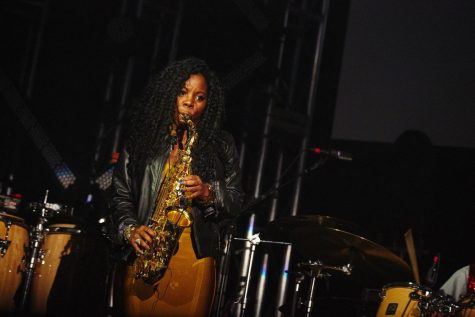 She described her role as one of intersectionality, bringing students together with her ability to put together an A-list tour show that conjoins musicians, dancers, and stage crews alike. 
"One of [my classes] is a Beyonce Homecoming ensemble where we do a show based on an artist and it's all encompassing," Fuller said. "That's one of the areas where I'm able to teach and bring my expertise of being on the road to Berklee. Another thing I do is a program that offers classes, after school classes, and ensembles so they can actually get an introduction to Berklee, and also get the tools they need to play and be a musician."
As a musician, composer, and new CEO of her own record label Empress Legacy Records, Horn won the 2013 Sarah Vaughan International Jazz Competition and the 2015 Thelonious Monk Institute International Jazz Competition. The seasoned performer has been singing since they were three years old, releasing her first album A Social Call in 2017, second album Love and Liberation in 2019, and third Dear Love in 2021. 
Since her home life was full of gospel and R&B music, she wanted to go on her own path in her career.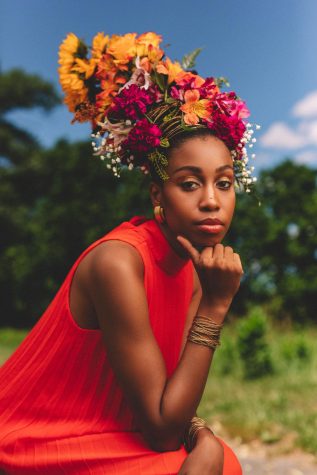 "When I heard jazz, the first vocalist I heard was Sarah Vaughan," Horn said. "Her range, her timbre, her technique, her quality, the way that she utilized her voice as an instrument, it really inspired me to be the singer I am today." 
With a name fitting for her profession, Horn loves getting to express herself through improvisation, something personal to every musician's individuality. She said she is actively working towards releasing music that affects people in a positive way and motivates them to utilize their voice in the world. 
"I've been working so hard to be a part of the jazz world, so I haven't really had the opportunity to think about where I fit in," Horn said. "But what I aspire to do is to inspire people, specifically women, to really strive from within themselves. There's a lot of adversity that we're facing in our society today."
Fuller's favorite element of jazz is the freedom musicians get to explore ideas and structures on a song. She also appreciates the spiritual connection of communicating with her performers as leader of the Legacy Big Band, which is made of 15 undergraduate students who have devoted their semester to learning the music of Ellington and Vaughan specifically for the concert. 
The young artists have been fleshing out their pieces in constant rehearsals, Fuller describing Monday's as "transformational," with excitedness oozing from the students and herself. 
"There are going to be arrangements that a couple of students did in the band, which is really special," Fuller said. "On top of that, there's so much talent. I have an extraordinary vocalist who is also singing. One of the trombone players, he's a great rapper, so we're putting an arrangement of Terri Lyne Carrington's and he's going to be rapping for that, as well as another part of the show." 
In an interview with The Beacon, Fuller thanked overlooker for the Performance Division Provost Dean Savage and Ensemble Department Chair Sean Skeete for asking to collaborate with her to create the concert. She's awaiting the final show and is being optimistic in how it will amplify Black history and voices. 
"For me, [the concert's] been about intersection points and bringing together different ideas and different departments for cross collaboration to celebrate Black History Month," Fuller said. 
All things lead back to the past, and the Legacy Award connects multiple generations to have conversations about significant historical issues that prevail today. With this, Horn yearns for people to address these matters in a communal space that is looking to change for their future.
"I hope this award brings awareness to the culture of Black American music and what it has helped establish in this country that we call America," Horn said. "I hope many people can gain a history lesson from some of these pioneers who have really dedicated their lives towards music, to building the jazz legacy we have today."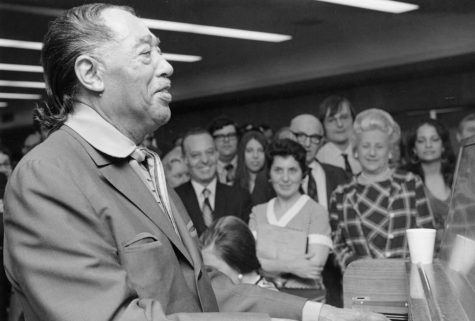 The award is especially significant to Fuller who is honoring those who have been innovators for many aspects of society that are still present today. Though Ellington and Vaughan are her people of focus for this dedicated performance, she hopes people will be touched by various Black historical figures.
"To me, the Berklee Legacy Award is celebrating those African American masters who have not only been proficient in what they do, but have really made a mark on culture based on what they do," Fuller said. "They are masters of this music, but they've also been extremely impactful on a cultural and political level in America."