Building burst into fire next to Emerson Los Angeles campus
LAFD took 44 minutes to extinguish the blaze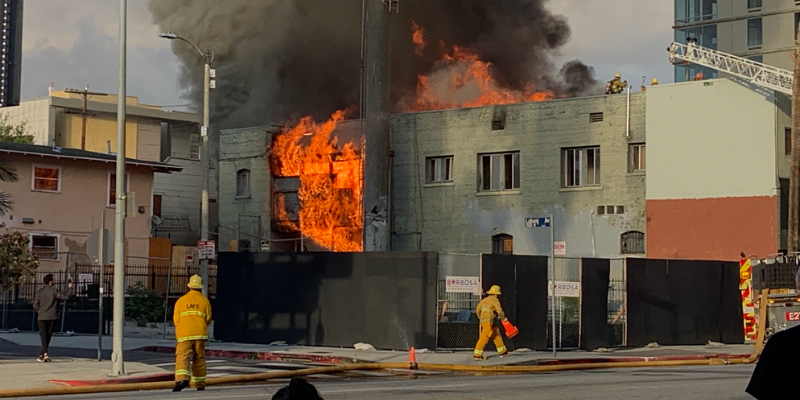 By Dana Gerber, Deputy News Editor
March 2, 2020
No injuries were reported in a building fire across the street from Emerson's Los Angeles campus Sunday, officials said. 
The college instructed students to stay inside the 5960 Sunset Blvd. campus building or wait to return to campus until further notice in an email to students. The blaze drew 89 firefighters to 6015 West Sunset Blvd, a vacant apartment building where the fire broke out, at 4:40 p.m P.S.T., according to a statement from the Los Angeles Fire Department. 
Crews took 44 minutes to confine the blaze. The cause of the fire remains under investigation. 
Chad Meyers, director of housing and student life at ELA, sent an email to students at 4:47 p.m. urging them to stay inside the 5960 Sunset Blvd. campus building or wait to return to campus until further notice. He wrote that the ELA campus was under no immediate threat. 
Traffic was shut down from North Bronson Blvd to North El Centro Ave. Nearby sidewalks were also blocked off, according to the email.
We choose information accessibility
News and the truth are under constant attack in our current moment, just when they are needed the most. The Beacon's quality, fact-based accounting of historic events has never mattered more, and our editorial independence is of paramount importance. We believe journalism is a public good that should be available to all regardless of one's ability to pay for it. But we can not continue to do this without you. Every little bit, whether big or small, helps fund our vital work — now and in the future.
The fire was initially fought from the exterior to ensure the flames did not grow worse. However, after 20 minutes, LAFD transitioned to offensive operations to put out the fire from the interior at 5:20 p.m.
At 5:52 p.m., the college sent a follow-up email to students saying it was safe to leave the building, though traffic was still restricted. 
This site had previously caught fire on Aug. 31 of last year—also resulting in no injuries.
Dana Gerber, Deputy News Editor
Dana Gerber hails from Rockville, Maryland, and is a Deputy News Editor at The Beacon Editor. She writes and oversees long-form, deep-dive articles spanning all areas of interest on the Emerson Campus,...