Fire breaks out in high rise under construction on Stuart Street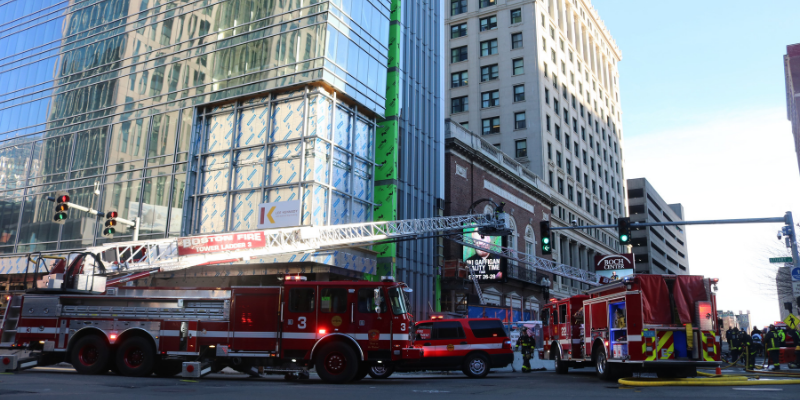 By Chris Van Buskirk
April 4, 2019
The Boston Fire Department extinguished a two-alarm fire that broke out in a 24-story high rise under construction next to the Wilbur Theatre at the corner of Stuart and Tremont Streets. No injuries were reported.
The fire only affected construction materials on the outside of the building and the BFD estimates damages at $250,000. BFD was notified at approximately 5:20 p.m.
BFD trucks blocked off traffic heading southbound at the Stuart and Tremont Streets intersection. At one point, the Boston Police Department blocked traffic flowing eastbound on Stuart Street between Charles and Tremont Streets.
The cause of the fire is still under investigation.
The fire was contain to the exterior construction materials. There were no injuries to report. The FIU on scene to determine the cause of the fire. The damages are estimated at 250,000 pic.twitter.com/9e2mFKcyqB

We stand for community, fact-based journalism. What do you stand for?

Some things in life are essential; they touch us every single day. Good journalism is one of those things. It keeps us in the know as we hurry through our busy lives.

— Boston Fire Dept. (@BostonFire) April 4, 2019
A report a building fire at a 24 story high rise building under construction.This is now a second alarm . The fire came in at approximately 5:20 pic.twitter.com/asjcTSk4cx

— Boston Fire Dept. (@BostonFire) April 4, 2019
This is a developing story. Check back for updates.
Chris Van Buskirk,
Chris Van Buskirk is originally from Buenos Aires, Argentina, but was raised in Dallas, Texas. He served as Editor-in-Chief of The Beacon from July 2019 to July 2020.

Email: [email protected]
Tweets...