MBTA to resume Blue Line service Monday morning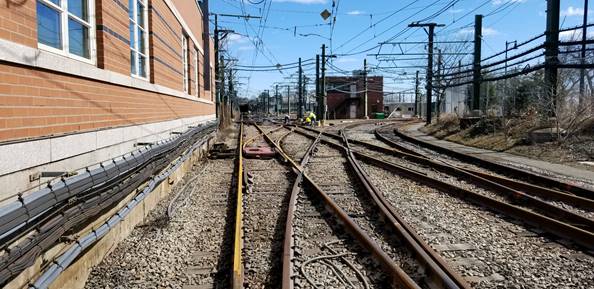 By Chris Van Buskirk
March 17, 2019
The MBTA plans to resume Blue Line service for morning commuters on March 18 after suspending service between the Logan Airport and Wonderland stops for three days.
The restoration of damaged signal and power equipment and flooded tracks follows a nine-alarm fire that occurred steps away from the Orient Heights stop on March 15. Emerson students can expect to make their normal commute Monday morning.
"While work continues overnight, we're asking our customers to allow for extra travel time tomorrow morning," MBTA General Manager Steve Poftak said in a press release.
#MBTA #BlueLine: While power and signal restoration work will continue overnight, the MBTA is currently planning to resume full Blue Line service beginning Monday morning.

— MBTA (@MBTA) March 18, 2019

We choose information accessibility

News and the truth are under constant attack in our current moment, just when they are needed the most. The Beacon's quality, fact-based accounting of historic events has never mattered more, and our editorial independence is of paramount importance. We believe journalism is a public good that should be available to all regardless of one's ability to pay for it. But we can not continue to do this without you. Every little bit, whether big or small, helps fund our vital work — now and in the future.
The New England Casket Co., the site of the massive blaze, took hundreds of firefighters about eight hours to extinguish. The three-building complex on Bennington St. suffered multiple collapses throughout the night and forced residents in the area to evacuate as toxic fumes from burning caskets lingered throughout the neighborhood.
City officials demolished the buildings on Sunday afternoon to allow the BFD further access into the structure.
The cause of the fire is still under investigation.
The building on Bennington St. the site of the 9 alarm fire on Friday has been demolished. We are remaining on scene to check for any hot spots. The cause of the fire is still under investigation . pic.twitter.com/kgzVEcxqjv

— Boston Fire Dept. (@BostonFire) March 17, 2019
Associate Dean of Campus Life Erik Muurisepp said in a statement to the Beacon that students commuting on the Blue Line should check the MBTA's social media platforms on Monday morning for updates.
"Plan accordingly and leave plenty of time for [the] commute to campus," he said.
The MBTA temporarily suspended service between the Logan Airport and Wonderland stops on Friday and Saturday. Shuttle buses replaced train service while personnel and equipment were brought to drain water used to put out the fire from the Orient Heights station and train yard.
Junior Christopher Henderson-West said he remembered the air smelling musty on Friday night when he returned to his house in East Boston between the Wood Island and Orient Heights T stops.
"I distinctly remember thinking, 'I'm so glad I didn't have my windows open that night,'" he said in a phone interview. "There was definitely a smell. The streets were empty. There were no cars, no people."
When Henderson-West began his trip home from work in Downtown Boston at 11:30 p.m., he wondered whether residents in his area were allowed to return and if he had to find a place to stay for the night.
Henderson-West said he rode the Blue Line to the Logan Airport stop where he called an Uber to drive him the rest of the way home.
"I wasn't even sure if I was going to be able to go home, so that's what I was worrying about," he said. "That night, going home was a little bit of a mess because [the MBTA] had the shuttle system and things like that so it took twice as long to get home."
Chris Van Buskirk,
Chris Van Buskirk is originally from Buenos Aires, Argentina, but was raised in Dallas, Texas. He served as Editor-in-Chief of The Beacon from July 2019 to July 2020.

Email: [email protected]
Tweets...