Residents return to Orient Heights after toxic 9-alarm fire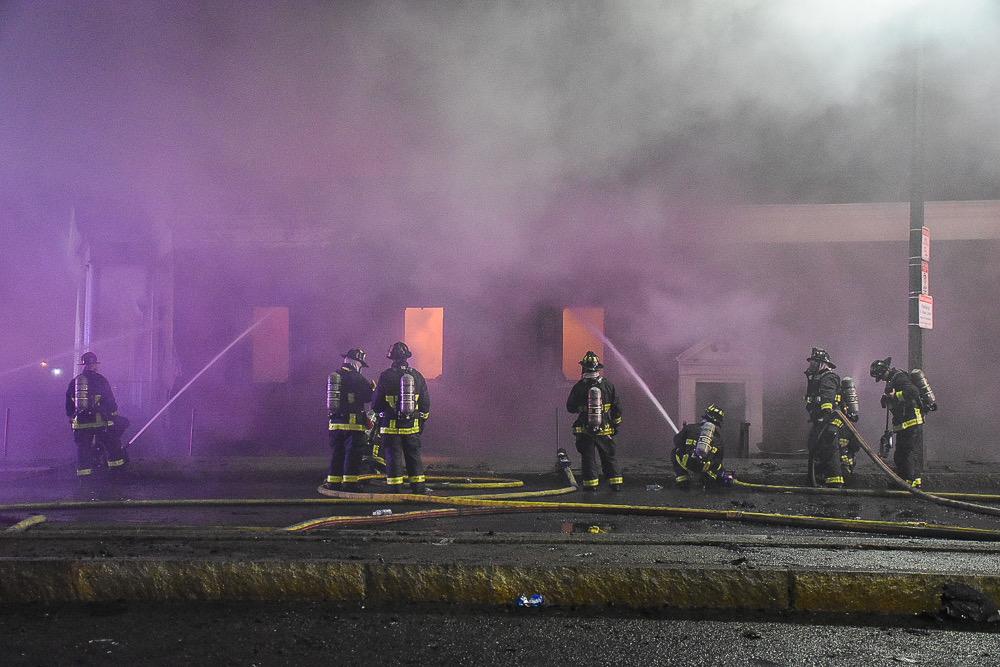 By Chris Van Buskirk
March 16, 2019
Residents returned to the Orient Heights neighborhood in East Boston late Friday night after a massive nine-alarm fire carried smoke and toxic fumes over the area.  
Hundreds of firefighters battled the flames that engulfed the New England Casket Company—a family-owned business in East Boston that makes funeral caskets. Assistant Director of Off-Campus Student Services Jeff Morris confirmed that at least 24 students live in the area where the fire broke out.
No students have reached out for emergency support as of early Saturday afternoon, and one unidentified student who lives in the vicinity of the fire confirmed with the college that they were uninjured and safe.
Boston Fire Department Commissioner Joseph Finn said residents could return to their homes at around 10:30 p.m. on Friday night.
"We've been monitoring the air quality since early evening and it's at acceptable levels, so we're allowing people to go back into their homes," he said during a press conference at the scene of the fire on Friday. 
We choose information accessibility
News and the truth are under constant attack in our current moment, just when they are needed the most. The Beacon's quality, fact-based accounting of historic events has never mattered more, and our editorial independence is of paramount importance. We believe journalism is a public good that should be available to all regardless of one's ability to pay for it. But we can not continue to do this without you. Every little bit, whether big or small, helps fund our vital work — now and in the future.
The Boston Fire Department said firefighters were still extinguishing several areas with high temperatures at about 8 a.m. Saturday morning. Firefighters witnessed multiple collapses within the three New England Casket Company buildings throughout the night.
As the sun starts to rise you can see the devastation the the 9 alarm fire caused. Companies still hitting hot spots pic.twitter.com/DyoWOjqnO4

— Boston Fire Dept. (@BostonFire) March 16, 2019
Associate Dean of Campus Life Erik Muurisepp said the college contacted the student living in the vicinity of the fire through an emergency database which keeps a record of student phone numbers and addresses.
Students must voluntarily add their information to the database, and Muurisepp said he encourages all students to do so if incidents such as the East Boston fire occur.
"[This is] unlike anything I've ever seen," Muurisepp said in regards to the fire.
The college offered emergency housing and additional resources such as food and household items to students who live in Orient Heights. Muurisepp said the college keeps three emergency singles available in the Colonial and 2 Boylston Place residence halls. The rooms are managed by the on-duty residence director and administrator.
The MBTA temporarily suspended service between the Logan Airport and Wonderland stops on Friday night and Saturday(,) and shuttle buses will continue to replace regular train service. The MBTA will also bring in personnel and equipment to drain water from the Orient Heights station and train yard.
We wanted to let you know more about what's happening on the #MBTA #BlueLine. But first, we want to thank @BostonFire for their efforts in fighting this fire. As you can see, the Orient Heights area has been impacted significantly. pic.twitter.com/HIhCT6aoFe

— MBTA (@MBTA) March 16, 2019
Two Boston police officers suffered smoke inhalation, two Boston firefighters suffered exhaustion, and one Chelsea firefighter suffered a leg injury, Finn said. Two individuals have been transported to a hospital. Finn did not confirm the identities of the two individuals.
East Boston resident Linda Parr, 71, said she saw the firetrucks while walking her dogs on Leyden Street at around 3 p.m. on Friday.
Parr said the building has been around for over 70 years with dozens of employees.
"It's a horrible thing. There are many many people who are now out of jobs," Parr said. "It's a miracle no one was seriously injured."
Stephanie Purifoy, Anissa Gardizy, and Tomas Gonzalez contributed reporting to this article.
Chris Van Buskirk,
Chris Van Buskirk is originally from Buenos Aires, Argentina, but was raised in Dallas, Texas. He served as Editor-in-Chief of The Beacon from July 2019 to July 2020.

Email: [email protected]
Tweets...