Cambiar Festival shines light on rare cancer research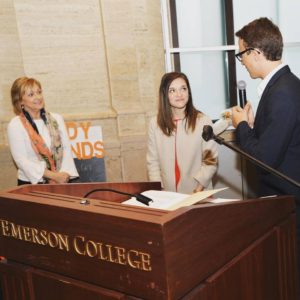 When Kaylee Largay '17 was a freshman her mother passed away from Leiomyosarcoma, a rare form of cancer. Since then, Largay knew she wanted to give back and raise money to support cancer research.
Largay is organizing a music, fashion, and art event called Cambiar Festival, set to happen in Boston during spring 2019. The festival is still in the early planning stages, Largay said. All proceeds from ticket sales will be donated to rare-cancer research nonprofits.
Largay said she wanted to give back to her mother's former doctor, Andrew Wagner, by donating proceeds from the festival to his research. She is collecting donations online to fund the festival, and has reached 11% of the $11,000 goal.
"[Wagner] was incredible and very personable throughout the whole process," Largay said. "The idea is that all of our ticket sales will go to his rare cancer research and treatment of patients."
Largay said the one-day festival will include live music performances, fashion runways, and art galleries. She hopes to book big-name artists and local Boston performers. The artists have yet to be announced.
She said the theme of the festival is based around Boston, and that location will determine the themes of future events. Laragy hopes the festival will become an annual event. "Boston is a really heavily science-based town," Largay said. "With MIT and Harvard and all of the biggest and best hospitals in the world basically at your fingertips, that's where that synergy immediately made sense."
The idea for Cambiar Festival developed when Largay participated in the Emerson Entrepreneurship Experience, a year-long program for students of any major to create a business plan and learn about entrepreneurship.
Lu Ann Reeb, director of entrepreneurial studies and business studies, met Largay through the program. Reeb said that last year, Largay won a social entrepreneurship scholarship for her business plan because she intends to donate part of her profit to a good cause.
"I think it's in our DNA at Emerson to want to do that, to provide some social good from a business," Reeb said.
Reeb said that Largay is motivated and has already accomplished much of the planning process since graduating.
"Knowing Kaylee and how motivated she is … I think it's going to be a once-a-year festival," Reeb said.
Largay said her experience planning a festival this large came from interning as a promoter at Live Nation Entertainment during her last semester. She worked for LA Pride Music Festival in June of last year and the Boston Calling Music Festival in May 2017.
"I've had the experience of helping organize [a festival], but never planning something to this magnitude by myself," Largay said. "It's definitely a learning curve, as any business would be."
Junior visual and media arts major Joelle Lewis partnered with Largay as the director of artist relations of Cambiar Festival. Lewis works to book bands before the festival and plans to work with artists to ensure everything runs smoothly.
Lewis said she shares Largay's passion for music, which brought them to collaborate on the festival.
"We're in the same sorority [Alpha Epsilon Phi], and we met last spring when I was in the new member process," Lewis said. "We had an awesome talk about music, and she was in the E3 program at that time working on Cambiar and her business plan … We share this mutual passion for the music industry."
Lewis said that since the market for festivals is so big, she can't believe there aren't more events dedicated to making change.
"With [Largay's] story, this makes sense for her," Lewis said. "[The festival] seems very genuine to who she is and her experience. It's something that I think people would want to be a part of and want to support."
Though the festival this year focuses on cancer research, Largay said she hopes that Cambiar Festival will tackle other issues in the future.
"The theme for the first year is cancer and dedicated to my mom and her journey, but the goal is that every year it will change," Largay said. "The nonprofit that we're partnered with will change, the theme of the festival will change."
Largay said she hopes the festival will continue to inspire change in years to come.
"I really want to foster a community of philanthropic endeavors," Largay said. "I want people our age to make philanthropy cool and make it part of our everyday lives. I think there's a lot of festivals where people just go, have a good time, and leave, and that's it … I think it's really important that people are learning, especially at a young age, that giving is important and creating a better world is important."