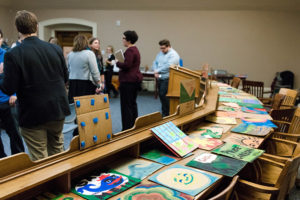 Paintings depicting zebras running through grasslands, trees with neon tops, and environmental pleas such as, "Whatever you do, see the planet and save it," decorated the lobby of the Massachusetts State House Tuesday morning.
These are just some of the approximately 250 painted cardboard pieces of a mosaic that visual media arts major Carrie Cullen helped arrange for "Put A Price On It! Art and Youth Lobbying," an event with art, music, and congressional speeches that took place Jan. 23. Students gathered there to lobby for a tax on carbon emissions, a gas that contributes to air pollution and climate change.
Cullen used her position as Massachusetts Arts Organizer for Our Climate, a nationwide, youth-run environmental organization, to set up lobbying appointments between college students and state legislators.
Ten Emerson students met with State Sen. Joseph A. Boncore and lobbied two carbon tax bills that are currently moving in the state senate.
"We're all doing this because we're passionate about it," Cullen said, "And it's starting from nowhere, but to me that's more powerful than a big campaign with outside lobbyists."
State Sen. Mike Barrett (D) opened the event with a speech about carbon pricing and youth engagement in environmental issues, and State Rep. Jennifer E. Benson also pushed her bill. Cullen added the mosaic and live music performances to the event to draw more attention to the lobbying.
Several students from the greater Boston area set up appointments with legislators, including those from Massachusetts Institute of Technology, Northeastern University, Berklee College of Music, and Brookline High School.
Senior Suzie Hicks heard about the event through Facebook and decided to attend based on her passion for renewable energy.
"The thing that stuck out to me the most was that they combined art and activism for the environment, which was something that I really love," Hicks said.
Cullen's passion for youth activism and art converged in this event, which she's planned since July 2017.
"It's a way of showing that art can be social, art can be cheap, and art can be zero resources," Cullen said. "People would just take a pizza box out of the recycling bin and then paint on it. It was a really cheap way of organizing and low stakes for people."
Since Gov. Charlie Baker gave his State of the Commonwealth speech later that day, Cullen said she knew all the legislators would be in office, strengthening the chance for students to schedule appointments with them.
Cullen said she and Our Climate deliberately planned "Put A Price On It!" between 10 a.m. and 2 p.m., despite the possibility that people would not attend because of work or class. The organizers wanted the event to happen during the legislators' work day, she said.
Sarah Fadem, the Northeast Field Organizer for "Put A Price On It!" said she enjoyed the event's combination of art and grassroots activism to create change.
"I consider myself an activist, but I also consider myself an artist more than most things," Fadem said. "I don't get to bring those two things together into my life very often."
Roughly 50 attendees were able to learn more about the basics of carbon pricing and one of the two tax bills sponsored by State Rep. Jennifer E. Benson (D).
State Rep. Benson sponsored one of the bills promoted at the event, titled "An Act To Promote Green Infrastructure, Reduce Greenhouse Gas Emissions, and Create Jobs." The bill would implement a $20 tax for every cubic ton of carbon produced by corporations, with 80 percent of the revenue rebated to taxpayers.
The bill encourages taxpayers to use more environmentally friendly infrastructure, such as switching to solar energy.
The second bill, "An Act Combating Climate Change" sponsored by Sen. Barrett, would tax carbon at $10 per ton in the first year. Additionally, 100 percent of the revenue would return to taxpayers and corporations.
The bills are set to vote by Feb. 7.
"[The event] was so great because it was just a celebration of our generation and getting together to fight for something bigger," Cullen said. "It was really high–energy and everyone was smiling and tackling new challenges all day. There was just a really great sense in the room of friendliness and inspiration."
From Jan. 29 to Feb. 2 the cardboard mosaic will be installed in the Massachusetts State House in the shape of a codfish.