Clubs enjoy heightened recruitment from in-person organization fair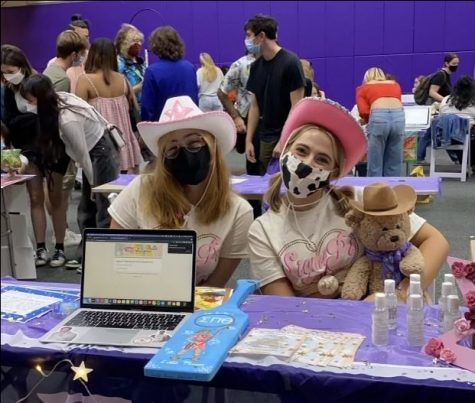 Venues around Emerson, including the Little Building and Piano Row, livened up on Friday afternoon as an in-person "org fair" got underway for the first time in a year and a half. Student organizations were assigned tables in each venue—all lined up next to each other with a small space in between. 
Students could be seen close together and passing by each organization's table an image that would have been unthinkable just a year ago.
Friday's "org fair" is the first one to be held in person since January 2020 after the fall 2020 and spring 2021 iterations were both held entirely online, due to the COVID-19 pandemic. Touted as a way for on-campus organizations to engage new members, several students credited this year's in-person event with an increase in recruits. 
"Having so many people around and being able to feed off everybody's energy, it's really nice," said Josey Finn, a senior visual and media arts major and president of Newman, a service-based club for Catholic students. "[It's great] having a whole community around—not just you sitting by yourself on Zoom."
For many organizations, the past year of online-only operations was a hard pill to swallow. Sam Hinton, a junior writing, literature, and publishing major and the co-vice president of Emerson Esports, said she'd been with the club long enough to see its activity die down a little as a result of the pandemic. 
"Being virtual did affect it a little bit," she said. "People were not as active doing things. I think the pandemic brought everyone down."
Sophomore communications sciences and disorders major Elena Plousadis echoed Hinton's sentiment. Vice president of Emerson's chapter of the National Student Speech Hearing Language Association, Plousadis said her organization struggled to recruit members due to a lack of interest in what had become an online-only organization.
"Last year was a challenge," she said.
Despite their struggles, Plousadis said Zoom meetings had helped them connect to members of the Emerson community that would have proved more inaccessible with only in-person sessions. 
"It was also a benefit because we were able to meet with a lot of grad students," Plousadis said.
Robert Burke, a first-year visual and media arts major, said the rollback of restrictions and the in-person experience of the fair has caused him to be more excited about the film-based groups that he was looking to get involved with. 
"If we were online, a lot of people would want to stay inside and do things in their own room and not really focus on the outside and what's going on," he said. "They are trying to put themselves out more, because people might just be unaware and they might not have the word on the street they had last year."
Leonard Zhang, a sophomore communication studies major, shared Burke's excitement. He said that the perceived normalcy of the fair, even in the continued pandemic, was one of the main factors driving him to get involved with Emerson organizations. 
"When you go to college, [organizations and connections are] something you imagine you are supposed to have," he said. "You meet different kinds of people. [Now,] everyone can do what they are particularly good at."
Student Engagement and Leadership, which organized the in-person event, also plans to host a virtual fair on Sept. 10 for students who couldn't make it to Friday's event.