College expects no new positives following early week surge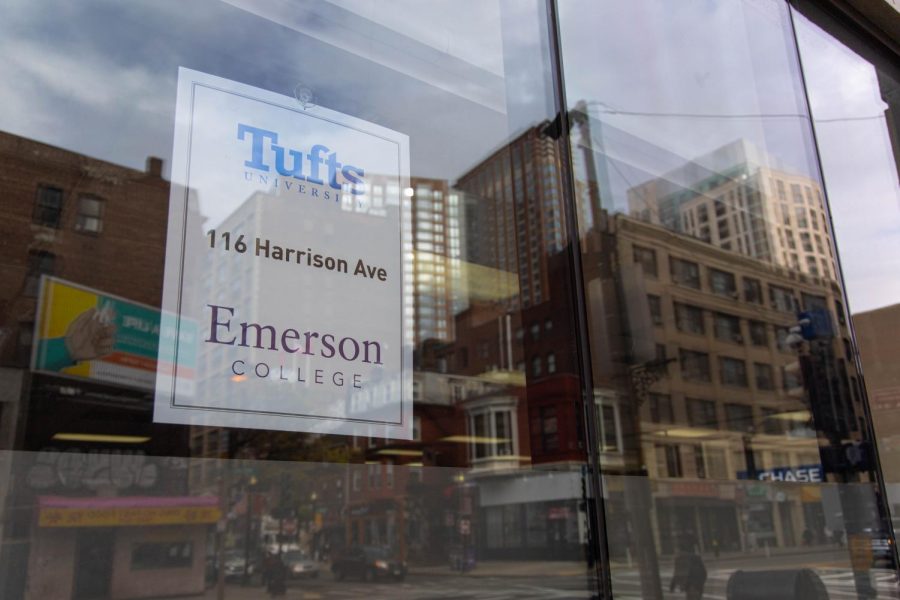 By Charlie McKenna, Deputy News Editor
November 20, 2020
College officials are not aware of any new positive COVID-19 tests from community members, following the sudden surge in positive results earlier in the week. 
Emerson reported 12 new positive tests in data published Wednesday, 10 of which came on Monday. Administrators said they do not believe the string of positive results are related to one another.
 Subsequent testing data from Wednesday and Thursday has not been added to the college's dashboard because of reporting delays at The Broad Institute—the facility that provides and processes Emerson's tests, Assistant Vice President for Campus Life and "Covid Lead" Erik Muurisepp said. Muurisepp said the college has not been notified of any positive results from tests administered on those days. 
"There should not be any new positives reflected there," Muurisepp said. "If there were positives… Tufts would be notified and we would be notified by Tufts regardless of dashboard updates or reports, and I have not gotten a call today." 
Community members tested Wednesday have been individually notified of their results. 
We stand for community, fact-based journalism. What do you stand for?
Some things in life are essential; they touch us every single day. Good journalism is one of those things. It keeps us in the know as we hurry through our busy lives.
Muurisepp told the community in an email Friday morning that the Broad received a record number of new tests in the last 24 hours, which will cause results to arrive in 36-48 hours following test administration, rather than the typical 24-48 hour window. 
The dashboard is updated via an automatic process where results posted by the Broad institute are pushed through data feeds built by the college.
"The feed has not been fixed by the Broad," he said. "We do not have the dashboard data to update yet but we are actively working on it. It is out of our control though, [because] the Broad system is slow to update that piece of it, and we're working with them to get the other feeds up so we can update the dashboard"
Muurisepp also announced, in a separate email, that Emerson community members will be required to undergo testing every four days in the spring semester, replacing the weekly testing mandated this fall. 
Nancy Allen, a professor in the Marlboro Institute who has a degree in public health from Tufts University, said she believes part of the reason Emerson was able to control the spread of the pandemic on campus was due to the stringent testing requirements.
"A lot of the high schools, for example, that have been open, there has not been consistent testing and so stuff is closing down now," she said. "But it's closing down due to cases and potential outbreaks. But there hasn't been consistent testing all along. The difference, I think, between higher education and a lot of other populations, is that higher education has invested in the testing in a way that the rest of the communities haven't."
Charlie McKenna, Deputy News Editor
Charlie McKenna is from Los Angeles, CA and currently serves as The Beacon's Deputy Express Editor, where he leads The Beacon's coverage of events, breaking news, and student government at the college....