College launches campaign to boost student voting numbers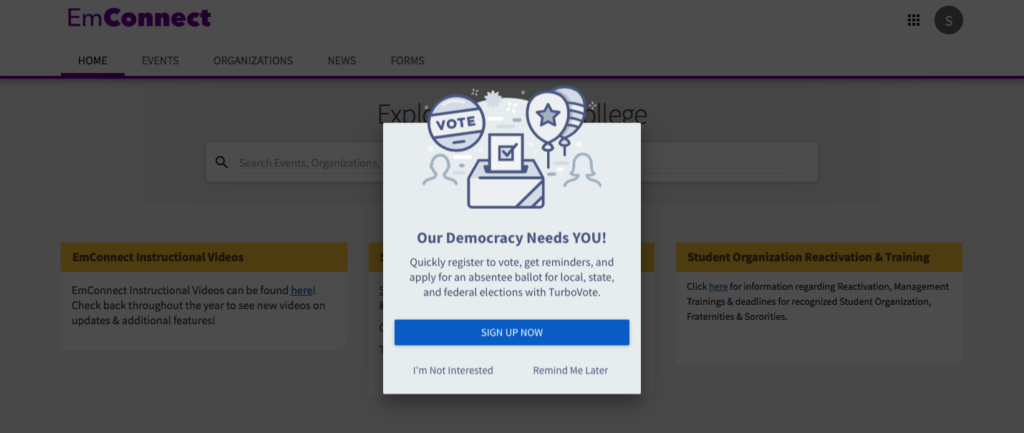 By Jacob Seitz, Senior Marlboro Reporter
September 18, 2018
The college launched a campaign in an effort to increase voting numbers in upcoming midterm elections in students' home states.
Jason Meier, director of the Office of Student Engagement and Leadership, said the college runs an initiative through CampusLabs and TurboVote that aims to raise the percentage of Emerson students who vote in the midterms. SEAL meets with students and various organizations to emphasize the importance of voting.
"We are so social justice-minded, and we are so service-minded but this is another form of that, and this is really taking those values to the level of actions and community engagement," Meier said.
In 2014, only 11 percent of the college's students voted in the midterm elections—seven percent lower than the national average among students, according to the National Study of Learning, Voting, and Engagement. At the time, 65 percent of Emerson College's students were registered to vote.
The SEAL Office wants at least 25 percent of the student body vote this year.
We choose information accessibility
News and the truth are under constant attack in our current moment, just when they are needed the most. The Beacon's quality, fact-based accounting of historic events has never mattered more, and our editorial independence is of paramount importance. We believe journalism is a public good that should be available to all regardless of one's ability to pay for it. But we can not continue to do this without you. Every little bit, whether big or small, helps fund our vital work — now and in the future.
"We're just hoping that students make themselves accountable and are responsible for educating [themselves] on how to register to vote," Meier said.
The campaign lies within emConnect. Starting this semester, when students, faculty, or staff log-in for the first time, a pop-up window appears asking them to register to vote, get reminders about the midterms, and apply for an absentee ballot for local, state, and federal elections.
EmConnect uses a CampusLabs interface while TurboVote provides the voter registration tools within the site.
Any institution using CampusLabs services can use the campaign for free. Meier and Andy Donahue, assistant director of SEAL, heard about the initiative at a conference in Cleveland, Ohio, hosted by CampusLabs.
Vice President and Dean of Campus Life James Hoppe revealed the campaign to incoming freshmen and transfer students on Aug. 30 during orientation week.
Freshman Alexis Garcia-Ruiz said it's important the college tries to get students more involved in politics.
"We have such a low-voter turnout in our age range, so politicians don't listen to us because they don't think that we matter in their results," Garcia-Ruiz said.
Jacob Seitz, Senior Marlboro Reporter
Jacob Seitz is originally from Central Ohio and resides in Cambridge. He currently serves as Assistant Express Editor and Senior Marlboro Reporter. He was previously Assistant Editor of The Record, the...