Turning Point event sparks Sinophobia controversy on campus
The Emerson chapter of Turning Point USA was suspended by the college after the conservative organization passed out controversial stickers that many students saw as propagating harmful anti-Chinese stereotypes, but they argued were political criticism.
The stickers, which were used as a promotion at a tabling event in the 2 Boylston Place alley on Sept. 29, featured a character from the popular multiplayer game "Among Us" wearing a suit emblazoned with a hammer and sickle. Making reference to the Chinese Communist Party, which controls the country's state apparatus, the figure was accompanied by the phrase "China is kinda sus"—referencing the game's jargon for determining the "impostor," or suspicious character, among the group. 
The sticker quickly sparked backlash among Emerson community members, drawing accusations that Turning Point is fomenting Sinophobic discrimination, which has been on the rise since the pandemic began.  Reports of anti-Asian hate crimes nationwide increased by 149 percent in 2020, and by 133 percent in Boston during the same time period, according to the Center for the Study of Hate and Extremism at California State University.
Last year, five percent of Emerson's student body identified as Asian/Pacific Islander students. 11 percent, or 485 students, identified as international students, according to the college's factbook—319 of those 485 were from China. 
"The sticker targeted China, and China is somewhere that we all grew up in [as Chinese international students]," said one Chinese-identifying student, who wished to remain anonymous. "For Chinese people, that idea of China is just so important that you automatically feel hurt. It's not even political at that point."
Qiuyang Chen, a junior international student from China, said the statement the sticker sent was inappropriate. 
"Americans have a political bias towards China," he said.  
In response to the stickers, Emerson's Chinese Student Association released a statement on Instagram denouncing TPUSA's actions as "senseless" and "intolerable."
"We denounce all forms of racism and bigotry against Chinese individuals as well as the entire Asian community," read the post, published on Sept. 30. "Emerson is supposed to be an inclusive community, yet any hate speech is unacceptable and we experience tremendous pain from this incident."
"We are demanding an apology from TPUSA as well as appropriate disciplinary sanctions," concluded the statement.
The association could not be reached for an interview. 
The next day, college officials sent out a slew of statements denouncing the stickers, clarifying that all reports on the incident had been referred to the Office of Community Standards.
"It has come to my attention that several individuals were distributing stickers yesterday that included anti-Chinese messaging that is inconsistent with the college's values and will not be tolerated on our campus," Interim President Bill Gilligan wrote in an email to the community. 
Gilligan said that the college's commitment to free speech could not be used to violate those community standards of inclusivity, and denounced "all instances of anti-Asian bigotry and hate."
Despite the backlash from administrators and students, TPUSA members maintain that the stickers were intended to comment on China's government and political structure, not its people. 
"Our main point [behind the sticker] was to discuss China, communism, and the power [the CCP has] over the people there," said K.J. Lynum, a junior writing, literature, and publishing major who serves as TPUSA's campus coordinator.
The college promptly opened an investigation into TPUSA, reviewing potential community standard violations surrounding bias-related behavior and invasion of privacy. According to an email from Director of Community Standards Julie Rothhaar-Sanders obtained by the Foundation for Individual Rights in Education, the club will be suspended from on-campus activities pending the conclusion of the review.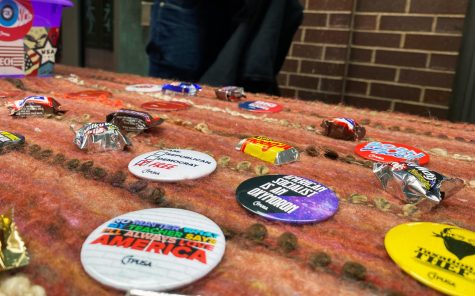 TPUSA President Sam Neves said that college administrators did not contact his organization before issuing their respective public statements on the matter. 
Both Gilligan and Jason Meier, director of student engagement and leadership, declined to comment, instead referring to the Sept. 30 email.
In an email to international students, Andrea Popa, director of the Office of International Student Affairs, said that words used to "create a hostile environment for community members" are unacceptable, despite the group's argument that the stickers fall under their freedom of speech. 
"To our Asian-identified and Asian-American students, you have the right to be treated with respect and to feel safe on the campus you call home," Popa wrote. 
The stickers were not the first incident of anti-Asian sentiment circulating on Emerson's campus. In 2020, anti-Asian vandalism was displayed across multiple room doors in Emerson's Little Building.The Student Government Association drew attention to the issue, arguing it was part of a broader pattern of discrimination. 
"We want to acknowledge that these are not isolated instances of racism and xenophobia," the statement read. "Students of color and international students experience them everyday, it's just a matter of how blatant it is. It doesn't mean the everyday microaggressions are any less harmful."
TPUSA and its members have received harsh public and private criticism in the days since the events unfolded, Neves said. He claimed that the organization's members received death threats in the days following the event. 
Lynum criticized Gilligan's response, saying he acted rashly in calling the sticker emblematic of Asian hate. 
"Our President was all too quick to virtue signal his view that this was Asian hate without investigating, in an overeager attempt to show that he is sensitive to racial issues," Lynum, who is from Singapore, said. 
The event was quick to reignite a campus discourse on the impact of TPUSA at Emerson two years after its creation in 2019. Nationally, the organization is known for its controversial and often-provocative presence on college campuses. 
"I was kind of surprised it was approved by [SEAL], just because Turning Point's whole thing is to trigger liberals," said Noah Schulte, a junior political communications major. "[The college] should be doing everything they can to punish these students because what they were doing was blatantly racist."
Alex, a senior visual and media arts major whose last name was not disclosed to The Beacon, said she believes TPUSA is nothing but a performative farce. 
"I don't really think they're going to be changing anybody's minds," she said. "It's more just theatre."