Emersonians welcome Dr. Jay M. Bernhardt as 13th president
Dr. Jay M. Bernhardt, who will become Emerson College's 13th president in June after two years of an interim leader presiding, spoke to an energetic crowd of Emersonians at the Cutler Majestic Theatre Wednesday morning.
Bernhardt, the current dean of the communications school at the University of Texas Austin, was chosen earlier this month by members of the college's presidential search committee to succeed interim president William Gilligan after the spring 2023 semester comes to a close. The announcement of his appointment came over 19 months after former president M. Lee Pelton departed the college to lead the Boston Foundation in June 2021.
"I could not be more honored or proud of the opportunity to lead this incredible institution," Bernhardt said onstage Wednesday to a standing ovation. "It's a new beginning for me."
Bernhardt has led the Moody College of Communication at UT Austin since 2016. During his tenure, he raised over $145 million in funding, developed a new residential program in New York City, and improved the college's four-year graduation rate to over 80 percent, according to a statement from search committee chair Eric Alexander.
Onstage, Bernhardt was joined by Alexander, interim president Bill Gilligan, and senior journalism major Irka Perez, the student representative on the search committee. Standing at the podium, he thanked Gilligan for coming out of retirement to lead the college for as long as he did.
"I know this entire community is grateful for your generosity, sacrifice and leadership," Bernhardt said to Gilligan. "And you, sir, have solidified your status as an Emerson legend."
In his own address, Gilligan expressed his excitement about the new president's long-awaited arrival, saying, "We are so happy you are here. Let me be more specific—I am so happy you are here," arising chuckles from the audience.
"As a faculty member, as an administrator, and finally, as interim president, I've seen incredible growth and progress from Berkeley and Beacon streets to Boylston and Tremont streets, to Sunset Boulevard, and all around the globe," Gilligan said. "We've come so far. And now as we begin a leadership transition, our college is poised for even greater achievements."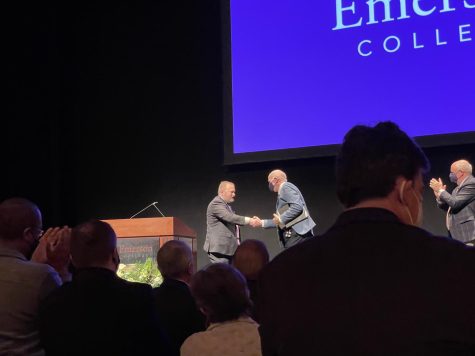 During his tenure at Moody, Bernhardt appointed Moody's first associate dean for diversity, equity, and inclusion, Alexander said. His administration increased the college's "representation of diverse faculty and students" and helped "advance a curricula and culture that fostered equity and inclusivity."
"As president of Emerson, I will be an outspoken advocate for our students, faculty, staff and alumni, and the values that Emerson family stands for, and will work with you to expand our reach and impact along with the recognition and power of our brand in Boston, Los Angeles, the Netherlands and throughout the world," Bernhardt said. "I will honor and advance our commitments to diversity, equity, inclusivity, accessibility and social justice, which includes our commitments to support the supporting communities right here in Boston."
In addition, Bernhardt was the founding director of Moody College of Communication's Center for Health Communication, Alexander said. Before his tenure at the University of Texas, Bernhardt held various positions at the University of Florida, Emory University in Atlanta, and the University of Georgia.
Bernhardt also has experience with the federal government, having served as director of the National Center for Health Marketing at the Centers for Disease Control and Prevention from 2005 to 2010. Bernhardt earned his doctoral degree in 1999 from the University of North Carolina Chapel Hill with a focus on health communication. He earned both his master's and bachelor's degrees from Rutgers University.
Onstage, Bernhardt recalled his grandfather's experience as an immigrant in the United States, stating that although he didn't go to college, he was a believer in the power of education.
"Because the lessons and commitments that I learned through a lifetime of experiences—personal and professional—are what I bring with me to Emerson, like my grandfather and my parents before me, I sincerely and deeply believe that higher education has the power to transform lives by lifting people up, expanding minds and horizons, and creating opportunities like nothing else in society."
Bernhardt joked that he was apprehensive about being the 13th president—a number he once considered unlucky—until his 15-year-old daughter Olivia reminded him that 13 is the number she wears on her volleyball jersey and his other daughter, 23-year-old Lila, told him it was her favorite number.
He also referenced the recent Golden Globes speech of Emerson alumna and actress Jennifer Coolidge, who won an award for her performance in the television series "The White Lotus."
"She gave an incredible speech; she was hilarious and vulnerable, and most of all authentic," Bernhardt said. "Thanking her director that night, she said to him, quote, 'You've given me a new beginning.' She said a lot of other things as well, most of which I can't repeat here, but the new beginning she spoke of, that's exactly how I feel about joining the Emerson community."
Bernhardt is in the process of moving from Texas to Massachusetts, and laughed about having to break out his winter coat, which he hasn't worn in a few years.
At the end of Wednesday's program, Gilligan took the podium again to give Bernhardt some advice for fitting in in Boston—teaching him to drop his "Rs," and concluding with, "Have a wicked good afternoon."
"I can't be more excited," Bernhardt said in an interview with The Beacon. "This Emerson community is just amazing. People are so talented and creative and passionate. I'm so thrilled to become part of the community and learn everything I can learn about it and just make it even better."