'We don't feel safe': Emerson Jewish community reels from yet another antisemitic attack
Emerson's Jewish community reacted with grief, anger, and mourning after antisemitic graffiti was found scrawled on an event poster for Hillel, the college's Jewish student organization, on Friday in an elevator lobby in 2 Boylston Place.
The poster, which advertised a "Yoga with Hillel" event, was defaced with language that "mockingly invoked the Holocaust in relation to Jewish individuals or organizations," according to a community-wide email from Interim President Bill Gilligan condemning the vandalism.
Those responsible for the graffiti have yet to be identified, Gilligan said. 
"It made me really sad," said Jordana Meltzer, a junior theatre education and performance major who serves as president of Hillel. "It sucks because we don't feel safe as Jews at Emerson and that's pretty sad. Emerson is definitely like, 'We're a very accepting community,' and we're not."
Friday's incident marks the second time in recent years that antisemitic vandalism has struck Emerson. In January 2020, four swastikas were found in a Piano Row stairwell, prompting a condemnation from the college and the student government association. The college never identified the individual or individuals responsible for the incident. 
Shortly after the graffiti was publicized on Monday evening, Hillel announced that it would hold a gathering for Jewish students and allies to meet in solidarity—a safe space for Jews to air their grievances and heal from the trauma of the most recent incident.
"On a campus that doesn't talk about antisemitism or hasn't talked about antisemitism in the fourteen years that I've been here, I really appreciate your actions—coming together and stepping out of your homes brave and proud every day," said one professor in attendance at the event, who did not provide her name.  "It gives me a lot of hope."
Though the college issued a public condemnation of Friday's incident, students highlighted that issues of antisemitism persist on campus. Meltzer said that though she appreciates what the college is doing, the fight against antisemitism needs to be "pushed even more." 
"We asked the college to actually push [the community gathering] so it [wasn't] just attended by Jewish students, but by people who need to hear this and need to learn about what's happening with antisemitism."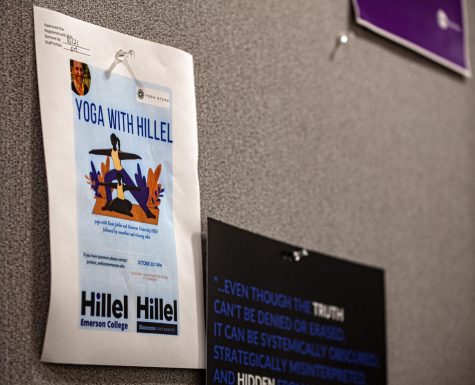 In a campus-wide email announcing Tuesday night's community gathering, the Rev. Julie Avis Rogers, Emerson's director of religious and spiritual life, said that while the community heals, she hopes to see people raise each other up as we move forward. 
"As we do this work of mending, particularly from acts of antisemitism, I hope those who are hurting today can be supported through coming together," wrote Avis Rogers.
The gathering, held in Little Building 227, drew over 50 community members on Tuesday night—Jews and non-Jews alike. Avis-Rogers and Hillel members led the group of attendees through a sober ceremony of songs, candle-lighting, and traditional Jewish songs. 
"On days like these, I oftentimes find it very helpful to remind myself that there is absolutely no right way or wrong way to be feeling right now," Avis-Rogers said during the event. "A gathering like this is exactly a time to check in with ourselves—to not only show our support for our friends and our community, [but also] to honor whatever feelings, whatever fears, whatever numbness might be arriving to you today."
Hillel members led the group in song as one student strummed her guitar to the melody of a nigun—a wordless religious tune. 
With the words "Olam Chesed Yibaneh"—or "We Will Build This World From Love"—reverberating throughout the room, the crowd moved into a candle lighting ceremony, a chance for attendees to pay homage to those victims of antisemitism that came before them. 
"I want to put this down for my ancestors and all of our ancestors," one attendee said. "We've been through a ton of shit and I'm so done!"
Those who took part in the candle-lighting ceremony did not disclose their identities while speaking to the group, with many sharing their experiences being Jewish on campus, and some even saying they were afraid to share their identity. 
"[I want to be able to] walk around in my Hillel shirt and not look over my shoulder when I'm walking to Walker [Building]," an anonymous first year student said. "I'm so happy that I found Hillel but there are certain days where I'm so scared." 
A chorus of snaps, claps, and other supportive outbursts followed each candle lighting and brief speech, with some using the opportunity to speak indirectly to Vice President and Dean for Campus Life Jim Hoppe, the only administrator in attendance. 
"I'm putting this one forward for hope and action," one student said while lighting their candle. "Whether that means allies getting educated or [administration] finally taking notice of the Jewish issues that we've been bringing up to them for semester after semester." 
Many brought forth demands for change surrounding the college's treatment of Jewish students, particularly highlighting its neglect in recognizing Jewish holidays. While the 2021-22 academic year began just a week before the start of Rosh Hashanah, Jewish students were generally provided few opportunities to observe or celebrate. 
The lack of recognition for the religious holidays spreads across other Boston schools as well, with Northeastern, Boston University, Berklee College of Music, Suffolk and others not providing students time off. 
A similar incident of vandalism occurred at Northeastern University this weekend, when a mezuzah—a small box with a piece of parchment inside containing the words of a traditional Jewish prayer—was ripped off of the university's Hillel House.
Sydney Cohen, Hillel's multimedia chair, expressed regret that Tuesday night's gathering had to happen in the first place, apologizing for the fear students were feeling on campus. 
"I wish I could have met your faces under different circumstances," Cohen said. "I'm sorry that you feel unsafe on campus. I'm sorry that this school doesn't take action, I can't promise that they're gonna take action. But when you do things like this… [those in administration] begin to hear you."
"I'm not saying that it's going to work, but you keep on pushing there may be a change," she continued. "I'm really hoping there will be because [it's very] depressing and sad to go through this stuff. Especially when it's over and over again." 
Camilo Fonseca contributed reporting.