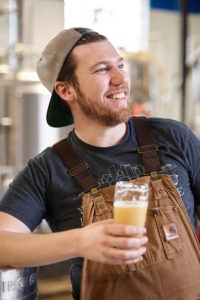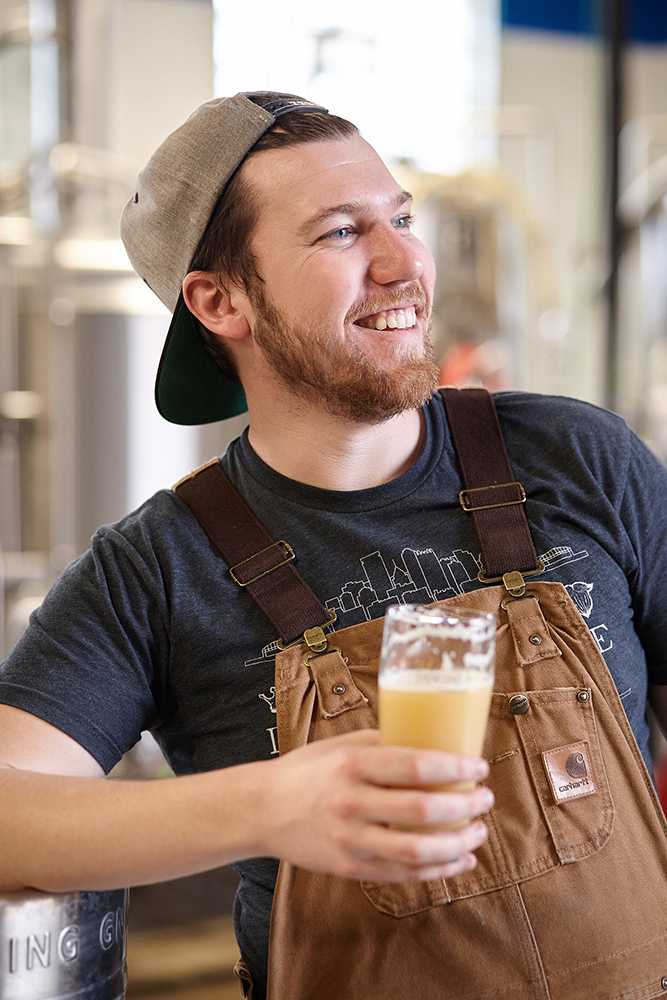 Andrew Witchey '09 named his brewery the Dancing Gnome partially on a whim, and because the gnomes' folklore described his business goals—the watchmen are dedicated to their jobs, but they also let loose. Now, the roughly 2-year-old brewery is in the running for USA Today 10 Best Readers' Choice 2018: Best New Brewery in the U.S.
"I wanted to craft a brand that was really serious about the quality of beer and pushing beer into our region," Witchey said. "But it's still beer, and everything should be fun. Nothing should be too important that you forget to kick back and laugh."
The contest features breweries across the country founded in the past two years. Voting ended Monday, March 19, and the winner will be announced on Friday, March 23.
Witchey said he personally knew many breweries on the list and felt honored to be placed among the best.
"You never open [a business] without expectations, so it's always great to have people behind you that recognize what you're doing," Witchey said. "I'm very excited."
His brewery, located in Pittsburgh, PA, has a rotating tap list and serves eight types daily. The business brews three beers a week. Two are canned for sale, and one is sold for draft only.
Witchey said he aimed to give his business a modern feel, and loves talking to patrons about something he created.
"You'll find a large following about most anything, but the beer community is pretty densely populated," Witchey said. "Whenever we do can releases, people will bring tents … and hang out with friends and share food and beer and stories. It's a really positive community."
Beau Mitall owns Alberta's Pizza, a food truck that serves patrons outside the Dancing Gnome every Friday and Sunday. Mitall said he started his truck around two weeks after the brewery opened, and the companies have had a great partnership ever since.
"Most days we sell out," Mitall said. "On Sundays there's a very nice crowd, a very hang-out crowd."
Mitall said he felt thrilled for Witchey and the Dancing Gnome staff on the nomination.
"I was super stoked when I heard about it," Mitall said. "I've been pushing it on my Facebook and Instagram, and we're pretty excited."
Witchey said breweries were rare in the Pittsburgh area until a few years ago, when local laws changed and the brewing scene skyrocketed. He said a lot goes into making a profitable business since the U.S. is now home to nearly 6,000 breweries.
"It's not the same as like five years ago where you can open up and people will be happy just that they have a local brewery you can go hang out at," Witchey said. "I think now it's a lot more focused on quality and community and the overall experience you get at any given brewery, and what that means to any specific person."
Although he attributes much of his prosperity to patron's support, he said hard work and luck aided the Dancing Gnome's success.
"I think a lot of it is listening to consumers and providing what they are looking for, but in the same vein staying true to ourselves and brewing what we set out to brew," Witchey said.  
Witchey said he decided to pursue brewing after feeling unsatisfied with the commercial fashion industry and photography—he earned a graduate degree in marketing communication from Emerson. He took a course with the American Brewers Guild, an education facility for craft brewing in Vermont, and decided to pursue his dream of owning a business.
"Work is only one aspect of your life, but it takes up a lot," he said. "It's good if you're able to find something you have passion for and can drive you forward."
Witchey said he recommended for anyone who is questioning their career path to pursue their interests and to be patient while they try something new.
"Always [pursue your own interests] no matter how far out it is of what you're doing, or whether it's something else—always have something that you enjoy and don't stop at it," Witchey said. "Never stop trying to find new things to work at or make a living."