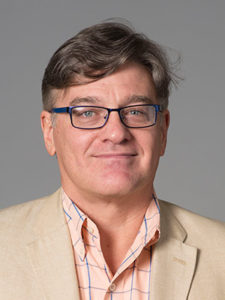 President M. Lee Pelton announced the death of Joseph D. Ketner II, director of Emerson Urban Arts, in an email to students on Sept. 16.
Pelton wrote Ketner, 62, passed away after a battle with cancer. Ketner started working at Emerson in 2008 as the Henry and Lois Foster Chair in Contemporary Art Theory and Practice and Distinguished Curator-In-Residence. He is responsible for the Media Art Gallery on Avery Street and helped put together the Uncommon Project.
"He was a remarkable man who lived a remarkable life and who will leave behind a remarkable legacy that will long outlast his last days with us," Pelton wrote.
Pelton described Ketner as a gracious, ethical, humble, and inexhaustibly vibrant individual.  
"He will be sorely missed, not only in our community, but around the world," Pelton wrote.
According to his website, Ketner was the chief curator at the Milwaukee Art Museum, the Henry and Lois Foster Director of The Rose Art Museum at Brandeis University, and curator and director of the Washington University Gallery of Art in St. Louis.
He curated exhibits around the world including an Andy Warhol exhibition at the Brooklyn Museum and a Jackson Pollock exhibit at the Peggy Guggenheim Collection in Italy.
Ketner's family asked the community to consider donating to the Joseph D. Ketner II memorial fund, according to Pelton's email.
This is a developing story. Check back for updates.