Women's volleyball defeats Brandeis on senior day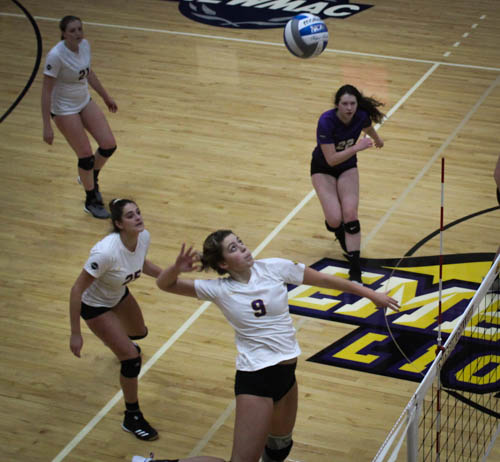 The women's volleyball team recorded its second consecutive victory Saturday after they defeated Brandeis University 3-1 on senior day.
In the ceremony before the match, the Lions' only senior, outside hitter Jessica Braunstein, received recognition for her athletic achievements while her teammates cheered her on.
"She's like one of my closest friends that I've made since I've been here," freshman middle blocker Logan Steenbergen said in a post-game interview. "It's gonna be weird to be back next year and not have her here because she's a very reassuring presence."
Brandeis came into the match with a 4-17 record but went toe-to-toe with the 16-6 Lions. After falling behind by four in the first set, Brandeis scored four straight points to tie the game at 19. The Lions rallied and won the set 25-21. Brandeis recorded eight attacking errors, while the Lions totaled three.
The Judges jumped out to an early lead in the second set, but a six-point run by the Lions helped them gain control and win the set 25-18. Junior outside hitter Grace Tepper totaled nine kills throughout the first two sets.
We choose information accessibility
News and the truth are under constant attack in our current moment, just when they are needed the most. The Beacon's quality, fact-based accounting of historic events has never mattered more, and our editorial independence is of paramount importance. We believe journalism is a public good that should be available to all regardless of one's ability to pay for it. But we can not continue to do this without you. Every little bit, whether big or small, helps fund our vital work — now and in the future.
Halfway through the third set, Brandeis led 15-9. After the Lions regrouped late in the set to make the score 24-20, Brandeis setter Talia Freund scored her first kill of the game and ended the chances of a sweep.
"I think [Brandeis] made some adjustments in the third set that we didn't adjust as well to, and we had a little bit of a little bit of a slip," head coach Ben Read said in an interview.
The Lions committed four more errors than the Judges in the third set.
"I think that we recognized that how we played in the third set was unacceptable," Steenbergen said.
The Lions took control in the fourth set and won 25-16. Tepper and sophomore outside hitter Carolyn Vaimoso led the Lions with 18 and 12 kills respectively. Freshman setter Caroline Bond recorded 40 assists while Braunstein added three kills.
"That's why we like to play Brandeis," Read said. "They are a very strong team and the last couple of years, they beat us 3-0 and 3-0. It's a good competitive game for us to help prepare for conference [games]."
The Lions will play on the road against the Massachusetts Institute of Technology on Oct. 29 at 7 p.m.
Ethan McDowell, Sports Editor
Ethan McDowell is a sophomore journalism major in his second semester as sports editor. He oversees The Beacon's sports section and covers events from basketball games to skiing. McDowell previously served...