The Year of the Lions: Highlights from Emerson athletics' 2022-23 season
The 2022-23 Emerson Lions have a lot to be proud of: across all 14 athletic programs, the Lions captured a bevy of accolades, including five major individual conference awards, nine First Team All-Conference selections, eight Second Team All-Conference selections, two Coaching Staff of the Year awards, an All-American selection, and the crowning accomplishment, a NEWMAC championship.
Women's soccer led the way in team success, capturing the NEWMAC championship over Clark University in November. Men's soccer also went on a historic postseason run to the NEWMAC championship round, and men's volleyball advanced to the GNAC semifinals for the first time in program history. 
Lions players also found individual success, earning eight Defensive Player of the Week selections—led by men's basketball graduate center Jarred Houston, who was selected four times—six Offensive Player of the Week selections, and one Player of the Week selection. 
After one of the most decorated years in Emerson athletics history, here's a look back at the highlights from all of Emerson's clubs. 
An asterisk next to a team's record denotes they still have games left to play.
Women's Soccer (12-4-5)
NEWMAC Champions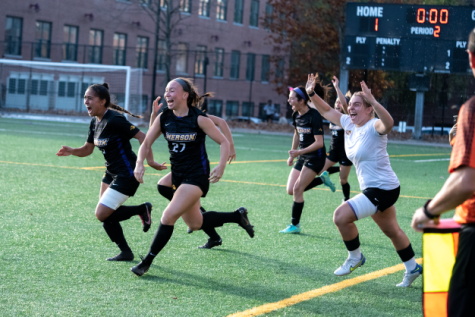 Women's soccer reached the peak of the NEWMAC, capturing the first conference championship in program history—and the first-ever NCAA tournament appearance by an Emerson women's sports team—after a thrilling quarterfinals victory and a clutch win in the semifinals.
The Lions also found great individual success, with senior midfielder Cali Bruce securing the program's first All-American selection, junior captain Yoshiko Slater earning NEWMAC Co-Defensive Player of the Year, six players named to the First and Second All-Conference teams, and the coaching staff earning NEWMAC Coaching Staff of the Year. 
But no prize was sweeter than the NEWMAC championship, according to Slater, who added that proving their conference rivals wrong made it that much better. 
"We have always known that the conference […] just assume[s] we're a bunch of theater kids, and we're not good at sports," she said. "So it was nice to prove people wrong."
Men's Soccer (10-3-6)
NEWMAC Finals
The men's soccer team shocked supporters with a dominant performance in 2022. They managed a NEWMAC record of 4-2-1, second only to Babson, and made it all the way to the conference finals—where they missed out on the championship by a single goal.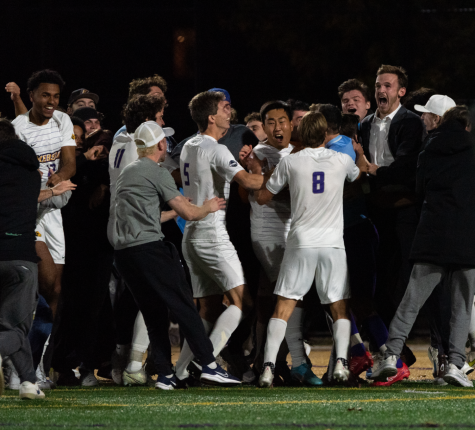 "It's obviously frustrating because we know we were good enough to win this game," said senior Aiden Ferguson at the time. "But I can't be happier with how the guys really showed up today. We worked as hard as we could like we have all season and it just didn't fall our way."
The final match against Babson capped off a historic Cinderella run for a team that, just the year before, had gone winless in conference play. This year's Lions kept seven clean sheets, ran roughshod over Lesley with eight goals in the Charles River Cup, and finally made it to the finals after a thrilling penalty shootout against No. 3-ranked MIT.
The nationally recognized coaching staff also added two new members this year, both young but with plenty of experience between them—alum Bo Feekins, who captained the Lions before graduating in 2023, and Owen Miller, coming off a coaching stint with a fourth division side in the Spanish league.
Women's Volleyball (18-5)
NEWMAC Quarterfinals
Continuing on last season's 17-8 record, the women's volleyball team leveled up in 2022-23, earning an additional in-conference win to finish 7-3 in the NEWMAC and 18-5 overall. On their way to the postseason, the Lions played dominant volleyball, sweeping 65 percent of their regular season opponents.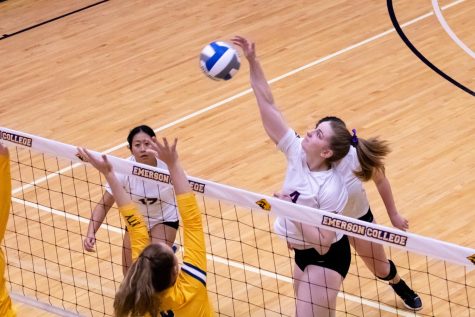 The Lions' high-powered offense—which averaged a NEWMAC second-best 12.05 kills per set—was led by senior setter Caroline Bond, who received First Team All-Conference honors, and sophomore Second Team All-Conference honorees Amelia Combs and Parker Cummings. 
Though the season came to a heartbreaking end in a 3-2 NEWMAC Quarterfinals loss to Smith College, there were many bright spots along the way, including two separate five-game win streaks, a 3-0 win over Mount Holyoke on Senior Day, and two games honoring the team's continued partnerships with the "You Can Play" initiative and the Side-Out Foundation. 
Cross Country 
NCAA DIII East Regionals (28th women, 19th men)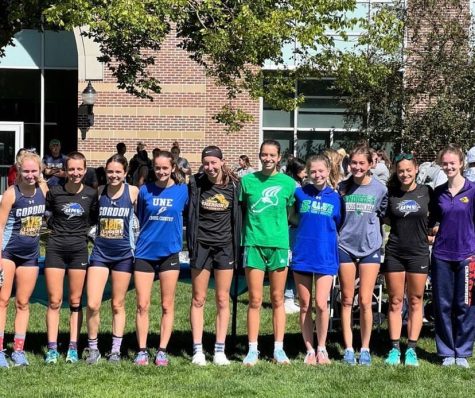 The Lions raced in plenty of competitive meets both inside the NEWMAC and out. Emerson runners were out the gates early with fourth and seventh placements for the men's and women's teams, as well as sixth overall at the Pop Crowell Invitational. And after an impressive performance against Div. I competition at the Suffolk Invite, the Lions would share dirt with the NEWMAC's best at the men's conference's championship, where they placed seventh.
First-year runner Olivia Kardos and sophomore Sam Zannotti led the women's team with solid performances, and even a couple top-ten finishes. The men's team was led by senior captain Oliver Glass, who was named to the NEWMAC's All-Sportsmanship Team.
Men's Basketball (16-10)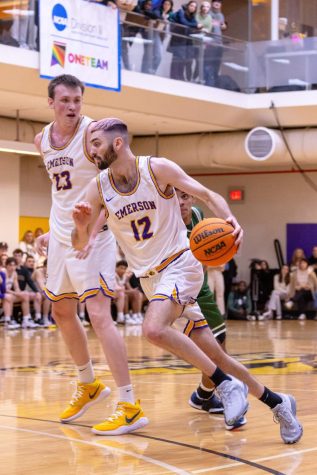 NEWMAC Semifinals
A season removed from their NCAA Div. III Tournament berth, the Emerson men's basketball team recorded a program-best 11 wins in the NEWMAC en route to a 16-10 record in the regular season. Additionally, graduate center Jarred Houston took home the NEWMAC Athlete of the Year and Defensive Athlete of the Year for the second consecutive season.
Though their journey ultimately ended early with a loss to Babson in the NEWMAC Semifinals, graduate guard Nate Martin remains optimistic about the program's future.
"Obviously, it didn't end the way we wanted," Martin said. "But we definitely learned a lot as a team. The returning guys got some great experience that will help the program going forward."
Women's Basketball (8-17)
Missed playoffs
Looking to step forward after an arduous 2021-22 season, the women's basketball team ran into more bad luck in 2022-23, with injuries to players like Div. I transfer athlete Charlotte Levison preventing the Lions from making their expected jump.
Despite the losing season, there were plenty of highlights sprinkled throughout, like the team's three-game win streak in the middle of January—capped off by a Jan. 16 76-69 shutdown win over New England College—and the Lions' mental health awareness game on Feb. 8. 
Men's Volleyball (13-15)
GNAC Semifinals
After a 1-8 start to the season, men's volleyball righted the ship and won 12 of their next 19 games. Finishing 8-8 in conference play, the team made a return to the playoffs for the first time since 2019 and pulled off a 3-0 upset over the higher-seeded Emmanuel College Saints in the GNAC Semifinals.
Junior captain Neiko Pittman—who also earned First Team All-Conference honors and was named GNAC Defensive Player of the Year—said the win was emotional and the result of all-around elevated performances. 
"It was super exciting to see the team play as well as we did," he said. "It was the best we played all season, everyone played good […] I've never seen a team execute exactly how we did."
Men's Tennis (0-17)
Missed playoffs
The men's tennis team struggled to a winless record in 2022-23, regressing from a 4-14 record the year before. Their strongest showings were a string of 3-6 results against Ohio Wesleyan University on March 13, Wheaton College on March 29, and Clark University on April 1.
Sophomore Ryu Watanabe, one of the team leaders in singles and doubles wins, said the season was "frustrating," to say the least. However, he added that, in tennis, players can more easily take solace in their individual accomplishments rather than be discouraged by the team's record.
"At the end of the day, I play my match and now you're playing, and I can't help you," he said. "You have to win your match. So to some extent, yes, it is a team sport—but it is [also] an individual sport."
Women's Tennis (4-14)
Missed playoffs
Women's tennis looked to build upon their 6-12 record in 2021-22—their first full season since 2018-19. Though their four wins fell short, the team kept their spirits high via their spring break trip to Florida, where they stole three matches from the State University of New York at Geneseo on March 16. 
Also among the highlights were a Sep. 9, 6-3 opening day win over Gordon College and an emotional 9-0 loss to Mount Holyoke College on April 9, where the team said goodbye to senior Sophie Oglensky, junior Lauren Germani, and sophomore Fuschia Steward. 
Baseball (16-19) *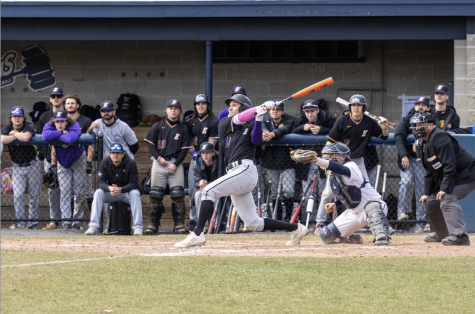 Missed playoffs
The Emerson baseball team made history in consecutive weeks, beating conference-heavyweight Babson for the first time in program history and notching a program record for both conference and overall wins in a season.
Senior co-captain and infielder Thai Morgan reflected on the Lions' 8-2 victory over Springfield, the one that brought them the coveted 16th win they had searched for in the past few years.
"16 [wins] was a big goal for our program my freshman year," Morgan said. "At the first team meeting, [Head Coach Nick Vennochi] came in and wrote '16' on the whiteboard. It felt really good to finally get that today."
Softball (15-17) *
Missed playoffs
Lions softball put up a strong 2023 season, but a 3-11 conference record just kept them out of reach of the sixth and final playoff seed in the NEWMAC.
The team kicked off its season with a spring break trip to Fort Myers, Fla.—where the Lions put together a 6-2 record—led off by a 19-3 rout of Rutgers University at Newark on March 13. Though the team trailed off toward the middle of the season with an eight-game losing streak, they managed to overcome Babson in a bounceback win on April 14—the team's first win over the Beavers since 2018. 
The Lions will play against Smith College and Wellesley College in their final four games of 2023 on Thursday and Friday. 
Men's Lacrosse (5-11) *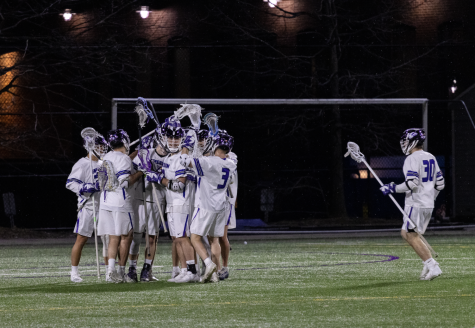 Playoffs possible based on final game
After a 12-6 record last season and the program's first postseason berth in program history, the Lions took a step back this year, sitting at 5-11 with one game left before the end of the season. Part of their lesser record was due to a slew of graduating seniors in 2022, but also to a far more challenging schedule—which included Bowdoin College and Union College, two of the best programs in Div. III.
That said, the Lions still had standout individual performances, with graduate goalkeeper Malcolm McGrath setting the career saves record and junior attacker Birk Swan recording the career assists record with 92 helpers. 
Now, the team has a chance to qualify for the playoffs, yet again, in their last game of the season against the Coast Guard Bears. The Lions will play the Bears on Saturday at 1 p.m. 
Women's Lacrosse (3-13)*
Missed playoffs
Though they missed the playoffs, women's lacrosse still had a promising season. Last season, the team had a 9-7 record. Though their record did not improve in the 2022-23 season, their goals per game increased from 9.81 to 10.88, and their shot percentage increased from 35.5 percent to 43.8 percent. Overall, women's lacrosse scored 174 goals this season. Sophomore attack Callie Krosin set the Emerson women's lacrosse single-game record for most goals scored with 10 against Husson on March 28.
Women's lacrosse wrapped up their regular season with a 19-10 loss against Wheaton on April 26.