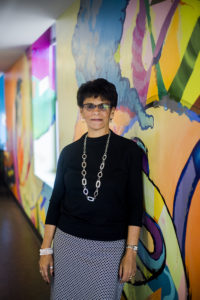 The Office of Diversity and Inclusion's change to the Social Justice Center reflects an ideological shift within the office, a college official said.
"The social justice orientation really builds on diversity and inclusion … but pushes us all to look more thoughtfully at why we're doing what we're doing," Spears said.  
The name change comes after more than six months of conversation, reflection, and research between the three offices previously included within Diversity and Inclusion, Vice President for the Social Justice Center, Sylvia Spears, said.
"While we think we've done good work and the college is making progress [we think] that it's not enough … social justice expands and builds on the premise of diversity and inclusion but has an orientation that looks more at the root causes of what's happening," Spears said.
The offices previously included under Diversity and Inclusion—Violence Prevention and Response, Title IX Equity and Access, and the Elma Lewis Center for Civic Engagement, Learning, and Research—have the same responsibilities, but now operate under the focus of four new practice areas.
The practice areas include Advocacy and Support, Community and Movement Building, Knowledge (Re)Creation and Sharing, and Access and Equity, and aim to highlight each office's work.
"We've rethought our work … and our work across those practice areas, despite the little boxes that say our departments are something different," Spears said.
The Social Justice Center has its own page on the college's website, which features a new Bias Response Program page, where students can fill out anonymous reports and view a flowchart that provides a visual representation of the reporting process. The site also links to the four practice areas and the student organizations that accomplish each respective area's goal.
The name change comes after the center created a page on the college's website to track the response to demands laid out in an October petition by Protesting Oppression With Education Reform.
"We encourage you to check it frequently, and make note of deadline and whether they are met. POWER will continue to follow-up on each of our demands, but being aware of progress (or lack thereof) is one important way that all Emerson community members can be involved," the group wrote on their Facebook page.
Although the center pitched the idea to the Student Government Association last fall, the offices operating under Diversity and Inclusion coordinated the change.
Spears said she hopes that the new approach will align more with students' current values and inspire incoming students to get more involved.
"I think as students engage with us in a new way, that students who haven't begun to do their own work will begin to do their own work," Spears said. "And that puts all of us in a better position to actually affect positive change. Because then, we're all working in the same direction and we're all part of a shared process."