ECPD faces backlash for social media posts on autism
Content Warning: This article discusses harmful and ableist stereotypes against autistic people, violence against autistic people and disabled people, and includes harmful and ableist photographs posted by the Emerson College Police Department about autistic people. 
The Emerson College Police Department is facing backlash from members of the Emerson community for two social media posts made on April 2, known by the United Nations as "World Autism Awareness Day," which some say perpetuated harmful stereotypes about people on the autism spectrum.
The posts—which have since been deleted from Instagram and Twitter without a public apology—featured a video of a flashing blue police siren with the hashtags "#AutismAwarenessDay" and "#LightItUpBlue," as well as the ECPD emblem against a background of rainbow puzzle pieces. Both puzzle pieces and "Light It Up Blue" are symbols associated with the organization Autism Speaks, and otherwise condemned by many autistc people as stigmatizing and harmful.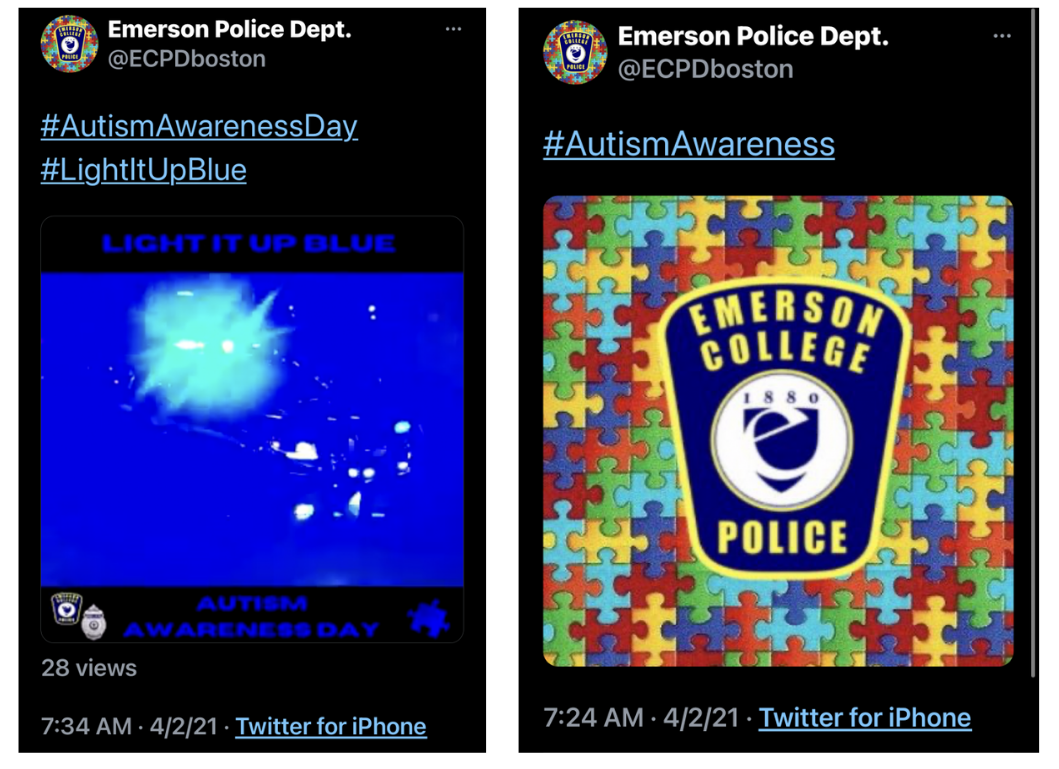 More than 60 disability rights organizations have condemned Autism Speaks for their harm to and exploitation of the autistic community. The organization spends just a fraction of a percent of its budget on "family service grants," which fund services for autistic people and their families, and has only one autistic person out of 30 individuals on their board of directors, according to the Autistic Self Advocacy Network, abbreviated as ASAN, a nonprofit run by and for autistic people to advocate for disability rights. 
Autism Speaks has also called autism spectrum disorder—a developmental disability that impacts social interaction, behavior, and communication—a "disease," a designation advocates say is false and produces stigma against autistic people. Historically, Autism Speaks has promoted research about the cause and prevention of autism rather than quality of life, and perpetrated the idea that autism needed to be "cured" through biomedical research, according to ASAN. (The word "cure" was removed from Autism Speaks' mission statement in 2016.) 
"The puzzle piece and blue as symbols being used as support for the autistic community—they don't understand how really harmful that is," Zach Swasta '20, who is on the autism spectrum and co-founded Access: Student Disability Union at Emerson, said in an interview with The Beacon. 
Harper McKenzie, current president of Access, declined to comment to The Beacon.
ECPD Chief Robert Smith said the department removed the posts in response to community feedback.
"The ECPD posted images to highlight Autism Awareness Day in support of community members who are on the autism spectrum or who have family members, friends, and loved ones who are autistic," he wrote in a statement to The Beacon. "After receiving feedback from our community about the concern that these symbols can cause, we removed them from our social media accounts. We apologize for causing harm to any members of the community."
The puzzle piece as a symbol for autism—which some organizations have replaced with a rainbow infinity sign—has been associated with negative connotations, including "incompleteness, imperfection, and oddity," according to a 2017 study in Autism, an international peer-reviewed journal published by the National Autistic Society.
"There's the subtle undertext [that] people with autism aren't quite complete," Zoe Ann, a creative writing senior who believes they may have autism but has never received a formal diagnosis, said. 
"Light It Up Blue," also a slogan and campaign popularized by Autism Speaks, carries connotations of grief and implies that autism is a disability that only affects males because of the color, according to the blog Learn From Autistics.
"The fact that you're flashing something in someone's face can be seen as disrespectful to autistic people," Swasta said. "A lot of people on the spectrum are flash sensitive." 
ASAN also shifted from "Autism Awareness Month" to "Autism Acceptance Month" in 2011. This represented a move away from "language that presents autism as a threat to be countered with vigilance," ASAN wrote, to instead promote the idea that "autistic people belong—that we deserve welcoming communities, inclusive schools and workplaces, and equal opportunities."
"Everyone knows we exist," Swasta said. "We need to accept that we are a part of society." 
The relationship between law enforcement and autistic people—particularly autistic people of color—is fraught with brutality, violence, and murder, according to Spectrum News, which covers autism news and research. Psychologist Tasha Oswald, founder and director of Open Doors Therapy, a therapy group that serves teens and adults on the spectrum or otherwise neurodiverse, said much of this violence is due to police misunderstanding autistic behavior, like fidgeting, as "non-compliant." 
"Many people with autism have sensory sensitivities," Oswald wrote on her website. "So, if they were stopped by a cop, sirens, raised voices or megaphones, and bright flashing lights could possibly overwhelm their sensory system. This could also lead to a variety of behaviors that could be misinterpreted as a threat by police officers. And again, this could have violent or deadly repercussions." 
Competence training for police officers on how to interact with people on the spectrum varies significantly by department, Spectrum News noted. ECPD mentions nothing of such training on their website.   
"Police violence or use of force against autistic people is also not an uncommon thing, so I don't imagine that visual is going to feel celebratory to much of that community," said visual and media arts senior Mia Stegner, who is not autistic but who commented on ECPD's posts before they were deleted. 
Stegner said ECPD's social media silence on other social movements, like Black Lives Matter, is telling. 
"If a college, particularly a college campus police department, is going to use Twitter to show support for a social movement or for groups of students, and they leave out students of color, for example, that says something about your willingness to respond to cultural moments and actually support the student body that you're supposed to be looking out for," she said. "It just felt very performative and trivializing and insensitive."
ECPD issued a public apology in February for intermittently displaying a "Thin Blue Line" flag—a common symbol of Blue Lives Matter, a loose, pro-police counter movement to Black Lives Matter—as a screensaver on one of their office's computers. This apology came in response to a demand issued during the from #ESOCWeekofAction—a campaign spearheaded by on-campus activist organization Protesting Oppression with Education Reform.
"Doing a little more research into the community that you're trying to support or the cause would be good," Stegner said. "I can't imagine that they put too much effort into it if they weren't able to discover some of these potential harmful aspects of it on their own."
Swasta said elevating the voices of autsitic people is paramount to appropriate messaging and advocacy.  
"They just need to literally open their ears and just listen to the actual autistic people," he said. "To continue to use a symbol created by these people is basically to ignore the voices of the people you're supposed to be showing support for."