College installs accessible push button at front of Walker Building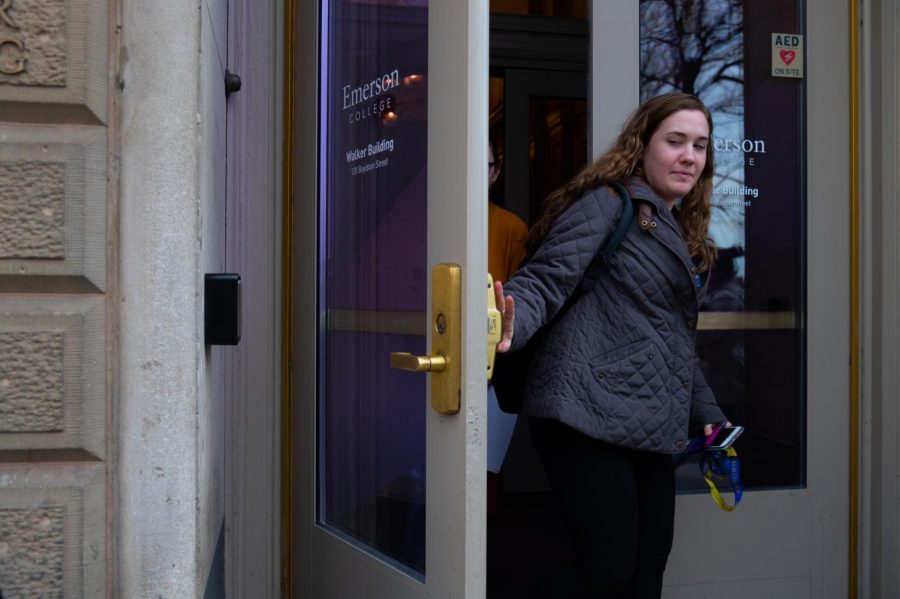 By Dana Gerber, Deputy News Editor
March 11, 2020
Over spring break, the college installed a push button on the Boylston Street entrance of the Walker Building in response to student concerns about the accessibility of the door.
Access Student Disability Union—a student organization aiming to boost disability activism on campus and build a community among Emerson students who identify as disabled—made the push button one of their main initiatives when they launched earlier this semester. 
"It just sort of became one of the things that we were focusing on," Harper McKenzie, co-founder of Access and student accessibility services commissioner for the Student Government Association said. "It was just such a great example to share with people of the kind of projects we wanted to work on."
McKenzie said Access member Shruti Rajkumar brought up the issue to her last semester. While the backend entrance to the Walker Building in the Boylston Alley already had a push button, McKenzie explained this entrance is still difficult for many students to navigate, and leads to elevators that go only to the sixth floor. 
"It's not a fully accessible entrance to the building, because it has an inclined plane to go down the alleyway, it can be really complicated and hard for people to maneuver through that area—in the winter, especially," McKenzie told The Beacon. "It's a very complicated process to have to walk all the way down the alleyway to get into those elevators, and maybe go to the sixth floor and transfer over to the other elevators—it's just so much of a hassle."
We choose information accessibility
News and the truth are under constant attack in our current moment, just when they are needed the most. The Beacon's quality, fact-based accounting of historic events has never mattered more, and our editorial independence is of paramount importance. We believe journalism is a public good that should be available to all regardless of one's ability to pay for it. But we can not continue to do this without you. Every little bit, whether big or small, helps fund our vital work — now and in the future.
McKenzie said after she repeatedly brought up the issue of the push button during SGA meetings, SGA Executive President Will Palauskas discussed it with President M. Lee Pelton during one of their meetings. 
"As soon as Lee Pelton was on it, it just sort of happened," McKenzie said. 
Vice President and Dean of Campus Life Jim Hoppe said the installation of the push button was heavily influenced by Access advocacy. 
"They had a very understandable case, and we were able to work with facilities staff to have it installed," Hoppe said in a phone interview with The Beacon. "I think [providing more accessibility features] is something that has a lot of support all around the college, and I really appreciate their efforts to raise awareness and improve accessibility on campus."
McKenzie added this change signifies a promising relationship between the Emerson disabled community and the administration. 
"This definitely feels like a very concrete representation of the work we've been doing and the support that we're getting," she said. "To see that it just happened because we brought it up and they realized that we were right and it needed to be done, is a huge symbolic gesture."
Dana Gerber, Deputy News Editor
Dana Gerber hails from Rockville, Maryland, and is a Deputy News Editor at The Beacon Editor. She writes and oversees long-form, deep-dive articles spanning all areas of interest on the Emerson Campus,...