ECSU organizes phone bank to protest proposed tuition increase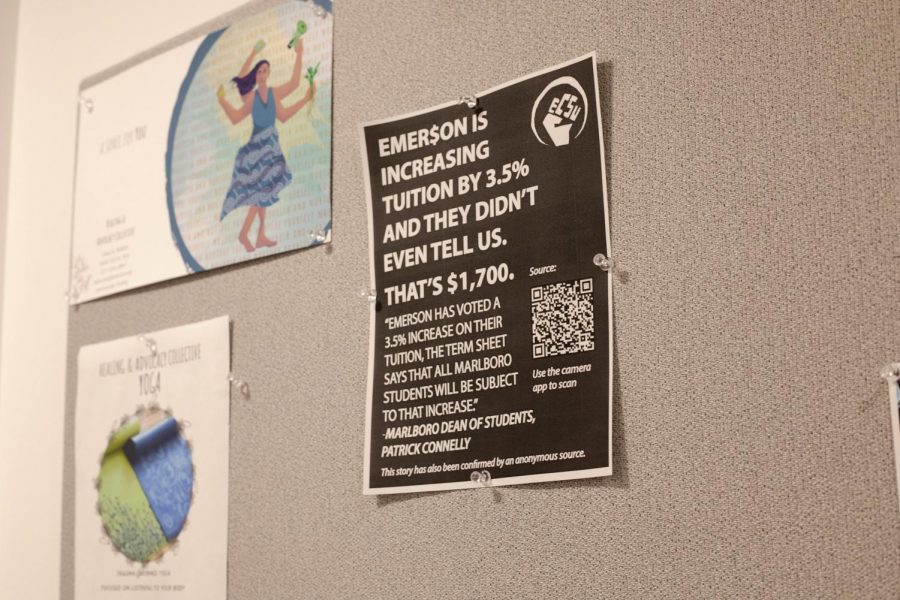 By Dana Gerber, Deputy News Editor
February 19, 2020
Approximately eight students called seven Emerson Board of Trustees members Tuesday night at an Emerson College Student Union phone bank event to express their disapproval of tuition increases for the 2020-2021 school year.
Students filtered in and out of the multipurpose room in the basement of 172 Tremont St. throughout the hour-long phone bank, which was advertised on ECSU's social media.
Marlboro College Dean of Students Patrick Connelly cited a proposed 3.5 percent increase during a recent Marlboro Town Meeting, a weekly forum of the Marlboro campus and the surrounding townspeople, according to the meeting minutes. The tuition increase would also affect Marlboro students who choose to attend Emerson in the fall as the colleges finalize the merger.
The college has not voted on or announced the tuition increase yet but the Board of Trustees plans to vote on it later this month.
According to the call script posted to the ECSU website, the group does not support the tuition increase, which they characterize as an "insidious pattern," because it puts an undue financial strain on Emerson students.
We choose information accessibility
News and the truth are under constant attack in our current moment, just when they are needed the most. The Beacon's quality, fact-based accounting of historic events has never mattered more, and our editorial independence is of paramount importance. We believe journalism is a public good that should be available to all regardless of one's ability to pay for it. But we can not continue to do this without you. Every little bit, whether big or small, helps fund our vital work — now and in the future.
"Every year many Emersonians are forced to choose between suffering debilitating debt and dropping out," the script reads. "Low financial aid, expensive housing costs, and food insecurity further exhaust the student body while the salaries of a select few elites continue to benefit."
Coupled with the phone bank, ECSU posted fliers around campus, reading, "Emerson is increasing tuition by 3.5% and they didn't even tell us. That's $1,700."
Members of ECSU declined to comment about the event in order to protect participants' privacy, citing fear of retribution.
ECSU—which formed in 2019—is a student-run group without SGA affiliation or recognition. According to their website, they protest against what they view as classist policies perpetuated by the college that affect low-income students, students of color, and students in the LGBTQ+ community. There are multiple resources posted on their website to access free-of-cost food, textbooks, and mental health care.
Accounting for inflation, Emerson's cost of attendance has increased by 84 percent since 1990, and this year's proposed increase comes after tuition spiked 4 percent for the 2019-20 school year. After last year's increase, President M. Lee Pelton—who was one of the board members called at the ECSU event—could not confirm whether or not the college would ever stop raising tuition.
On Wednesday afternoon, ECSU posted parts of Pelton's response to the students who emailed him on their Instagram page. In the response, Pelton acknowledged the financial strain on Emerson students and said the college has "begun a program to decrease the rate of tuition charges over time."
Pelton also emphasized the risk to the quality of Emerson's education if they were to not increase tuition, and noted the increase to financial aid for low-income students and the cuts to the operating budget in recent years. Pelton's statements to the students were identical to his 2019 State of the College address. 
Members of ECSU declined to provide additional comment on the Instagram post Wednesday afternoon, and declined to provided Pelton's email to The Beacon. A member of ECSU said a redacted version of the email will be available on the group's website this weekend.
Updated 02/19/20: This article was updated to include information gathered from ECSU's Instagram page and notes that the group declined to provide further comment on the social media post. 
Dana Gerber, Deputy News Editor
Dana Gerber hails from Rockville, Maryland, and is a Deputy News Editor at The Beacon Editor. She writes and oversees long-form, deep-dive articles spanning all areas of interest on the Emerson Campus,...