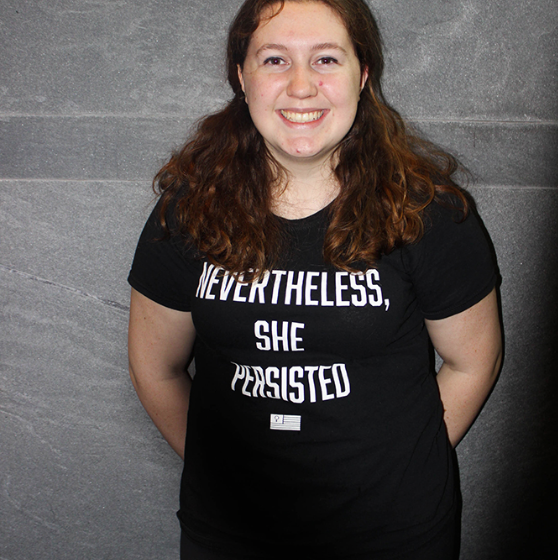 Emerson Feminists are making a comeback this semester with plans to host open group discussions and to involve themselves in the community with service projects.
Junior communication studies major Courtney Quinlan decided to take the lead in restarting the organization because of how important feminism is to her.
"I didn't know about feminism for a while," Quinlan said. "It was one of those things where you don't realize you fit it until you learn the term, and that's just been me all along."
The club disintegrated in 2015 due to a lack of leadership from underclassmen, according to Claudia Castañeda, faculty adviser for the group and senior scholar in residence of the institute of liberal arts and interdisciplinary studies.
One of the club's goals is to help not only Emerson's community, but Boston as a whole with community service, according to Quinlan. She has expressed an interest in assisting Rosie's Place, a women's shelter in Boston.
Quinlan said she was inspired by the various food and supply drives at Emerson within the past month for hurricane relief in the U.S. Virgin Islands. Emerson Feminists is interested in pursuing something similar, such as a menstrual product drive for people in Boston. The group is also looking to host other events including screenings of films about women's rights and a panel of professionals to discuss their careers as women.
Quinlan emphasized the opportunity the meetings present to have open and inclusive conversations regarding feminism and women's rights. Kristi Szczesny, a junior visual and media arts major also involved in Emerson Feminists, said the meetings are a great opportunity to learn about differing perspectives on feminist matters. They both encourage anybody to attend the club meetings, regardless of whether or not they identify as a feminist.
The group will be meeting about two or three times monthly, according to Quinlan. She said the group will be posting information on Facebook regarding meetings, as well as hanging flyers around campus.
"I hope that by the end of each meeting you feel a little bit better about everything," Quinlan said. "In today's climate it's very difficult to be a woman and see all these bad things happening and not to feel super depressed and disheartened by everything."
Castañeda brought up the past of Emerson Feminists in a class she taught last semester, and Quinlan volunteered to restart it.
"We don't have anything else like it at Emerson," Szczesny said. "I thought it would be interesting just to hear other perspectives and to be able to vent about things."
Castañeda emphasized the students' involvement in creating the goals of the group. Emerson Feminists plan on applying for Student Government Association recognition in the future, but they are focusing on getting more people involved for now.
"Feminism is really about being committed to feminist understandings of equality and justice, not necessarily about your gender identity," Castañeda said. "Anybody who [has] those values can be a feminist."
News Editor Allison Hagan did not edit this article.