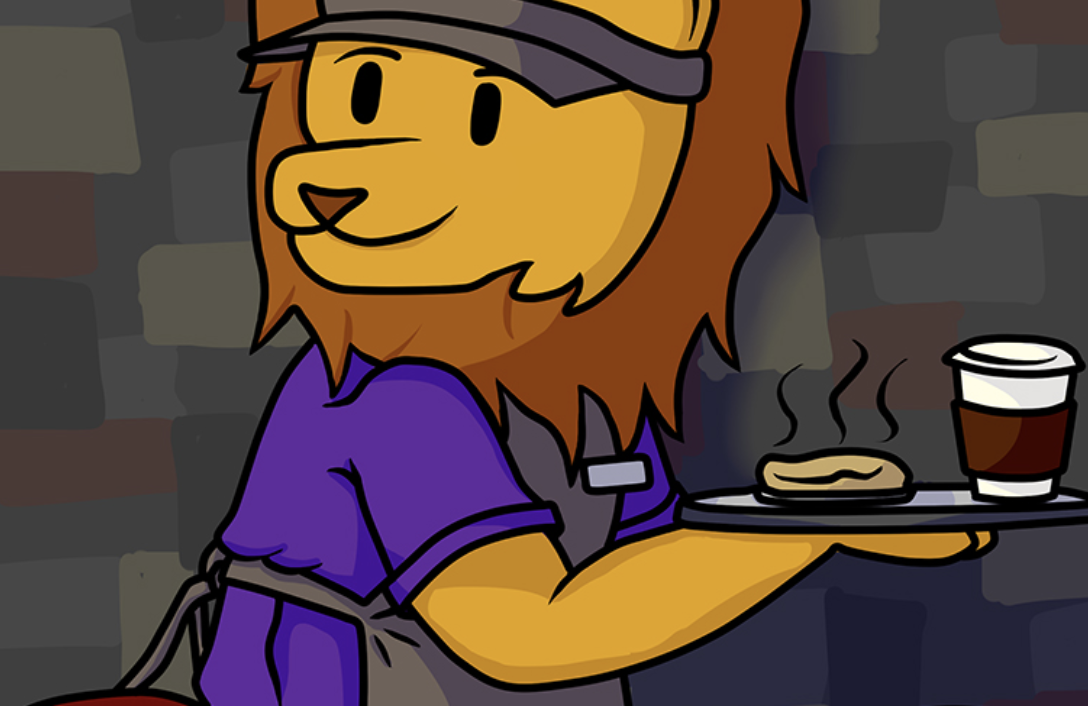 Emerson's newly reimagined lion mascot fits in well with the student body, sporting a "man bun," gauges, and flannel.
Senior and graphic designer Mercedes Lamb designed Griff the Lion as part of her job in the office of Student Engagement and Leadership (SEAL). Lamb said the Emerson logo was hard to market, and she wanted to create something that represented the students better.
The character itself originated in 2013 when a student purchased the costume with his own funds, citing a desire to bring more school spirit to volleyball games.
While Emerson still has its Griff the Lion costume for games and events, this was the first time he had been interpreted digitally, according to Lamb.
"I never stick him into one style of outfit, and I never stick him into one style of what his hair is like," Lamb said. "It fits into the Emerson aesthetic of acceptance, and you're not tied down by what people expect of you. Griff kind of does a little bit of everything."
Many posters across campus feature the design. The first Griff flyer advertised the contest to name the 2 Boylston Place Cafe, where Lamb drew the lion as a barista.
SEAL uses Griff for promotions, like in November, when the office created an online caption contest with a photo of Griff in dance clothes, granting the winner tickets to the Boston Comedy Blowout II show. SEAL also utilizes Griff to teach students about campus policies, campus spaces, and events such as the org fair.
"If it's something that we've done, Griff's been a part of it," Meier said.
Meier said Griff has been successful in marketing these events to students because he gives a face to what the SEAL office does.
"If it gets someone's attention, it's a better way to do it than me standing up in front of a room of people explaining policy," Meier said.
Lamb said students have shown positive reactions toward her design. When a poster of Griff playing a guitar was hung in Center Stage, it was on the wall for less than three hours before a student took the poster for their own, Lamb said.
"I love having them hung up in all the buildings, because I've seen people just take photos of them while walking by and people move posters around so you can see them," Lamb said. "It's just fun."
Students often post Griff memes and jokes on social media, and both Lamb and Meier said they enjoy the gags and are glad students are interacting with the mascot. Meier said Griff is supposed to be funny and lighthearted.
"When we take ourselves too seriously is when we stop being innovative and creative," Meier said.
Aside from the jokes online, the new posters have been an effective marketing tool to target students, said sophomore Jonah Puskar.
"I like them, I think they're really cute, and I think they're effective because it catches people's attention," Puskar said. "Because of that attention on the poster, people are forced to look at not just Griff, but also the event that he's on the poster for."
According to Lamb, because of Griff's design, he is an icon anyone can recognize.
"We have the joke of, 'If it's a lion with a man bun, obviously it's Griff,'" Lamb said. "He's a spunky, funky little art student."