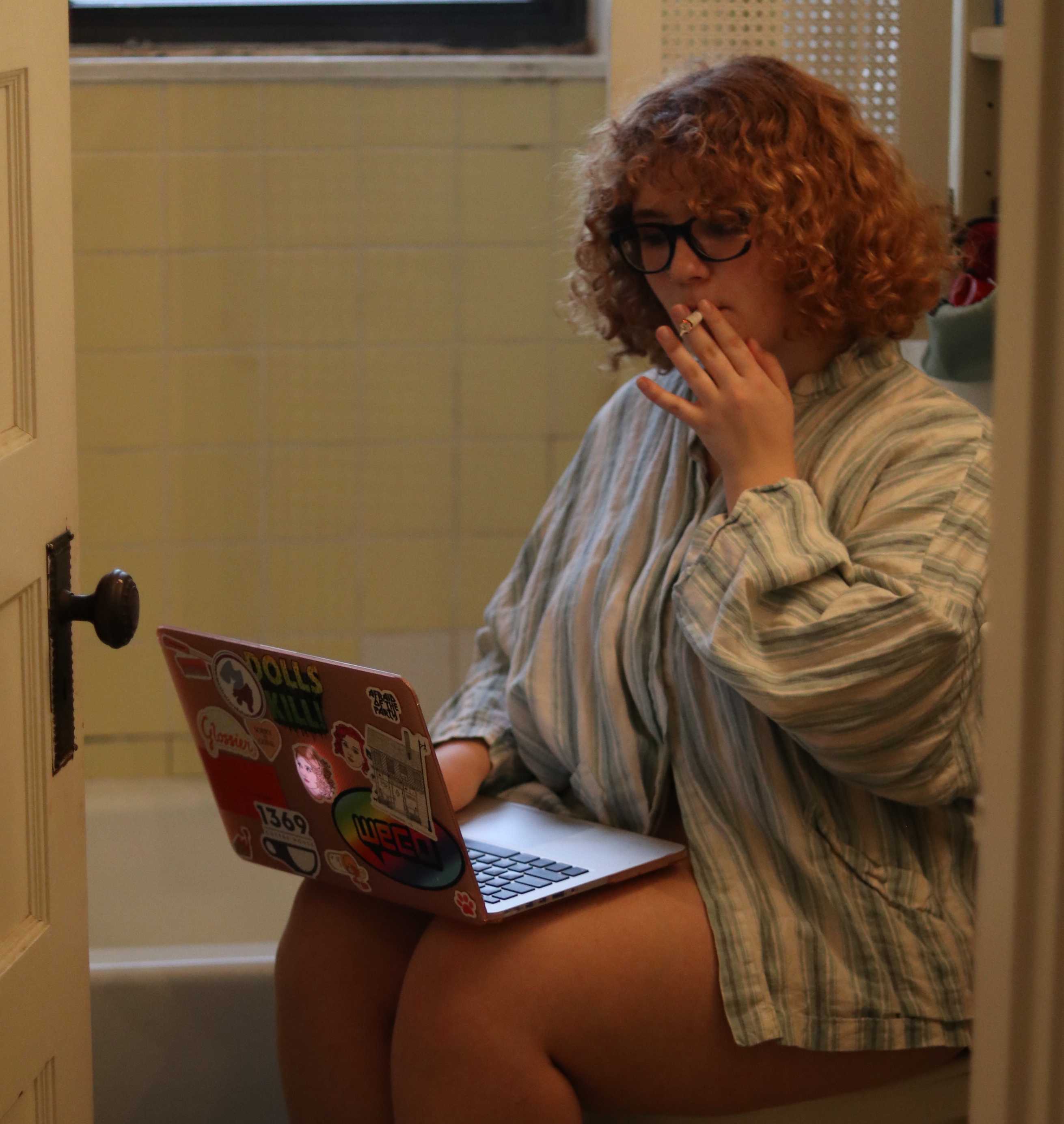 Last February, senior Kenzy Peach created a Facebook group comprised of herself and a few close friends. A year later, 1,300 students are members of Emerson Shitposting.
"[Emerson Shitposting] is basically a place to post jokes, memes, anything that could be construed as funny by anyone," Peach said. "Anything that people want to broadcast to a group of their fellow Emersonians."
The group's content is generally specific to Emerson, with Griff the Lion and the Little Building among the most common topics. The page also touches on broader subjects like mental health, awkward childhood experiences, and the seemingly relatable desire to eat a Tide laundry detergent pod.
"Shitposting" is a loose concept describing online posts that can be random, absurd, or intentionally offensive depending on the forum. Ten administrators and moderators, including Peach, oversee Emerson Shitposting to prevent disrespectful posts.
The first college meme Facebook group, UC Berkeley Memes for Edgy Teens, was created in May 2016 by then-junior Chris Tril. Peach said her older sister moderated a similar group at Kalamazoo College.
"I realized it has nothing to do with the school specifically," Peach said. "And it has entirely to do with our generation and our proclivity to absurdist humor plus community with our peers through the internet."
In December, a member requested the data on the group's top contributors, which only administrators and moderators can see. Peach said administrator Tierney Nordon devised a game instead—if the top 10 contributors commented on Nordon's post, they would release the list. But if 25 other members commented first, the list would remain secret.
"Even though I feared that people would see it as a competition for who can post the most, it still is just so fun and created such involvement in the page," Peach said. "I totally loved it. It was really fun to watch."
The top contributor was sophomore Charlie St. Michael. St. Michael said the group's real time comedic coverage of the Uncommon Project was one of his favorite Emerson Shitposting moments. These jokes, St. Michael said, are difficult to explain to people who are not Emerson students.
"If I'm at home and my friends are showing me memes on their phone, I couldn't show them a meme about Griff the Lion. They wouldn't understand it," St. Michael said. "Emerson Shitposting is just a place where we have the common knowledge of Emerson so it's just easy to make jokes together."
Peach cited a post where someone asked for first kiss stories as the start of the group's sense of community. Other similar posts kickstart group interaction in the comments, like one asking, "What is the most annoying thing an Emerson boy has said to you?" which received over 200 likes and 100 comments.
After joining Emerson Shitposting at the beginning of fall semester, St. Michael said he made many friends through the group.
"I've met just a lot of people that I don't think I would have run into just like on campus," St. Michael said. "One of the people I've met is a [political communication] major and I think if this group didn't exist I wouldn't have met him."
Junior Kevin Musliner said his friend Andrew Morris invited him to the group a few weeks ago.
"It's kind of exactly what I imagined—just Emerson memes," Musliner said. "It's a place for people to humorously vent about Emerson problems or just make jokes that might be in-group."
Peach said Emerson Shitposting aims to be harmless and fun. The rules, according to the group's description, are simple—no asking for drugs, use content warnings if needed or if asked, and no harassment or offensive behavior.
Peach said she banned someone from the group when they made a potentially offensive post. She said this upset some members, but she would rather receive hate for her decision than allow harmful posts.
"We really don't take ourselves seriously at all," Peach said. "But we want to make sure that even though it's a fun silly group that no one's actually getting offended and there are no microaggressions going on."
After she graduates, Peach said she will no longer be an administrator. Going forward, Peach said she plans for underclassmen to replace moderators and administrators who graduate so the group can continue to be Emerson-focused. Students are now starting campaigns for moderator positions—complete with videos, attack ads, and posters.
"I'm honestly really proud of the sense of community that everybody has in that group," Peach said. "People in Emerson Shitposting who never knew each other before the group have become friends because of it."