Emerson Skunks earn school affiliated org status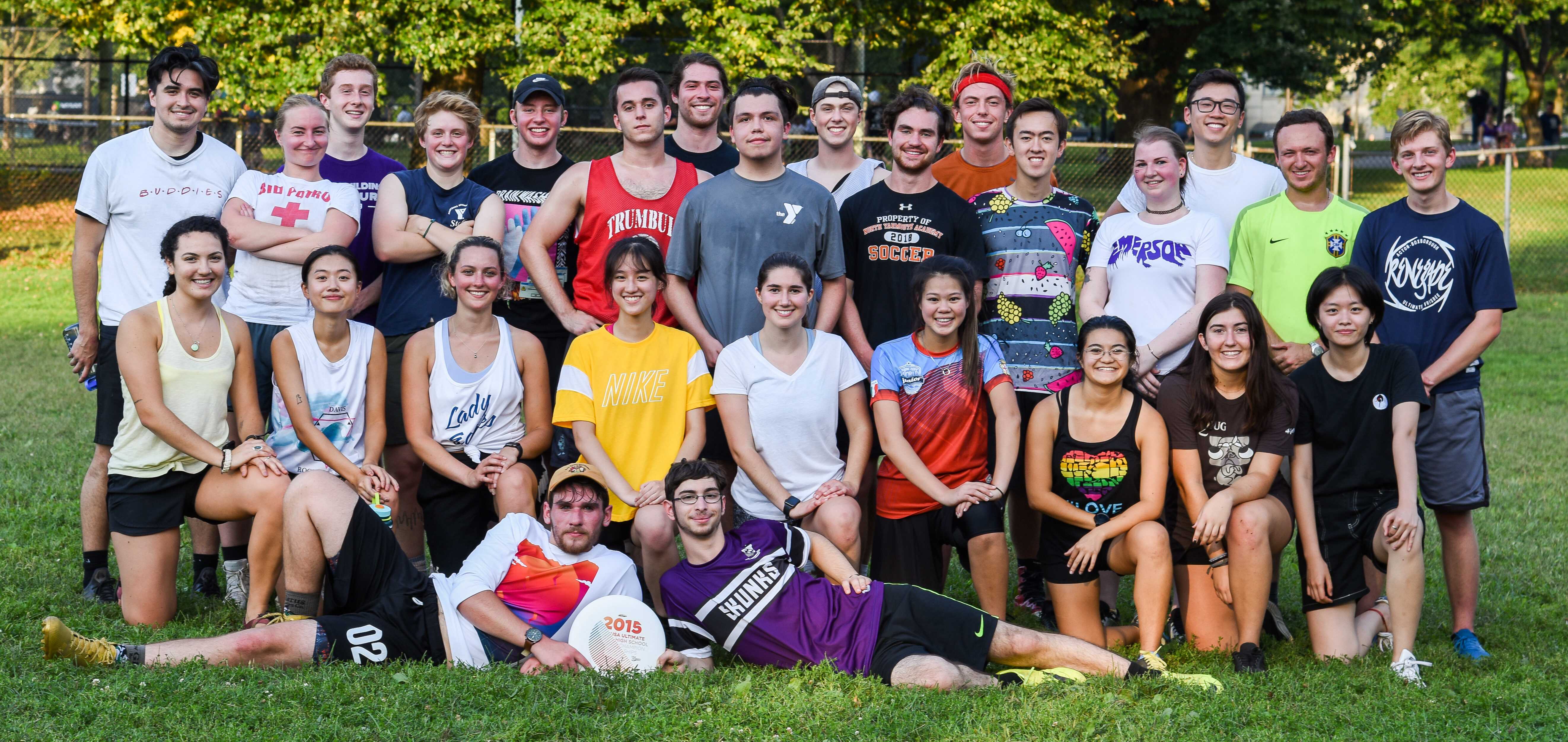 Senior captain Kate Nelson of the Emerson Skunks, the school's ultimate disc program, remembers the rough times of traveling to tournaments with the team during her first season three years ago.
"My freshman year, we slept on the floor of a frat house in Saratoga," Nelson said. "A guy on our team knew a guy who knew a guy who let us sleep on his floor. The people who owned the house came home at 2 a.m. and we were just covering their floor. It's not what you want to be doing."
Finding ideal sleeping accommodations stood as just one of the challenges the Skunks faced since their inception in 2015. Those days are now over for the team, who this season gained school funding and became the only Emerson affiliated organization to compete athletically. 
"We're like a name in the ultimate community, people know us now," Nelson said. "We go to tournaments, we've won money. We don't really have to reach out to tournaments anymore, they just email us and ask us to come to their tournament." 
Beginning last semester, Nelson and junior co-captain Cam Barth worked with the Office of Student Engagement and Leadership to apply for an affiliation with the school. 
Organizations normally apply for an affiliated status in the spring, but, as an athletic program, the Skunks needed to fill out additional health waivers and forms that prevented them from earning a probationary affiliate status until two weeks before the start of the fall semester. 
In addition to being able to provide hotel space for players, the Skunks can supply uniforms and cleats, appear at Emerson's Organization fair, rent vehicles for tournaments, and search for a coach.
"Years ago we were shoving people in the back of our cars, renting two cars and putting someone in the trunk," Nelson said. "Now we're going to have car space and make sure everyone is comfortable and safe." 
The Skunks practice four days a week for two hours and compete in tournaments on the weekends which can last either one day or multiple nights.
In past years, the Skunks have paid for their equipment and transportation out of pocket and through GoFundMe donations. Nelson said school funding provides a more stable financial source and avoids obstacles they are familiar with. 
"I don't want to have an organization that relies on donations, because they could totally fluctuate," Nelson said. "Funding is going to change the game because I would feel terrible if someone wanted to join the team but didn't have the money to come to a tournament or pay for gear."  
Andy Donahue, the assistant director of Student Engagement and Leadership, said he and Jason Meier, the director of Student Engagement and Leadership, met with the Office of General Counsel and Director of Treasury Services to ensure the school was ready to have its first affiliated competitive athletic organization. 
Donahue said the leaders of the Skunks succeeded in their pursuit because of their selfless dedication to the future of the team.
"Some of the best leaders we have are most motivated to make things better for more than just themselves," Donahue said. "[Nelson] and [Barth] want to see Ultimate take off because it supports so many students. They were really motivated not to do this for themselves, but to do it for the organization, become an affiliated group, be at the org fair, and plant their flag on campus." 
The Skunks received 107 emails while stationed at the org fair on Sept. 6. Nelson said being at the org fair increased the strength of their recruiting and attracted more players. 
"The biggest difference for me was just being able to be at the org fair," Nelson said. "We weren't able to be there before in the years past, so we would be standing outside yelling at people to come, which we would get in trouble for. Since we were at the org fair we were able to meet a lot of different people." 
Sophomore and junior-captain Max Murphy said the team's presence at the org fair boosts its chances of finding skilled players and becoming a more competitive team.
"It's nice to be at the org fair because we had more of an opportunity to find new players and find new talent," Murphy said. "We want to have fun, but we also want to have the best team possible. When we weren't recognized, people didn't even know we existed, but now they do."

Last year, the team brought in 40 new players for its first scrimmage in the fall and retained seven of them for the year. This year Nelson expects well over ten players to stick around and participate throughout the season. 
"We've had a big turnout," Nelson said. "Every practice we have more new faces. People just keep pulling up." 
With funding, Nelson said the Skunks can explore coaching candidates. Nelson and Barth have served as coaches for the team in recent seasons, but Nelson said they will benefit as an organization by having a coach in place by the time she leaves Emerson.
"We actually had offers from five people who want to coach us without even knowing our budget," Nelson said. "I think the ultimate community just wants to help each other out and maintain a community as we grow. It won't be hard to find a coach, it'll just be hard to make sure they're getting paid well through the school." 
The Skunks invite students with any interest to join the team, which is open to players of all genders. Nelson said the team thrives on diversity, inclusivity, and positivity while offering an athletic opportunity without the demands and commitments of a varsity team. 
"Ultimate is highly competitive, and it also really encourages positive competition," Nelson said. "Oftentimes in varsity college sports, the importance of being a good human is kind of lost. When you're playing ultimate, you have to remember to be a positive player."
Raz Moayed, the Student Government Association executive president, said the best part about the Skunks is their ability to bring competitiveness to a fun environment. 
"I love everything they stand for," Moayed said. "If you want that athleticism in your life that is not as strict as Division III, go to them. They just sell everyone on the fact that at the end of the day they are a group of friends." 
Sports Editor Aaron J. Miller did not edit this story due to a conflict of interest.