Emo Never Dies: Machine Gun Kelly's directorial debut
If you're anything like me, you love a cheesy high school romance where the outcast loner gets the popular girl despite all the odds against him. Cliche romance meets pop-punk in Machine Gun Kelly's  new album-turned-movie, "Downfalls High," now streaming on YouTube.
MGK, also known as Colson Baker, is primarily a musician, with five albums, eight mixtapes and two EPs under his belt. Baker also dabbles in acting, with supporting roles in "Bird Box" and "Nerve," as well as a lead role in Netflix's "The Dirt." This is Baker's first experience in directing and writing a movie of his own. 
 After the release of his newest album "Tickets to my Downfall" on Sept. 25, fans of MGK were treated to the news that the album would soon become a movie directed by MGK and fellow musician MOD SUN. The duo are close friends and are often spotted on each other's social media platforms outside of the projects they work on together. 
As a fan myself, I was excited, but very nervous to see how the movie would turn out. There is some precedence in the alternative community for albums being turned into movies, starting with Pink Floyd's "The Wall" and more recent albums like Black Veil Brides' "Wretched and Divine" and Melanie Martinez's "K-12," but generally it doesn't happen very often. 
With most albums that are turned into movies, the album has a concept and story to begin with, but "Tickets to my Downfall" doesn't fall into that category—the plot of the film is completely original. The only information fans had prior to its release regarding the plot of the movie comes from interviews where Baker and MOD SUN told magazines that they wanted to create a "pop-punk 'Grease.'"
Adding to my hesitation towards the film is the fact that the duo finished the script in only three days and decided to cast famous TikTok star Chase "Lil Huddy" Hudson as the main character. 
With all of that being said, when the movie finally aired on Jan. 15, I was pleasantly surprised."Downfalls High" certainly isn't the next Oscar-winning film, but it's a fun love story interspersed with high energy performance scenes from Baker and Travis Barker of Blink-182. (So if you're a VMA major who worships Quentin Tarantino and David Lynch, this may not be the film for you.) 
"Downfalls High" follows the story of Fenix, played by Chase Hudson, an outcast emo high school student who's not like other boys (His locker is spray-painted pink.) However, Fenix's life changes when falls in love with Scarlett, played by Sydney Sweeney, a popular girl who sees past the reputation he has created for himself. 
While the story itself is a cliche, it's cliche and fun in the best way, in the way that movies like "The Kissing Booth" and "The Christmas Prince" are cliche. The movie doesn't take itself too seriously, which makes it enjoyable to watch.
The movie flashes between Fenix and Scarlett's love story and scenes of MGK and his band playing "Tickets to my Downfall" songs that perfectly fit what is happening in the movie. It's not a musical in the traditional sense, as Fenix and Scarlett aren't breaking out into song and dance themselves, but the music is still a core part of the story. 
The musical scenes themselves are, at least to me, as entertaining as the story. From choreographed puking scenes to Baker getting open-heart surgery mid song, they keep you invested in the movie. 
For a low-budget direct to YouTube movie, the acting isn't horrible either. Sweeney stands out as the star of the movie, with previous gigs on "Euphoria" and "The Handmaid's Tale," but Hudson's acting is passable as well. The performance that stood out to me the most, as a fan of Baker, comes at the very end of the movie from Baker himself.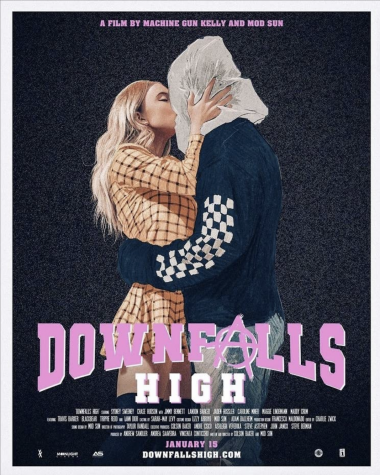 Without giving any spoilers, the last scene of the movie features Baker sitting alone in an auditorium, staring directly into the camera and singing the last song on the "Tickets" album, "Play This When I'm Gone." Baker wrote the song for his daughter Casie, so that he "won't have any regrets if [his] time ever comes," he wrote on his Instagram. With the context behind it, the track is deeply emotional, and it's hard not to cry seeing the pain in Baker's eyes as the movie ends. 
The reaction of fans overall seems positive, with an outpouring of support on social media during the premiere. Even weeks after the release, searching "Downfalls High" on Twitter or opening the movie on YouTube shows a generally positive response. Currently, the movie has almost 500 thousand likes and only ten thousand dislikes on YouTube. Even when I have personally seen people critiquing the movie online, fans in the comments are quick to the defense. "Downfalls High" also seems to have helped Chase Hudson launch his own alternative music career, as his rock song "21st Century Vampire" is currently blowing up on TikTok with over 30 thousand videos using the song, and over five million plays on Spotify. 
The entire movie flies by, as it's only around fifty minutes. It's a fun and lighthearted movie to watch whenever you're feeling lonely while we're all locked inside, and it might just introduce you to your next favorite album.