Emo Never Dies: How Joe Biden helped kickstart the emo music genre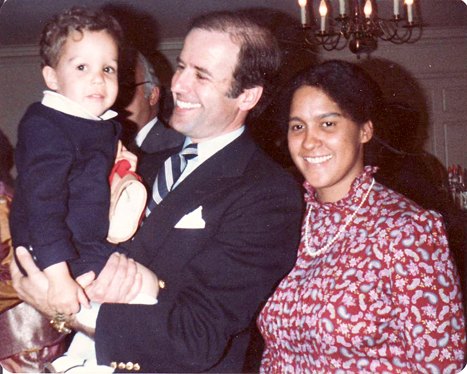 When I think of emo music, I used to think of Gerard Way, Patrick Stump, Brendon Urie, or Hayley Williams. After the 2020 presidential election, I now know the truth—President-elect Joe Biden is the undisputed King of Emo. Dear readers, let me tell you a story. 
The year is 1972; Joe Biden is running for U.S. Senate in his home state of Delaware. While working on Biden's campaign trail, Dale Lewis and Peter Wentz II, two young legislative assistants, meet and fall in love. If, like me, you're familiar with emo, you probably recognize one of those names. Yes, Pete Wentz, the famous bassist of the band Fall Out Boy, came into existence because both of his parents campaigned for Biden.
Wentz himself acknowledged this in interviews around the 2008 election, stating, "If it weren't for Joe Biden, I would not exist as a human being."
Joe Biden and Wentz's parents are so close to Biden that he even attended their wedding and took pictures with Wentz as a child. Wentz shared the photo to his Tumblr on Election Day in 2008, in which he officially endorsed the Obama/Biden campaign for president.
So what does all of this have to do with emo, you ask? In 2001, in a quiet Chicago suburb, Pete Wentz and Joe Trohman formed an emo-rock band now known as Fall Out Boy. 
Soon after their formation, and after Patrick Stump and Andy Hurley joined the band, the alternative label Fueled by Ramen signed the band. While Fueled by Ramen is a giant in the alternative music scene today, it was relatively unknown at the time. 
FOB's debut studio album, Take This to Your Grave, sold over 500,000 copies worldwide and charted at #17 on Billboard. The band's massive rise to fame also meant increased popularity for the label, and today they represent massive alternative artists like Panic! At The Disco, Paramore, and Twenty One Pilots.
For all the emos out there, former or current, FOB's influence on Fueled by Ramen is directly responsible for bands like A Day to Remember, All Time Low, The Front Bottoms, Cobra Starship, Gym Class Heroes, Yellowcard, and of course, 3OH!3. I guess in a way, Joe Biden is tied to the iconic lyric "Tell your boyfriend if he says he's got beef/ That I'm a vegetarian and I ain't fucking scared of him." 
Under Fueled by Ramen, Wentz and Stump decided to create their own label called Decaydance Records. The very first band that Decaydance Records signed was none other than Panic! At The Disco. A young Brendon Urie sent his tracks to Wentz on the ancient blog-based social platform LiveJournal, and Wentz liked what he heard enough to sign the band. Clearly, with the band's success and massive yet sometimes irritating hits like "High Hopes," Wentz made the right decision.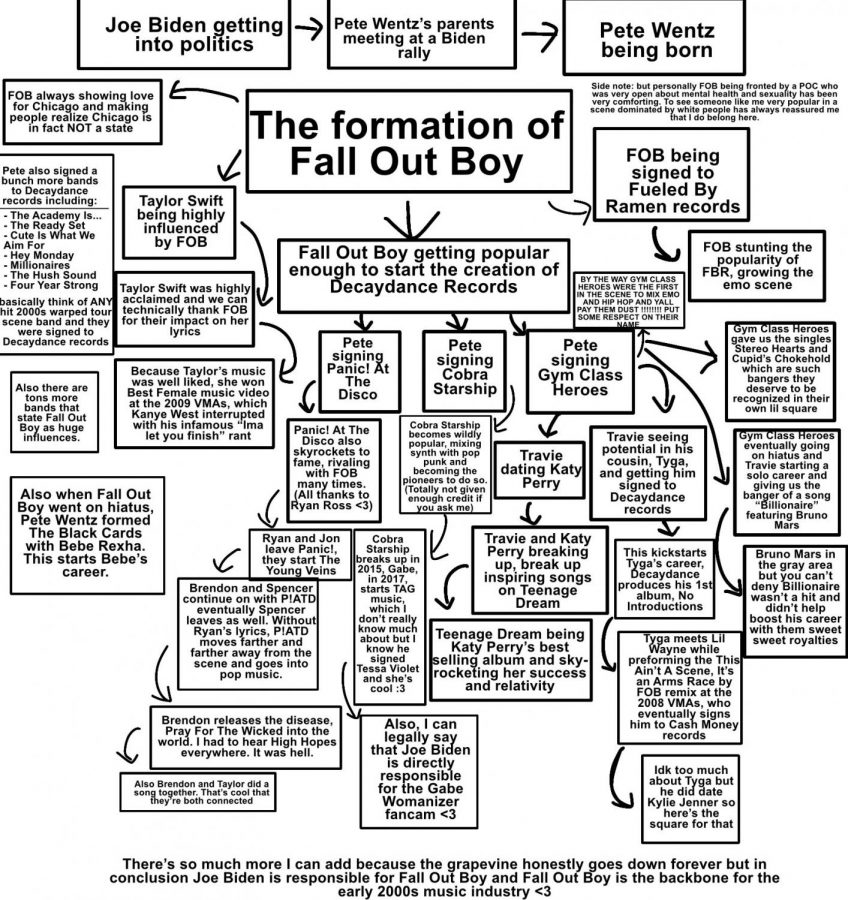 This small label ended up influencing a large chunk of the early 2000s music scene. Soon after signing Panic!, Wentz signed a band called Gym Class Heroes. While this band is iconic in its own right with hits like "Stereo Hearts," it's even more significant for the personal connections it spawned between Katy Perry, Tyga, The Kardashians, Blac Chyna and Joe Biden. Mostly, Gym Class Heroes lead singer Travie McCoy is responsible for these connections through his former relationship with Katy Perry, and his cousin Tgya's relationships with Blac Chyna and Kylie Jenner. It's also important to note that Tyga once worked as an artist at Decaydance as well. 
Fall Out Boy's influence extends beyond their label and the emo genre—into music as a whole. In an article with Rolling Stone, Taylor Swift acknowledged that Fall Out Boy is one of her biggest influences. She specifically stated that their songwriting influences her lyrically. 
Even though it pains me on a personal level, I should also acknowledge the connection between Swift and Urie with their bubblegum pop song "Me!" Fall Out Boy massively influenced these two artists, and even though I would like to forget that the song exists, it proves how far Fall Out Boy's influence extends since their debut in 2001.
And remember kids, none of this would've been possible without emo king Joe Biden and his run for Senate in the '70s. Now in 2020, Fall Out Boy endorsed Joe Biden for President, making the story come full circle. On January 20th, when Joe Biden takes office, remember to thank him for his service to emo.