Peaceful Boston demonstrations condemn Trump efforts against vote counting
Just one day removed from the culmination of a historically divisive presidential campaign cycle, demonstrators took to the streets of Boston, demanding the proper execution of the country's vote counting and reporting practices.
Similar rallies appeared in cities around the country Wednesday. 
Hundreds of demonstrators gathered downtown around the Parkman Bandstand on Boston Common at around 3:30 p.m. to push public officials in several key battleground states to ensure that all votes cast in the slowly unfolding presidential election are counted. 
In Roxbury, a crowd of a couple hundred gathered in Nubian Square to hear impassioned speeches from organizers before marching to Copley Square. There, organizers denounced the U.S. election system, saying it has disenfranchised voters in marginalized communities since its inception. 
"I care that every vote gets counted," Sarah Higginbottham of Lexington, Massachusetts said at the Common demonstration. 
The rallies were a direct response to attempts from President Donald Trump and his advisors to cast doubt on the results of his yet-to-be-decided race with former Vice President Joe Biden. Trump's camp filed lawsuits Wednesday to stop vote counts in Pennsylvania, Michigan, and Georgia. 
Those lawsuits concern questions of access to observe ballot-counting centers, and false claims of widespread voter fraud in the mail-in ballot system, adopted by most states largely in response to COVID-19.
In a preface to the afternoon rally, Senator Ed Markey of Massachusetts, fresh off delivering a convincing rout of his Republican challenger, Kevin O'Connor, in Tuesday's election, disparaged Trump on his false claims about widespread voter fraud.
"We know that Donald Trump is trying to perpetrate a lie," he told reporters before the rally began. "That lie is that ballots are still being cast. There are no votes being cast right now. The votes are being counted. That is what Donald Trump is afraid of—that the votes are going to be counted."
Socially distant and wearing masks, demonstrators held up "Count Every Vote" signs, calling on public officials to ensure all votes cast in the election are counted.
"I'm concerned that our president is trying to upend the process that is constitutionally dictated, and I'm furious," Higginbottham said. "We all have to mobilize to make it really clear that we're not going to allow that."
Alex Kates worked at the polls in Marlborough, Mass. on Tuesday, and drove more than two hours from his home to attend Wednesday's demonstration. He echoed Higginbottham, saying demonstrating was necessary to ensure a fair execution of election procedures.
"It's important that this is happening in cities all over the country," Kates said in an interview. "There needs to be enough density of people at each of the gatherings to make it make a difference."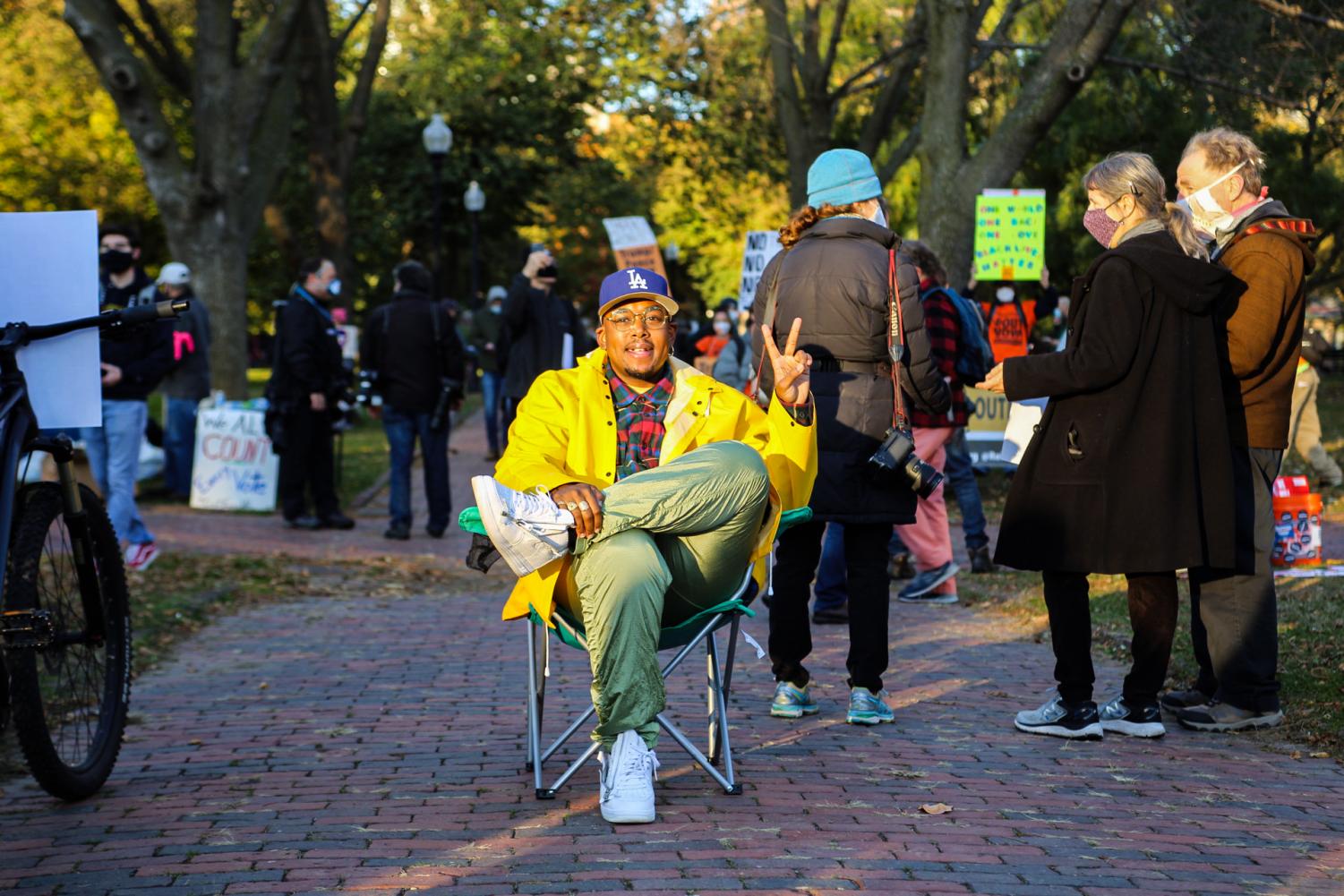 A heavy police presence surrounded the rally and filled the downtown area, though they never engaged with protestors. A press release from the ACLU of Massachusetts, the NAACP Boston Branch, the Indivisible Mass Coalition, and Massachusetts Peace Action—the organizers of the afternoon event—estimated more than 3,000 would attend the event, a severe overestimation.  
Anna Grace, an Emerson sophomore, said she and her friend, junior Queenn McKend, heard about the rally through word of mouth on campus. While wary of the potential risk of contracting COVID-19 in a large gathering, Grace said the crowd's efforts to keep six feet of distance made her feel comfortable attending.
"I noticed that when I was walking on the other side of the road, how spaced out everyone was," she said. "For the most part, everyone is masked. I wasn't too worried about it. If I did get uncomfortable or felt uncomfortable, I would have just removed myself from the situation. But I appreciate everyone that came out today."
The march to Copley took on a different tone. Demonstrators, while hopeful for a Biden victory, offered critiques of the current electoral system.
Flo Ugoagwu, who stood in the crowd observing, held a sign that read "Democracy requires a whole new system." 
"Whatever the result, there's still a lot of work that needs to be done in changing things for the better," Ugoagwu said as a news helicopter buzzed overhead. "So coming out here is a good opportunity to build the community and hear from other people. It's a little cathartic, too, after being stuck home watching everything for a couple days."
Joe T., an organizer with the Party for Socialism and Liberation who requested his last name be withheld for privacy reasons, said he organized protests throughout the summer over the police killings of Black people across the U.S. The incumbent president's lawsuits and campaign against mail-in voting are part of an effort to disenfranchise minority voices, he said.
"We see Donald Trump right now trying to claim that there's massive voter fraud," he said. "But it's people who live in cities—predominantly Black- and brown-dominant cities—that are trying to exercise their very very basic rights. And we demand that those rights be respected."
The current electoral system, he said, must be replaced. He said he plans to continue protesting and hopes that more will take to the streets in the coming weeks. 
"We want to say that voter disenfranchisement is part of a war on Black America, and it needs to be combated by an entirely new system," he said. "We're in the streets demanding a system that represents all working and oppressed people. Because we've seen that the current system can only exploit and oppress us." 
Charlie McKenna and Diti Kohli contributed reporting