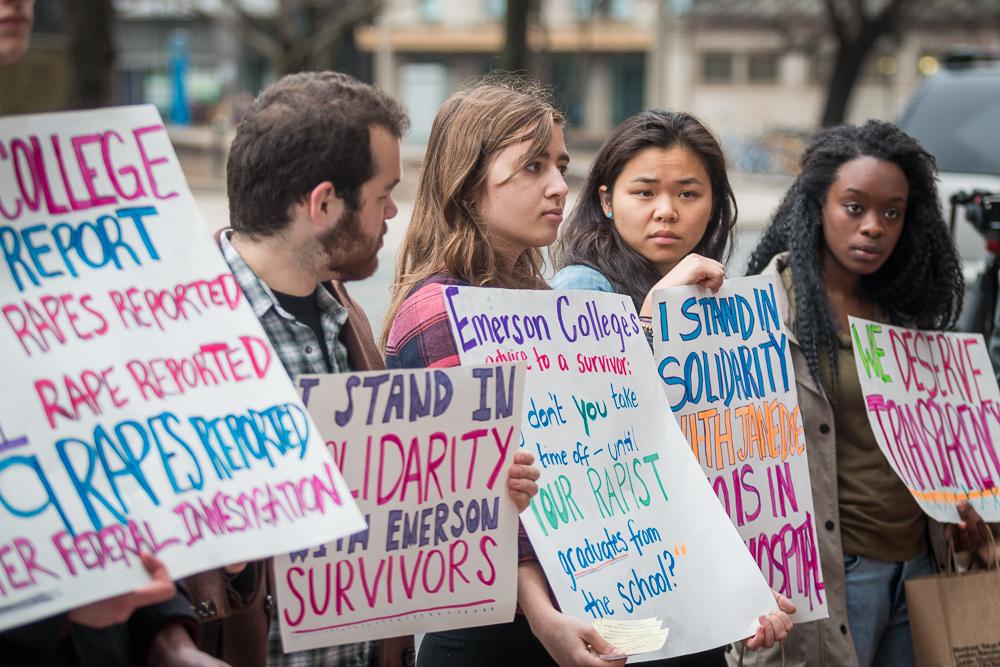 As prospective students explored the college's campus on April 10 for an all-day admissions event, they walked past current and former Emerson students advocating for education, transparency, and accountability regarding sexual assault on campus. 
The demonstration of about 15 people was organized by Jillian Doherty, a former student who is suing the school for allegedly mishandling her rape case. In September, the college filed a motion to dismiss the case, which alleges the school and administrators violated the federal gender equity law Title IX and acted with negligence. A judge is expected to respond in the coming weeks. 
The demonstration was intended to make accepted students — some of whom come from out of state — aware of the college's past shortcomings, Doherty told pedestrians. 
"If you come here, be very wary of the administration," Doherty said to passersby who stopped to listen. "If something happens, be sure to report it to the [Boston] police, not [the Emerson College Police Department]."
Positioned on the sidewalk of Boylston Street at the entrance to Boylston Place, Doherty and her supporters stood with bright, handmade posters with slogans like "It's on us," yelled chants like "We want justice for survivors," and handed out slips of paper encouraging people to join a Facebook group dedicated to the cause. 
Doherty told the Beacon ahead of the demonstration that her goal was not to dissuade accepted students from
attending Emerson, but to educate them about how she feels the college has handled sexual assault cases in the past. She said at the protest that the event successfully started conversations.
"A lot of people are asking questions that are the ones I want them to ask and [asking about] what they can do, which is important because they'll be taking the reins next year," she said. 
Stephen Meyers, the father of an accepted high school senior, said that parents coming from outside of New England may be hearing of complaints against Emerson for the first time. 
"Probably a lot of parents are concerned," said Meyers, 53, who is from New Hampshire. 
Madeline Colker, an accepted student from Pittsburgh, commended the demonstrators and said the event didn't give her a negative view of the school. 
"[Sexual assault] is a huge issue in college culture, and it's so undertalked about, so I appreciate it," said Colker, 17. 
Senior political communication major Megan Kipperman, who participated in the protest, said she hopes Emerson's sexual assault education materials are stronger than they were when she was a freshman. 
"When we came into the school, we didn't know much about what resources were available," said Kipperman, a close friend of Doherty. 
Kipperman said that while the school has made policy changes, hired sexual assault survivor advocates, and established an office for sexual assault prevention and response in the past year, some students are frustrated that administrators have not admitted to alleged faults in the past. 
"The first step toward progress is admitting you made a mistake," she said. 
Protester Alex Zauderer, a sophomore visual and media arts major, said the response from people walking by was mixed.
"A lot of people are uncomfortable and look away," he said. "Some smile." 
Several observers, many of whom were students and parents wearing Emerson name tags, stopped to listen and ask questions. A few offered high-fives to protesters. One young woman stopped to give them hugs. 
Willie Burnley, a junior writing, literature, and publishing major, said he participated in the demonstration in part because he is offended by Emerson's legal responses to Doherty's lawsuit and a lawsuit filed by another anonymous student.
"I believe it's intolerable, Emerson's logic around the court cases. Their argument is essentially, 'We are not responsible for the crimes that go on in our dorms,'" Burnley said. "It's impossible to accept that rhetoric and feel safe in this institution. I refuse to see [Emerson] degrade itself in this way." 
Christine Hughes, vice president and general counsel for Emerson, told the Beacon in October that Emerson's response to Doherty's lawsuit was misconstrued by the public. 
"Simply put, Massachusetts state law recognizes that criminal activity is often random and unpredictable, and it is not fair to hold someone—other than the criminal or wrongdoer—responsible for the crime or wrongful act if it was random or unpredictable," Hughes wrote in an email at the time. 
Emily Solomon, the president of the Student Government Association, said that she attended the event as a female student concerned about her peers' well-being. 
"I'm hoping [incoming students] become aware of the situation and understand that while Emerson is a fantastic school, there are still great strides to be made in terms of responding to victims of sexual assault," said the sophomore visual and media arts major. "I love the school, but that doesn't mean I can't criticize it." 
In a recent campuswide survey, 53 percent of student respondents were satisfied with the education and training they received about power-based violence and Title IX, administrators told SGA representatives last week.
During the protest, staffers from President M. Lee Pelton's office offered pizza and soda to demonstrators, but Doherty declined. 
A representative of Pelton's office told the Beacon that the college supports the rights of Emerson students to exercise free speech and engage in peaceful protest. 
"The College, which is dedicated to providing the best care, advice and handling of sexual assault on campus, stands with survivors of sexual assault," the office wrote in a statement. "The president supports members of our community, especially our students, to speak out on important issues, including sexual assault. The offer to provide our students pizza and soda as they exercised their free speech privileges during a rainy lunch hour was meant as a token of good will and generosity."
Another demonstration is scheduled for a Picture Yourself at Emerson event on Friday, April 17. As of press time, 19 students said on Facebook that they plan to attend.