Letter from the Editor: Reflecting on a year of the pandemic
The past 12 months may have been the most unprecedented year of our lifetime. The first pandemic of the 21st century transformed life as we knew it in more ways than I can name, forcing us to confront the fragility of the world we live in. The answer to when the pandemic will end—if at all—became increasingly distant. Millions lost their lives in the process, and many more will. 
Despite the gut-wrenching losses, the endlessly gruesome headlines, and the days when we feared our world would simply implode, we persevered. Essential workers risked their lives to provide for their communities, protesters demanded justice for the killing of George Floyd and countless other Black Americans, and scientists created a COVID-19 vaccine within an unfathomably short timeline. 
And at The Beacon, we kept doing what we love—reporting. From March 2020 to now, we've published more than 1,100 stories, working tirelessly to provide the Emerson community with the reporting it deserves.
After this tumultuous year, it could not be clearer to me that reporting is an essential service. 
The past year has been historic in many ways, but especially for Emerson. Never in the college's history had they been forced to shut their doors mid-semester, scattering students across the globe, only to reopen under an unprecedented hybrid learning plan that radically altered our college experiences. Amid this all, President Pelton announced his departure after 10 years at the college, the Marlboro College merger was finalized, administrators issued a new, 81-page Title IX policy, and students' concerns about racial inequity within the college are seemingly being confronted by administration after years of student advocacy. 
Through it all, The Beacon was there, publishing online nearly every day. In the process, we confronted injustices within our own newsroom, questioning traditional journalistic practices that previously went unchecked. We realized something crucial—if we are not serving all of our community fairly, then we are not fulfilling our true purpose. This requires a constant and critical look at the work we do, and the ways we operate. I could not be more proud of the changes we've instituted as a result, like our advisory board that oversees sensitive content, the addition of regular, professional bias training, as well as altering our ethics training, among numerous other changes. Change is a process, but it's something we are whole-heartedly dedicated to.
The Beacon is far from perfect. As students who are still learning the ropes of journalism, we've often made mistakes. I'm certain we will make many more—but this doesn't mean we should throw in the towel. Students, faculty, parents, staff, alumni, and the entire community, deserve an accessible and comprehensive source of news. Those who look back on 2020 in 10 years, or a hundred, deserve a well-documented report of the pandemic's effect on Emerson. I say confidently that I believe we have achieved these goals, soaring above my prior expectations.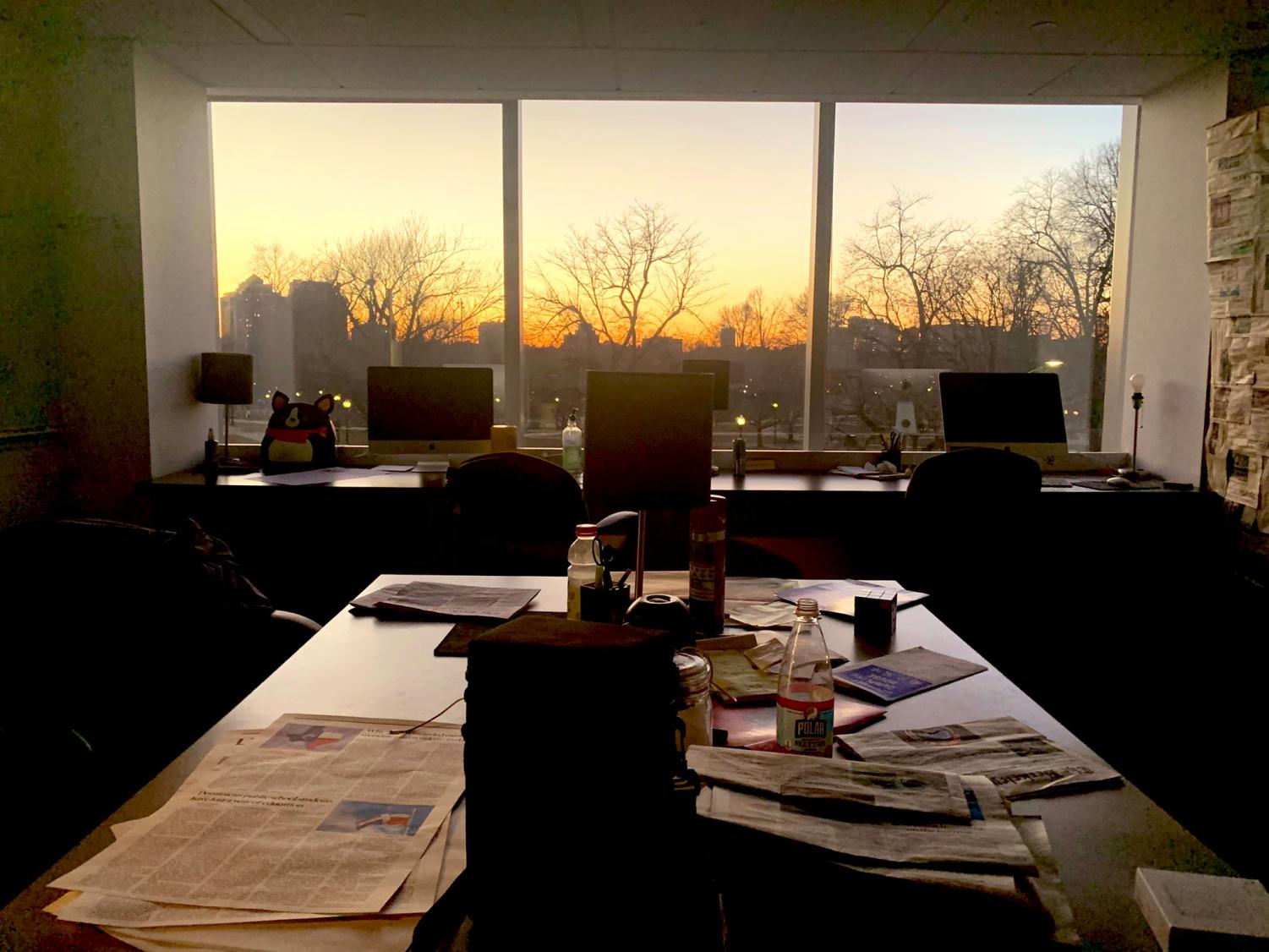 The past year was an important marker in our digital revolution. We saw more than 300,000 users and 680,000 page views to our website in the last 12 months. February 2021 was our best month on record for average daily engagement, up 204 percent from February 2020. Our audience also spent more time reading our stories than ever before, up 156 percent over the same time last year. We're grossing more engaged readers that keep coming back for more of our content.
Throughout this hellish year, we've reported nonstop, and hundreds of thousands of people are listening. This responsibility is not lost on me, which is why in the next several days, we plan to publish dozens of stories reflecting on a year of the pandemic. I hope you, dear reader, will take the time to read them.  
I look forward to the stories that lie ahead and the many dumpster fires I expect to encounter in the process. I want to thank our incredibly talented and dedicated staff for working tirelessly to bring you this 12-page special edition of The Berkeley Beacon, reflecting on one year of the pandemic. With that said, I give you my main piece of advice from the past year—take a moment to appreciate the things you have now, and live every day like it's your last. Tomorrow, you may wake up to a different reality.