Fear and Loathing in Spiderland: freshman band makes an impact on the music world of Emerson
By Sasha Zirin, Assistant Living Arts Editor
March 29, 2023
You just woke up for your 8 a.m. class. You're exhausted, and you think some music will help. You scroll through the songs saved on your phone and realize, to your sleepy dismay, that you're actually in the mood to listen to something new.
Unsure what songs to try out, you consider your fellow Emerson students and wonder if any of them have made music recently that you could listen to. Well, good news—some have!
The music group Spiderland, named after the album by rock band Slint, has been making waves among the Emerson community through their music. 
Reflective of a spider's eight legs, the group consists of eight first-year students: visual and media arts majors Callan Barth, Sean Hucknall, Jaeden Footitt, and Roy Gentes; comedic arts majors Soren Allwerdt and Will Newschafer; communication studies major Damian Driscoll, and creative writing major Paris Hebel.
But according to Hucknall, the eight members have "never been in the same room at the same time." Said with a laugh, this is reflective of the band's eccentric and sporadic nature.
For some of the members, like Allwerdt, the band is their first foray into performing music. It's less-so for others—Hucknall does solo guitar gigs, and Barth is a part of an alternative band based in his hometown, Seattle.
"Post-hyperpop," a term coined by Hucknall, means electronic, fast music with more emo attributes. This is the specific, innovative genre Spiderland's music identifies with. 
"Very electronic, very fast … [but with] a pop influence and pop hooks," Driscoll said.
The band takes inspiration from alternative music groups such as Drain Gang and Haunted Mound, but also incorporated their touch of originality. For example, the band utilizes their love of film by peppering their lyrics with references to movies and film production.
"It's got a lot of stuff that you don't really hear in combination," Hucknall said. "It's a lot of genres. It's fun."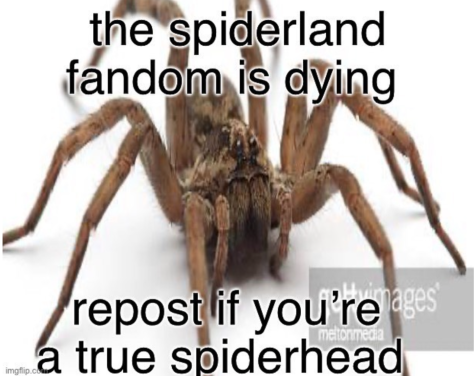 Because of the variety, Discroll believes that a virtue of the band is that "you'll like at least one song," and that they "try to do something for everyone."
Spiderland currently has one released song on SoundCloud and Youtube entitled "Dracula Mountain"—itself a reference to a song by indie band Lightning Bolt—which is exemplary of the band's energetic and eccentric sound. 
The group has completed an unreleased song, entitled "The Lobster," named after the Yorgos Lanthimos comedy-drama film.
According to band members, Spiderland's most memorable contribution to the Emerson community is an off-campus concert held last February.
"People have told me it brought a lot of people together," Barth said. 
"It was the biggest thing we've done," Driscoll added. 
The concert was originally planned to happen through a Berklee open mic, but couldn't due to all the time slots filling up too quickly. The concert quickly and spontaneously relocated to the Boston Common, where a dutiful crowd quickly accumulated. The audience was almost entirely Emerson freshmen who knew various band members. It was short but sweet; Allwerdt loved it and is looking forward to possible future shows.
First-year creative writing major Ethan Richmond raved about Spiderland, saying that he'd seen "nothing else like [that] concert."
Hucknall said that they are planning more shows, which Allwerdt said he is excited about.
Beyond the band's concerts in the works, Spiderland also has plans for "too much" new music, according to Driscoll. The band hopes to have some of it released before the end of this semester. 
One of the group's future releases is tentatively titled "Land of Silence and Darkness," named after the Werner Herzog documentary. 
The band has also gathered some fan reception among the members' peers. Students moshed at their concert, and have been following and supporting them on Instagram, YouTube, and SoundCloud. Over the past few months, Spiderland has accumulated a small but dedicated following.
Fans avidly support Spiderland, and are fascinated by the band's unique sound.
"It's like if Death Grips was gay, and Car Seat Headrest was straight," Richmond said. "It's incredible."