Femicide in India defines the country's patriarchy
TW: This op-ed contains graphic mentions of misogyny, sexual assault, domestic abuse, and murder.
On April 10, a 26-year-old woman was stabbed to death by her husband in Delhi, India. The woman, Neelu Mehta, was repeatedly stabbed 25 times in a public and crowded marketplace in Delhi's Vijay Vihar area, as passersby recorded. A video of the incident shows bystanders casually strolling by as Neelu lays in a pool of her blood. The patriarchy in India continues to be dangerously complacent, unacceptable, and revolting. 
Harish Mehta, her husband, was unhappy that Neelu was working at Safdarjung Hospital. He had asked her to quit and be a housewife instead, and Neelu refused to follow his orders. Harish also reportedly believed her to be having an extramarital affair because she left him to stay at her in-laws' home, due to their daily fights over her career. Harish murdered her "to end his pain," according to the Delhi police. 
In essence, a woman was murdered for having a job and because of her husband's suspicion. Nobody helped her, but they did take videos, and this is not a solitary case. 
India was ranked the most dangerous country for women in 2018, according to a survey conducted by the Thomas Reuters Foundation. According to the National Crime Records Bureau (NCRB) of India, in 2019, there were over 400,000 crimes against women, and the number of such cases rises every year. There were 32,033 rape cases reported just in 2019, averaging to about 88 sexual assaults a day, plus the countless cases that go unreported. To top it off, the conviction rate for sexual assault is below 30 percent, according to the NCRB report. 
Three more incidents in India were reported in March 2021 alone. A man from Uttar Pradesh believed his wife to be disloyal and asked her if she would be willing to prove her loyalty. He then tied her limbs together and sewed her genitals with aluminum thread. He fled the scene and left his wife in the horrific state he caused. 
A woman in Maharashtra, who was suffering from a brain tumor, was stabbed by her husband because he was "fed up of her illness and medical treatment," according to officer Vasant Chavan of Pathari police station. Her husband fled the scene and, thankfully, some neighbors noticed his blood-stained clothing and called the police. 
In Bengaluru, a 39-year-old woman was assaulted by her husband when she reminded him to pay their elder son's school fees. He reportedly lost his temper and began blaming his wife for their financial troubles, leading him to physically abuse her. He trapped her in a corner and beat her with a chair, hitting his son multiple times as well when the boy tried to stop his father. The husband has been charged with several offenses, but has not been arrested. 
The unwavering patriarchy in India is deeply rooted in the history of the country, and it starts with the Indian family dynamic. The husband and father is the head of a household, making sons the desired offspring, while daughters can be seen as a burden. A woman's role in society is to be a wife, a mother, and a housekeeper. While India is modernized in some aspects, with more women having careers and less being married off at young ages, the patriarchal system has yet to be abolished—and has become increasingly more violent. This is clear from the heinous crimes that are committed on a daily basis against women. They are treated any which way because even if times are changing, mindsets are not. 
Unfortunately, India's entertainment industry does a huge disservice to the platform of gender equality within India. I grew up watching Bollywood films, watching women doing "item numbers" and being objectified by men. Songs like "Jalebi Bhai" and "Chikni Chameli," among several others, are solely meant to capture the male gaze and portray women as their playthings. I grew up singing and dancing along to songs where women say they will be a slave to the man (specifically referring to a song titled "Fevicol Se"), obviously not understanding what it meant. Fortunately, now I do understand. These dance numbers are a major part of modern Indian culture, which men grow up watching, believing they are alphas based on how they are represented in films and music.
Another huge part of the belittling and abuse comes from women themselves internalizing misogyny. It is like when someone chooses to not wear a certain outfit in public, no matter how much they like it on themselves, because of the subconscious fear of social criticism, they won't. Similarly, Indian women have internalized this patriarchal system so much that they often don't notice it happening. 
Girls are taught when they're young to be innocent and pure. They are taught how to be a wife, told to learn how to cook. Many grow up hearing from adults in their lives, "you cannot wear that in public, it's improper." They are reminded to help serve guests while the boys get to play games. Older women make snooty comments towards young women to taunt their "unconventional" lifestyles. Hell, I have been told hundreds of times myself what to wear, how to act, what to do when I am in India, and even when I'm in Connecticut. 
Fortunately, I have been encouraged by my family to pursue my dreams. Too many women in India are told to take their ambitions down a notch. They're told to not dream too big, because such dreams aren't for women. As girls become women, the crumbs of patriarchy are shoved in their mouths to the point where they can't speak, but just nod their heads along. 
Through conversations with my relatives, some of whom reside in India and some who do not, I can hear the internalized patriarchy seeping through, and it baffles me. Many women I know have spent their lives with misogynistic men who don't want to free themselves from their toxic marriages. "Rani, he's my husband, I can't leave him," they say. These women believe this is how they are meant to live: with angry, unloving men whom they don't speak to but cook for. 
This may be a generalization, but my mom says it best when she says, "Fuck Indian men. They're all patriarchal assholes." 
Leave a Comment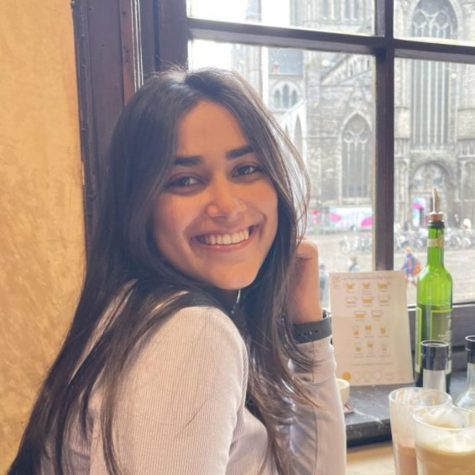 Mariyam Quaisar, Editor-at-large





Mariyam Quaisar (she/her) is a junior journalism and BCE double major from Brookfield, Connecticut. She served as editor-in-chief and business operations. She loves to share her views on "unconventional" topics and will never turn down a steamy plate of chicken wings.